Western Australia invites Indian to catch the live-action of ICC T20 in Perth Stadium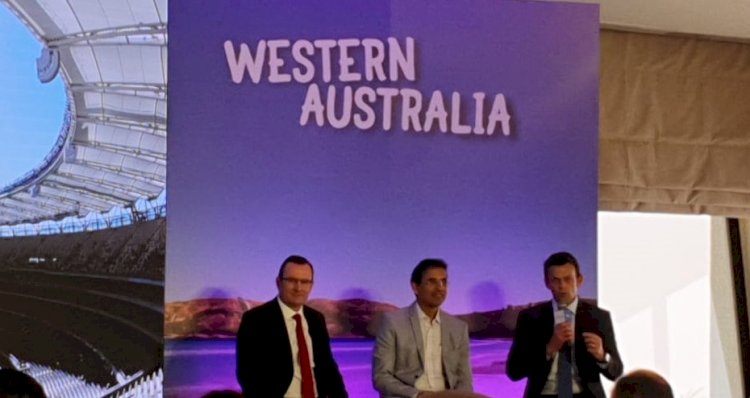 Mr. Mark McGowan, the premier of Western Australia and the legendary Australian Cricketer Mr. Adam Gilchrist were in India this week to invite all Indian cricket fans to witness the live-action of the ICC T20 World Cup Australia 2020, especially the match being played in Western Australia's Perth Stadium of India and South Africa on 24 Oct 2020.
During the visit the Premier and Gilchrist along with comentrator Mr. Harsh Bhogle meet with Indian travel trade, airline representatives and media, in a bid to increase leisure and business visitation to WA, with a focus on encouraging Indians to travel to WA for next year's ICC T20 World Cup.
Mr. McGowan said, "India is a growing tourism market for Western Australia, representing the 9th largest international market for visitor numbers, and 11th largest market in visitor spend. There was an 11.1% overall growth in visitor numbers from India in the year ending June 2019, with leisure visitors increasing by 15.3%. Visitor numbers are up so we know there is appetite for people in India to visit Western Australia and there are huge possibilities to grow this market even further. We know India loves their cricket and Gilly is a living legend over there, so he will be a major asset in promoting WA."
Adam Gilchrist commented, "Western Australia is one of the most beautiful places on earth and I'm lucky to have called it home for more than 20 years. It is with great pleasure and pride to work with Tourism WA to get the word out in India and encourage people to come and see our magnificent State."
This was part of the State Government's Premier-led delegation to the key Western Australian international trading partner. The delegation joining Mr McGowan includes representatives from Perth Airport, the Chamber of Commerce and Industry of Western Australia and Australia India Business Council WA. It marks the Premier's first visit to India, with key meetings organised regarding tourism and direct flights, resources, international education and government.
Mr McGowan also announced that the State Government, through Tourism Western Australia, will invest an additional $1 million to encourage more Indians to holiday in WA. The additional funding will raise awareness of WA as a holiday destination and help to encourage direct flights between India and Perth. It will be invested in co-operative marketing campaigns, trade education, consumer awareness, media and public relations activities.