AATO delegates participated in FMITC Tourism Conclave in Kolkata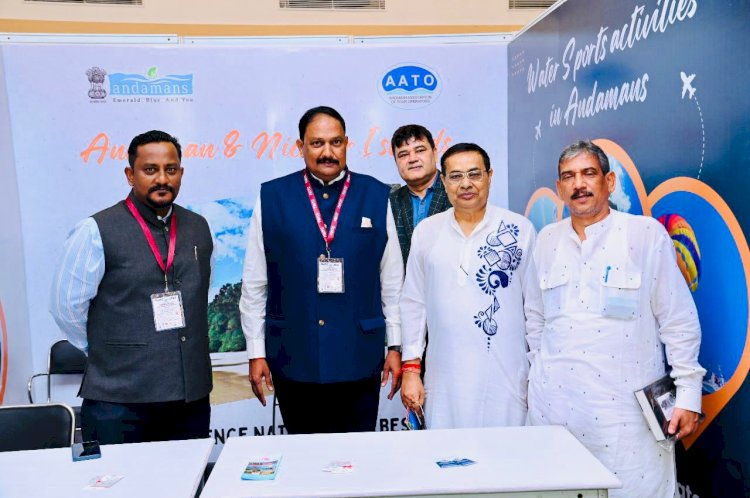 A delegation of Andaman Association of Tour Operators (AATO) attended the highly anticipated FMITC Tourism Conclave held at Hotel Hayatt Regency, Kolkata on 02 Jun 23. The delegation was led by AATO President Shri M. Vinod and Joint Secretary Shri Saikat Biswas, the delegation made a significant impact at the event.

The FMITC Tourism Conclave, renowned as a leading platform for industry professionals, policymakers, and stakeholders, focused on the theme "Driving Sustainable Tourism: Exploring New Horizons." AATO's delegation actively engaged in insightful panel discussions, workshops, and networking sessions, contributing their expertise and insights to the discourse on sustainable tourism practices and the growth of the tourism industry.
The event was inaugurated by Shri. Ujjal Biswas, Hon'ble minister for Science and Technology and Bio-technology, Govt. of West Bengal.
Shri M. Vinod, President of AATO, expressed his enthusiasm for the event, stating, "We are honored to have been part of the FMITC Tourism Conclave. This prestigious gathering allowed us to exchange ideas, forge meaningful connections, and contribute to the collective efforts of driving sustainable tourism in India. We believe that responsible tourism practices are essential for the development and growth of our industry."
Shri Saikat Biswas, Joint Secretary of AATO, added, "The FMITC Tourism Conclave provided an excellent platform for us to highlight the unique tourism offerings of the Andaman Islands. We showcased our commitment to sustainable practices, community engagement, and preserving our natural heritage. It was a remarkable opportunity to learn from industry experts and to collaborate with like-minded professionals towards the growth of the tourism sector."
The AATO delegation actively participated in sessions that discussed the importance of responsible tourism, the integration of technology in the industry, and strategies for enhancing the visitor experience. Their valuable insights and contributions demonstrated AATO's dedication to elevating service standards and promoting responsible tourism practices in the Andaman Islands.
The FMITC Tourism Conclave served as an exceptional avenue for AATO to strengthen its network, foster collaborations with industry partners, and explore new opportunities for the development of the Andaman tourism sector. The association remains committed to promoting sustainable tourism practices and positioning the Andaman Islands as a premier travel destination globally.