India International Travel Mart (IITM) in Bengaluru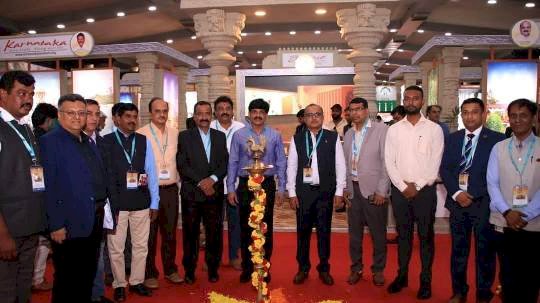 Sphere Travel Media & Exhibitions has organized the India International Travel Mart (IITM) in Bengaluru from 29 – 31 July 2022 at the Tripura Vasini Hall, Palace Grounds.
The expo was inaugurated by Mr. G. Jagadeesha, IAS Managing Director, Karnataka State Tourism Development Corporation along with Mr. Manoj Kumar, IFS, Managing Director, Jungle Lodges & Resorts Ltd. and Mr. Chandrashekaraih H.G, Joint Commissioner, Department of Tourism, Govt. Of Karnataka.
It is a proud moment for Sphere Travel media & Exhibitions as it completes twenty-three years of providing the travel–trade industry and discerning buyers an opportunity to do business. With 200 participants from various travel-trade organizations and tourism boards from 20 Indian states and five international destinations, IITM showcased a variety of spheres such as pilgrimages, adventures, culture and heritage, beaches, Wildlife, hill-stations and many more. The event offered a range of holiday options right from pursuing the One Horned Indian Rhinoceros to the desert festivals of Rajasthan to the UNESCO World Heritage Sites of Karnataka. The range of diverse and exciting destinations on display added tremendous value to the holiday-seeking plans.
The event is of immense importance to the tourism industry and which promoted tourist destinations of Karnataka by showcasing aspects of the tourism industry such as archaeology, culture and heritage of Karnataka. The event provided to be big boost to the promotion of the up-coming Mysuru Dasara Festival.
Sphere TravelMedia Director Rohit Hangal added "With the present ongoing recovery of tourism and with International Arrivals in India on a slower growth, 'India International Travel Mart' is the right event to provide an impetus to the Indian domestic tourism industry. The tourism stakeholders from the states of Karnataka, Rajasthan, Goa, Himachal Pradesh, Himachal Pradesh, Kerala, Uttarakhand, Uttar Pradesh many more destinations will be seen aggressively marketing their products. The event will be the perfect platform for those looking for packages across different genres, from religious travel, adventure, family holidays and honeymoons or even those, who are looking for conference destinations for their companies".
Sphere Travel Media Director Sanjay Hakhu said: "As we recover from the pandemic to get back into business mode, India has emerged as one of the most interesting and productive countries for the travel industry both for leisure and business travel. The visitor profile is on a B2B & B2C format and will have over ten-thousand visitors over three days. Post the pandemic and with international destinations opening up to receive Indian guests, the event will see travel companies offering attractive packages to holiday hotspots around the world!"
Highlights of the events -
This year the event has more than 20 Indian State tourism departments participating, making it one of the highlights of the travel industry in the country

Karnataka was the 'Host State' at the IITM 2022

Gujarat, Rajasthan and Uttar Pradesh are the Partner States

Madhya Pradesh and Uttarakhand are the Feature States

Meghalaya, Bihar and Himachal Pradesh are the Focus States

Air India is the 'Partner Airline' at the IITM 2022

View 'Incredible India' with all its amazing colours and vibrant destinations.

Biggest variety of Holiday Packages of over 1000 destinations in India.

International representation from Singapore, Malaysia, Dubai, Thailand, Maldives & Nepal.

Attractive discounts on offer for Spot Bookings.

Perfectly timed to target Winter Holidays

The Visitor Profile was on a B2B & B2C format.

Entry is free