'India Tourism Reconnect' organized by the IndiaTourism, Singapore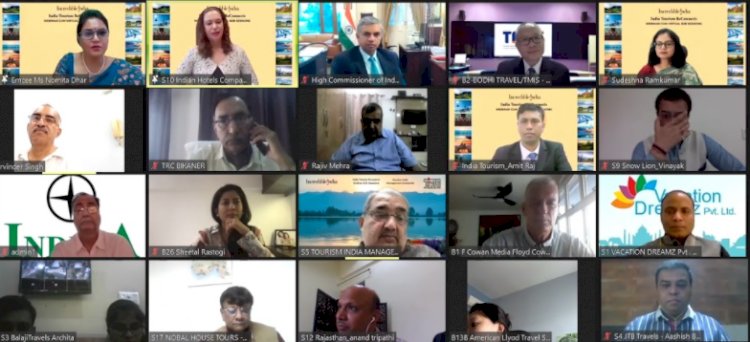 A series of Webinars cum B2B sessions titled 'India Tourism Reconnect' was organized by the India Tourism office, Singapore in the key ASEAN markets of The Philippines, Malaysia and Singapore. The objective was to reconnect the Indian Tourism industry with stakeholders in key markets and initiating conversations and discussions to start preparing for resumption of business as and when it is announced. The webinars had participation from the respective Indian Missions, India Tourism and the private stakeholders representing specific tourism products. Following the webinars, 17 seller-participants from India which included State Tourism departments, leading Indian hotels and Destination Management Companies interacted with the local trade in one-to-one B2B sessions.
The series kick started with the first webinar cum B2B session for the Philippines travel industry, on 11th March. H.E. Shri Shambhu S. Kumaran, Ambassador of India to Philippines, in his opening remarks, mentioned that there was a huge fascination and admiration for Indian culture, food as well as the holistic Indian way of healthcare, including Ayurveda and Yoga in Philippines and that this was also a proper time to engage the various stakeholders and associations in discussions.
More than 60 members of the Malaysian travel trade interacted with around 17 sellers from India during the second virtual B2B and webinar session on 16th March 2021. The Deputy High Commissioner of India to Malaysia, Ms Archana Nair stated that the timely initiative of the webinar was well poised to attract Malaysian visitors to India as and when travel resumes. As the world emerges from the pandemic, there is a definite optimism that the travel industry will bounce back.
The final event in the series, held on 18th March, focused on tourism to India from Singapore, during which Singaporean travel trade stakeholders held fruitful discussions with their Indian counterparts. H.E. Shri P. Kumaran, High Commissioner of India to Singapore elaborated on the potential and number of opportunities that can be tapped into for attracting the discerning Singaporean traveler once the tourism traffic resumes.
During each of the webinars, India Tourism Singapore highlighted that while normal international travel still has to resume, there has been an upswing in the confidence of the domestic travelers in the last few months and several destinations have been receiving domestic tourists in good numbers. Presentations were also given by representatives of Indian luxury hotel groups viz. The Taj and the Oberoi as well as the Indian Association of Tour Operators who elaborated on the various steps taken by the tourism industry in India during the pandemic and their preparations for receiving foreign tourists when the borders reopen. Representatives from the local trade bodies/organizations of the respective countries also gave their views.
Over 300 virtual meetings were held between the Indian and Foreign Tour operators and stakeholders spread over these three days and the participating organizations expressed confidence in being able to reconnect and take the business relationships forward.