THE HOMECOMING OF GANGA MATA
Written by Vishal Bhavsar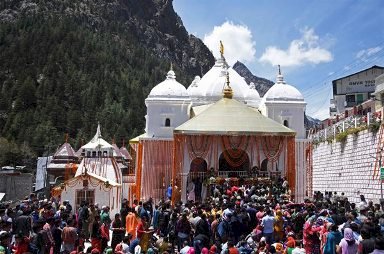 A day before the opening of the Gangotri temple, there is a lot of hustle and bustle in the marketplace of the small town of Gangotri. The shopkeepers prepare to open their shops after being shut for about 6 months due to extreme cold winters.
Gangotri is located on the banks of Bhagirathi River, which originates from Gaumukh glacier. It is considered to be the abode of Goddess Ganga since, according to the Hindu mythology; it was here that Ganga descended when Lord Shiva released the mighty river from the locks of his hair.
The opening of the temple is an auspicious occasion and there is a rare convergence of saints and sages from all over the country. They arrive to grace this special occasion. Usually commencing in the month of April-May, the opening of the temple marks the beginning of the Chota Char Dham Yatra. The Chota Char Dham Yatra is an important Hindu pilgrimage route located in the Garhwal region of Uttarakhand, the route consists of four sites - Yamunotri, Gangotri, Kedarnath and Badrinath. The idol of 'Ganga Mata' is brought back to the temple after a period of 6 months and the temple is the reopened till the month of November. The main idol is carried in a 'Doli' (a decorated carriage) along with a number of other small dolis, carrying smaller idols of the goddess, all the way from Mukhwas a town near Harsil in Uttarakhand.
Eager devotees start gathering near the temple in large numbers, early in the morning, waiting for the arrival of the idol. A variety of cultural performances, depicting stories from the Hindu mythology, take place simultaneously right across the temple keeping the crowd engaged. After the idol reaches the temple, it is made accessible to the devotees for Darshan (worship). A contingent from the Indian Army manages the large gathering of people. They also organize a Langar (communal kitchen serving free meal) for everyone who come to the temple opening. It is extremely heart-warming to watch the Army men cooking and serving food to everyone with love. The food is simple and saatvik but delicious.
It is truly a beautiful setting: the snow-clad mountains surrounding the town, the Gangotri temple flooded with people waiting for darshan, the Bhagirathi River flowing beside the temple and many devotees taking dips in the chilling water despite the cold.

--Written by Vishal Bhavsar (Author of 'Tryst with reality)