ITB Asia continues to break records with exhibitor numbers at an all-time high
To meet demand, Asia's leading trade travel show opens with an expanded two floors and introduced a dedicated MICE Show Asia 2019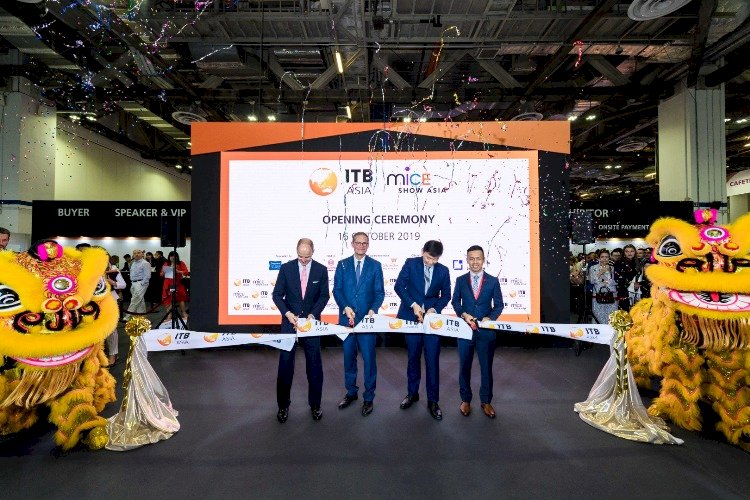 16th October 2019
ITB Asia, 'Asia's leading travel trade show' opened its door on 16th October 2019 at the Sands Expo and Convention Centre in Marina Bay Sands, Singapore. The show will be filled with the organization from the travel industry across the world to establish high-quality contacts and conduct business.
The opening ceremony was graced by four guests of honors; Mr. Chee Hong Tat, Senior Minister of State, Ministry of Trade and Industry and Ministry of Education, Republic of Singapore; Mr. Michael Muller, the Governing Mayor of Berlin, Federal Republic of Germany; Dr. Christian Göke, Chief Executive Officer, Messe Berlin GmbH and Mr. Keith Tan, Chief Executive of Singapore Tourism Board.
Katrina Leung, Managing Director of Messe Berlin (Singapore), ITB Asia's organizer said, "ITB Asia continues to maintain its position as the leading travel trade show in the region. Working in close collaboration with international exhibitors, travel companies and international buyers from across the MICE, leisure and corporate travel markets, we look forward to unveiling this year's engaging and exciting programs that will benefit all. With the expansion of the show and the launch of MICE Show Asia, we're delighted to welcome our visitors to this 2019's edition!"
Marking the 12th year ITB Asia has continued to enjoy the support from destinations and businesses from across the world, with 1,300 exhibitors and more than 1,250 buyers welcomed. Emphasizing on the global reach of ITB Asia, over 110 National Tourism Organizations (NTO) and Regional Tourism Organizations (RTO) are participating, making first time appearance from Armenia, Czech Republic, Malta, Russia, and the Balkan States are Macedonia, Montenegro and Serbia, and RTOs from Busan, Frankfurt, Los Angeles.
Also, ITB Asia has launched the inaugural MICE Show Asia; a MICE- dedicated show on forecasts for the global meeting and events industries in 2020 as well as how digital transformation is impacting the industry.
On the conference note under the overarching theme of "Bold Thoughts, Bold Moves" is an industry leader to share innovative ideas and knowledge on practical application to keep pace with industry changes.