Qatar Airways announce the launch of Flights to Langkawi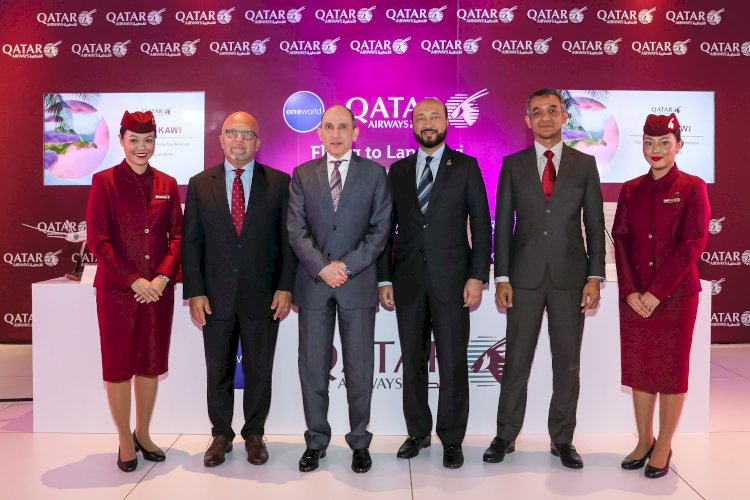 27 August 2019
His Excellency Mr. Akbar Al Baker, Qatar Airways Group Chief Executive hosted a press conference on 27th August 2019 at Four Seasons Hotel Kuala Lumpur to announce the launch of Qatar Airway flights to Langkawi, Malaysia. The press conference was attended by His Excellency Mr. Fahad Mohammed Kafoud Qatari Ambassador to Malaysia, Dato' Seri Mukhriz Tun Mahathir Chief Minister of the State of Kedah and Dr. Hezri Bin Adnan Chief Executive Officer off Langkawi Development Authority (LADA).
The new service to Langkawi, will start from 15th October 2019. Qatar Airways will initially start with four times weekly Langkawi tag services via Penang with an increase up to five-times weekly services from 27th October 2019 on its state of the art Boeing 787 Dreamliner aircraft, featuring 22 seats in Business class and 232 seats in Economy class wit spacious cabins and specially designed interiors.
Qatar Airways Group Chief Executive, His Excellency Mr. Akbar Al Baker, said: "Langkawi is one of the most highly sought-after destinations in Malaysia and I am certain our flights will help increase accessibility and boost inbound tourism to this beautiful archipelago. With five weekly flights to Langkawi, our service offers a gateway for passengers to travel and experience. We also aim to offer greater connectivity for passengers travelling from Malaysia to our extensive global network of over 60 destinations. Our new flights reflect our commitment to growing our presence all over in Asia."
Chief Minister of the State of Kedah, Dato' Seri Mukhriz Tun Mahathir, said: "I'm thrilled to know that Qatar Airways' service expansion now includes the magnificent Langkawi as this will lead to greater opportunities not only for Malaysia's burgeoning tourism industry, but for Kedah as well. Qatar Airways' service to Langkawi will soon bring the world right to the doorstep of the island, allowing them to experience the Langkawi UNESCO Global Geopark in all its majesty."
Chief Executive Officer of Langkawi Development Authority (LADA), Dr. Hezri Bin Adnan said: "The launch of Qatar Airways' direct services to Langkawi certainly bodes well for the island and goes in line with our plans of further cementing its position as an international tourist destination. Not only that, it also augurs well for Langkawi's economy and tourism industry as we get ready to welcome visitors from across the globe to experience the island's distinctive culture and scenic views at one of the finest tropical gems in Malaysia."
Qatar Airways seamlessly connects passengers from Malaysia to more than 160 destinations across six continents via its award-winning Hamad International Airport in Doha. The National Carrier of the State of Qatar has launched a host of exciting new destinations in 2019, including Lisbon, Portugal; Malta; Rabat, Morocco; Davao, Philippines; Izmir, Turkey; and Mogadishu, Somalia; and will add Gaborone, Botswana to its extensive network in October 2019.