ADTOI President alongwith heads of IATO, ATOAI AND OTOAI meets Hon'ble Tourism Minister Shri Prahlad Singh Patel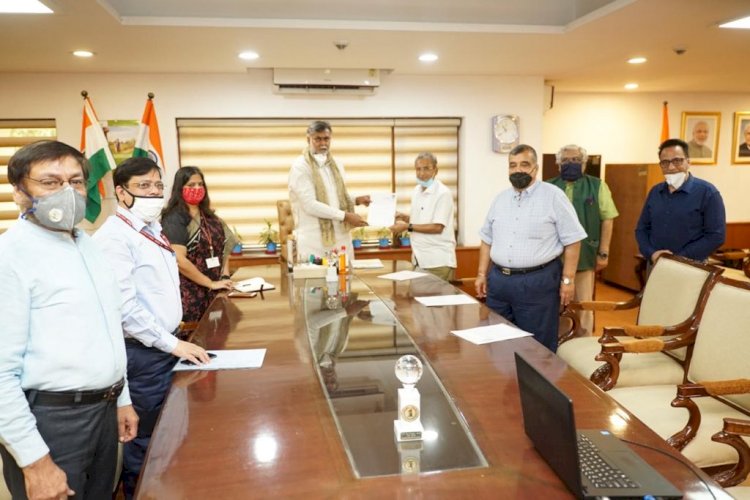 A delegation of four Trade Associations comprising of Mr. P.P. Khanna, President, ADTOI alongwith Heads of IATO, ATOAI, OTAOI met Hon'ble Minister of State (I/C) for Tourism, Shri Prahlad Singh Patel in the Ministry on 27th May 2020 to place before him the plight of the people working for the growth of tourism in the country especially the domestic tourism which is the saviour at this time of pandemic COVID 19  when the Central and State Government lift lockdown and open up the economic activities.       
The Hon'ble Minister was very kind enough to hear the grievances and gave assurance of his support and  cooperation  to look into points 
Among other things discussed, I on behalf of ADTOI submitted the following for his  kind consideration:
1)       As the domestic tourism will be the mainstay of the Indian Tourism post-COVID 19, Ministry may declare the YEAR 2020-21 as the  DOMESTIC TOURISM YEAR so that our Hon'ble Prime Minister's vision of every Indian visiting at least 15 tourist destinations will be accomplished.
2)      To create a National Tourism Task Force for framing policies and procedures for monitoring the growth of domestic tourism
3)      To undertake a  comprehensive study of Domestic Tourism in the Country to know the pattern so that Government Central & State can provide the infrastructure required as per the demand and supply of tourist traffic to region-specific.
4)      Travel Trade is by and large is an unorganized sector.  It should be made mandatory to get the players in the field registered with Central or State Government Agencies(Licensing)
5)      Relaxation in the MDA scheme applicable to Domestic Tour Operator as the existing scheme does not provide any incentives to the category.  The scope should be widened.
6)      Recognised ADTOI Domestic Tour Operator may be allowed to deal with ticketing of LTC/LTA.
7)      Tax Rebate on the holiday packages booked through recognized Domestic Tour Operators