Cruise Travel Trade and Singapore in mission to make Singapore as India's favorite Cruise Destination
STB's Singapore Cruise Forum spurs thought-leadership conversations and exchange of ideas to grow Indian overseas cruise tourism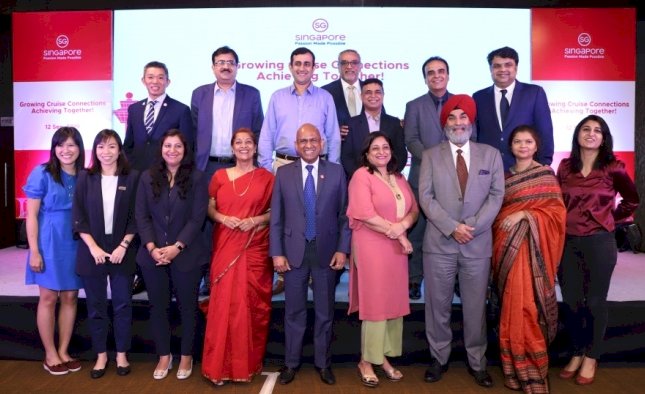 Singapore Tourism Board organized a Cruise Forum with the theme "Growing Cruise Connections, Achieving Together!" at New Delhi on 12 September 2019. This was attended by travel trade partners, cruise line operators, and cruise professionals.
Ms Jiali Wong, Regional Manager (Asia), Cruise Lines International Association (CLIA) noticed, "India as a cruise source market has grown by double digits in the past couple of years. In 2018, a total of 221,000 Indian cruise passengers sailed the seas, a 28% growth over 2017. An interesting highlight was the average age of an Indian cruiser. Compared to 46.7 years for a Global Cruiser's average age and 45.4 years for an Asia Cruiser, the Indian cruiser's average was at a relatively younger 37 years old."
Following the CLIA Presentation, three thought-provoking and engaging panel discussions were conducted: 'Cruises a new venue for weddings, celebrations, and MICE', 'Changing Face of Indian Cruising – How to tap new segments?', and 'Singapore as a Cruising Capital'. The panelists, well respected and admired in the cruise industry, included Ms. Ratna Chadha, Chairperson & Founder (TIRUN Travel Marketing), Mr. Jurgen Bailom, President & CEO (Jailesh Cruises), Mr. Nishith Saxena, Founder & Director (Cruise Professionals), Mr. Naresh Rawal, Vice President, Sales – India and South Asia (Genting Cruise Lines) and Ms. Nalini Gupta, Managing Director (Lotus Aero Enterprises). Mr. Pradeep Saboo, Chairman & Managing Director (Guidelines Travels), Mr. Nikhil Thakurdas, CEO (Odyssey Tours & Travels), Mr. Deepak Rawat, Senior Vice President, Holidays Product & International Markets, Holiday Supply (Make My Trip, India), Ms. Anita Patni, Associate Vice President (Thomas Cook India), Ms. Nagsri, Founder (NAGSRI – Creating Special Memories) and Mr. Guldeep Singh Sahni, Managing Director (Weldon Tours & Travels), Mr. Rajeev Jain, Founder & Director (Rashi Entertainment) and Mr. Michael Lyngdoh, Founder (Tripoto).
GB Srithar, Regional Director – India, Middle East & South Asia (IMESA), said, "We are adopting a two-pronged marketing strategy for the Indian outbound cruise market: Firstly, to raise awareness and promote cruising as a hassle-free holiday option to the Indian travellers; and secondly, to entrench Singapore as their favorite cruise holiday destination, including presenting Singapore's varied tourism offerings for pre ad post-cruise experiences in the city. Cruising holidays can appeal to diverse Indian travel segments like families, working millennials, weddings, MICE and those gathering for celebrations."
STB thanked cruise lines and cruise travel intermediaries for promoting cruising from Singapore. Srithar presented "Valued Tourism Partner" awards to representatives from key cruise lines operating out of Singapore and travel trade partners selling cruise holidays.
Emphasizing the importance of working with multiple stakeholders, GB Srithar further added, "STB partners with stakeholders in the cruise industry to secure a vibrant pipeline of cruise ships and new cruise offerings in Singapore. Complementing the onboard cruise experiences, we work with Singapore travel trade to present a strong suite of leisure offerings for attractive pre and post-cruise-stay in Singapore. Cruise holidays in Singapore present an opportunity to explore the popular sightseeing and attractions, rejuvenated precincts, the city's growing café culture, innovative bars, and restaurants, and go on a variety of interesting tours available."
In a bid to cater to the growing demand for cruise tourism, leading cruise liners have amped up capacities and introduced new facilities. Genting Dream, with over 3,300 passenger capacity is double its predecessor SuperStar Gemini's capacity. Royal Caribbean International recently announced that Asia's largest ship, the Quantum of the Seas, will be refreshed and upgraded, before it returns to Singapore between November 2019 and April 2020 for a six-month deployment, marking the cruise line's longest-ever deployment for a quantum class ship in Singapore.
"Consumer interest in cruise has been rising as Indian travelers discover the ease, relaxation, and value of a cruise vacation. CLIA looks forward to partnering with more Indian travel agents to provide them with the essential training, resources, and support to sell more cruise holidays in India," said Mr. Joel Katz, CLIA Managing Director Australasia & Asia.
Naresh Rawal, Vice President, Sales & Marketing, Genting Cruise Lines said, "A cruise holiday offers diverse offerings from zipline to foam parties and caters to a wide range of travelers. We are committed to providing exceptional hospitality services that draw a lot of returning guests/travelers to our cruises. We have received an amazing response to our Singapore – Surabaya – North Bali itinerary onboard Genting Dream, significantly from India's Tier 2 cities travelers. We are also witnessing growth in travelers seeking for premium and luxury services and aim to develop offerings that align with this demand."
Apart from the Cruise Forum, the STB will also undertake multiple activities and programs to promote cruise holidays in India. This includes marketing partnerships with travel agencies and OTAs, learning sessions and webinars in association with CLIA and dialogue sessions with trade partners to exchange ideas on growing the cruise business to Singapore.