French Consul General of Mumbai Inaugurates The New Indo-French Chamber Head Office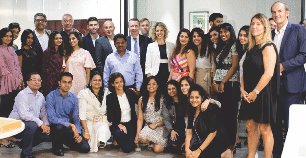 The Indo-French Chamber of Commerce and Industry (IFCCI) inaugurated its new head office at the One Forbes building in Fort, Mumbai on 16th May 2019. This office is shared with the official French Tourism Development Agency, Atout France and will be a hub for promoting Indo-French business and tourism.
The office was inaugurated by Ms. Sonia Barbry, Consul General of France in Mumbai and Mr. Guillaume Girard-Reydet, President of IFCCI and Managing Director, Pernod Ricard India. Mr. Kaustubh Dhavse, Officer on Special Duty, CMO, Government of Maharashtra was also in attendance.
Speaking on the sidelines of the inauguration, Ms. Sonia Barbry said, "Our aim is to promote Indo-French relations and strengthen our ties in all areas of business. IFCCI and Atout France have been actively promoting Indo-French relations and are set to gain much with this newly established office".
Spread across 6000 sq. ft., the Chamber has also opened a new business center to host French companies entering the Indian market. India and France historically share strong ties and close to 600 French companies have set up their operations in the country generating approximately 350,000 jobs.
Ms. Payal S. Kanwar, Director General, IFCCI highlighted "The Chamber was set up over 40 years ago in Mumbai and has grown to become India's most prominent bilateral chambers of commerce operating out of four cities. This new head office is an important step in developing our activities in the country"