High Tides of Optimism Visible in India's Tourism Growth Year 2018 Looks Positive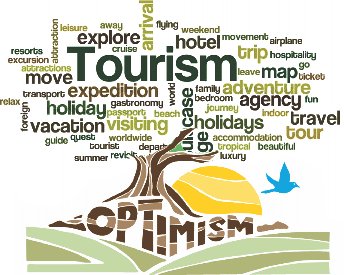 India is a cauldron of a charismatic past vibrant present and a promising future. Tourism stands here as a vital element of overall growth of the economy and gears both state and central governments to work towards increasing India's tourism market share on the global platform. Tourists come here to experience its judicious mix of culture, heritage, spirituality and natural beauties.
In the 12th Five Year Plan, the Ministry of Tourism, Government of India initiated lot of new projects for the sustainable development of tourism. PRASAD and HRIDAY are focused toward infrastructure development on specific tourist circuits; on these several projects were taken up and these are at various stages of completion.
The efforts of the Ministry have proved successful as international tourist arrivals have shown a positive growth of 15% during 2017 (provisional) as compared to 5% growth for the world as a whole as given to understand. During last months of 2017 growth in foreign tourist arrivals remained in double digit figure. To propel and sustain this growth, government has commenced aggressive Incredible India Campaign in global market and have put emphasis in infrastructure development such as road side amenities and cleanliness at tourist destinations, developing niche and rural tourism and having a better online presence for the net connected generation of today. Ministry's Campaign "Clean India" to create collective mind sets of Hygiene and make cleanliness an indispensable norm at all tourist destinations. Ministry also involved travel trade associations in this noble job. Ministry also took the initiative of research and analyze the markets favorable for India so that focused marketing Campaigns can be undertaken based on market need, identify key factors, holiday habits and psyche of tourists in those markets to identify the sectors driving this growth and tackle issues that deter the progressive growth of tourism. The inputs from those studies have been given to trade bodies to workout marketing strategies accordingly for tourist satisfaction. Allocation of conveniently located lands to set up tourist facilities like Convention Centers etc are some support to the industry to meet the requirements of tourism sectors MICE facilities, Security, Entertainment have also been given priority including Human resource development. Since long Bollywood movies have popularized foreign destinations in India and now the same tool will be used to promote India destinations among foreign travelers and film makers. Film tourism is also being focused with specific incentives by state governments.
Affordable packages with modern facilities are prerequisite for promotion of Medical Tourism and with regular meetings and forming a Task Force, Ministry is coordinating all related areas for development of Medical and wellness tourism, visa assistance, escort service, hotels, after treatment stay at comfortable resorts for recuperation. All these areas have been looked into by the committee members in the task force.
Heritage Rail journeys are our plus point and also heritage hotels Heritage tourism for visitors in the ethnic flavor have been focused in incentives travels by tour operators. Royal Cuisine, traditional dances, wildlife viewing are added in heritage experience. This makes our new packages unique, provide an experience which lingers in the minds of tourists.
The government is also giving a special effort to boost spiritual tourism by coordinating with local authorities and other stake holders to keep highest standard of hygiene at holy places. Domestic tourism is also getting top priority and government has taken initiatives to tap the domestic tourists who often prefers to visit overseas destinations. There is an effort to change the mindset of those tourists by offering best available high destination packages in Royal palaces, Royal Rail Journeys, Royal Cuisine, Wildlife resorts and spa resorts. Growth in domestic sector is phenomenal and even at a time of crises, this segment keep our tourism industry running. At a time when economic slowdown was there, we were not affected because of our high domestic tourism base.
Tourism is country's key drivers of growth for employment, increase in foreign exchange earnings and a major contribution to its GDP. Our honorable Prime Minister is our Brand Ambassador as he himself is spreading the message of Incredible India wherever he is visiting.
We are confident that with such positive steps, Indian tourism can see a boom in international tourist arrivals in 2018.
By Gour Kanjilal, Executive Director, IATO and Former, Dy. Director General, Ministry of Tourism, Govt. of India and Freelance Journalist.