Highlights of IT&CMA and CTW Asia-Pacific 2019
Wide Array of Sponsor-Backed Engagements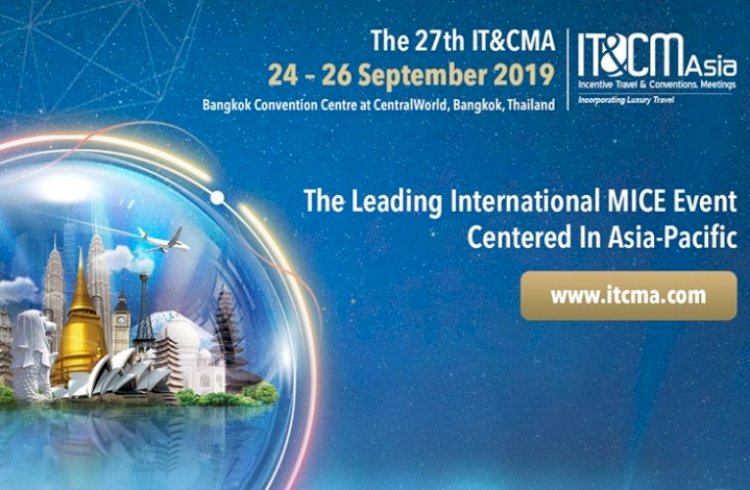 Singapore, 17 September 2019
With a lot more buzz on this year's show floor and program, delegates can look forward to a compelling IT&CMA and CTW Asia-Pacific 2019. Aside from business and knowledge components, this year's program features a wide array of sponsor-backed engagements such as the opening ceremony and welcome reception, hosted luncheons, dinners and cocktails, cohesion activities, as well as tours, entertaining in-booth activities, and lucky draws.
Darren Ng, Managing Director of TTG Asia Media said, "IT&CMA and CTW Asia-Pacific is all about connecting delegates with one another – both on and off the show floor. We're delighted to support more brands in going beyond their booth to enhance their outreach through targeted and meaningful sessions. The outcome is a fulfilling experience for both exhibitors and buyers alike."
Captive Outreach Over Lunch, Dinner, Cohesion, and Cocktails Setting the tone is Thailand Convention & Exhibition Bureau (TCEB)'s hosting of the Opening Ceremony and Welcome Reception at the Bangkok Art & Culture Centre on the evening of the first event day, aimed at showcasing Thailand's vibrant, creative and inspiring art scene.
To foster closer relationships with MICE, Associations and Corporate buyers while promoting their MICE-based itineraries, new exhibitor, leading Asia-Pacific DMC OMT Group will be hosting a Europe Cruise Preview lunch, and a River Cruise Dinner respectively on the first and last day of the show. The latter is also open to selected exhibitors.
Determined to anchor their brand and destination among attending buyers, Visit Nepal Year 2020 will also be hosting a networking Lunch on for selected MICE buyers on the first day of the show. Over the second day, AP MICE Solutions by JTB, Marina Bay Sands and Al Jazeera Media Network joins the line-up of lunch on host with each brand respectively targeting MICE, Association and Corporate buyers – the crux of IT&CMA and CTW Asia-Pacific's buyer profile. Al Jazeera Media Network's invited delegates will also include selected hoteliers, destination CVB and NTO representatives.
Meanwhile, in a bid to bring the corporate travel professional community closer, returning sponsor CWT will helm a cohesion comprising of a light-hearted interactive session over coffee, tea, and games for all CTW Asia-Pacific delegates.
Eager to introduce international MICE buyers to their properties are Conrad Bangkok and Accor Bangkok & Hua Hin Hotels with each brand hosting an after-show-hours cocktail for an intimate group, allowing them the added benefit of showcasing both site and hospitality on home ground.
Tours To Captivating Destinations
Pre- and post-show tours are among the most anticipated highlights for hosted delegates. In addition to the perennial Bangkok pre-show city tours, this year, host country TCEB has ear-marked charming world heritage site Ayutthaya as well as Khao Lak and Phang Nga.
Revamped 18th Sticky Awards
IT&CMA and CTW Asia-Pacific's very own recognition and appreciation programme for top-performing delegates has been reformatted to include new award titles such as Stickiest Destination, Stickiest Corporate Brands, Stickiest Pavilion Design & Experience, Stickiest Thai Buyers, Stickiest Function & Influencers, and more as well as a brand new voting format to enhance the segment's participation and entertainment value.
Aimed at motivating delegates to excel in their category, the Sticky Awards have been rewarding participants who have stood out and stuck on for having made a memorable impression on their fellow peers. The new voting format involves delegates nominating winners via the event app on the first and second day of the show. Winners are selected from the top nominees through a live poll during the Sticky Awards luncheon taking place on the last show day.
For more information, log on to www.itcma.com