Indiatourism Mumbai organized Seminar on Tiger Story – Responsibly Yours"
Indiatourism Mumbai held a Seminar on Tiger Tourism with the objective of promoting Tiger Capital of India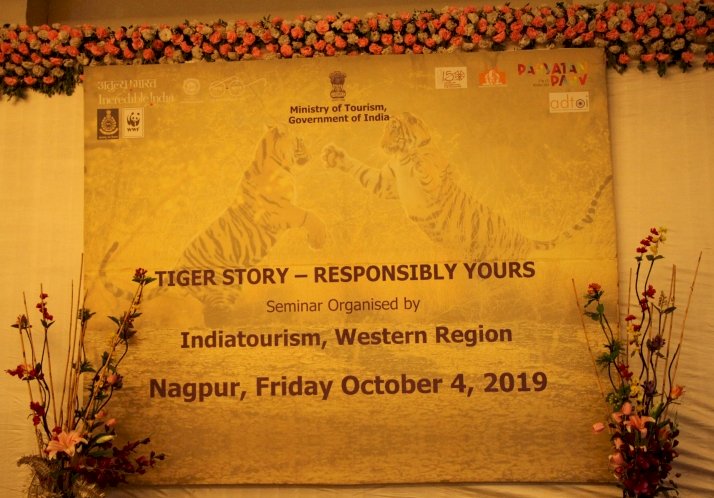 Indiatourism Mumbai held a Seminar on Tiger Tourism with the objective of promoting Tiger Capital of India i.e., the Tiger parks namely Tadoba, Melghat, Nagzira, Pench, Bor in Maharashtra near Nagpur and Kanha, Bandhavgarh in Madhya Pradesh, responsibly for ADTOI members.
The main aim of the Seminar was to create awareness about Tiger sanctuaries other than Tadoba in Maharashtra and in MP and at the same time promoting the tiger tourism without creating tiger-human conflict. Also it was aimed at promoting other attractions available in and around the sanctuaries such as bird watching, cycling, nature walks, mountaineering, experiencing rural tourism etc.
The speakers were Mr. Prashant Sawai, Regional Manager, MTDC, State Tourism Officials of Maharashtra and Madhya Pradesh Mr Gaurav Bawankule, Corporate Marketing Executive, MPSTDC) who gave detailed information on their properties and tourist facilitation available at the parks.
Most valuable information on enormous efforts taken by the State Forest Dept in preservation, conservation of the forest and the wildlife was shared by Dr R K Govekar, Chief Conservator of Forests and Field Director (Pench), Forest Department , Govt of Maharashtra. It was truly enlightening to know that the State is proactively working on creating employable opportunities for local community, skilling the tribal's of the region to act as guides, encouraging the community to promote home stays etc.
Anirudha Chaoji, Tadoba Conservation Foundation Biologist briefed participants on skill sets required for manpower to handle wildlife tourism and advised tour operators to sensitise visiting tourists. Tourists should be advised that there is much more to see and enjoy in a forest. The tiger is just incidental. One should enjoy nature to rejuvenate oneself. Wilderness is something spiritual and personal. There is too much obsession with the tiger, especially with its numbers, but sadly no one is that obsessed with its habitat – the forest. Save the forest first, the tiger and all other species will automatically be saved.
Lastly the Ajinkya Bhatkar, Senior Project Officer, WWF, Nagpur shared best practices adopted by WWF in sustainable management of wildlife tourism sanctuaries in the country. He also spoke about the Wildlife corridor conservation projects being undertaken in the country by WWF.
Overwhelming response was received for the Seminar by participation of 120 domestic tour operators from Mumbai, Nashik, Pune, Kolhapur and Nagpur.