IT&CMA 2018 Yet Another Defining Event for MICE and Corporate Travel
The 26th IT&CMA and 21st CTW Asia-Pacific kicked off today in Bangkok, Thailand and welcomed some 3,000 delegates, including over 500 hosted buyers and media, from more than 50 territories and countries over the course of the 3-day event from 18 to 20 September 2018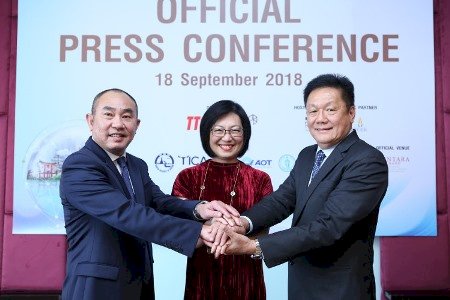 Bangkok, 18 September 2018
The 26th IT&CMA and 21st CTW Asia-Pacific kicked off today in Bangkok, Thailand and welcomed some 3,000 delegates, including over 500 hosted buyers and media, from more than 50 territories and countries over the course of the 3-day event from 18 to 20 September 2018.
The next 2 days of the exhibition and business components will feature some 316 destinations and corporates, the largest showings to date with a 35% increase in booth take up and expansion.
Said TTG Asia Media Managing Director, Darren Ng, "We have an extremely robust 2018 line up for all our delegates this year. Business objectives remain the main focus of IT&CMA and CTW Asia-Pacific in providing MICE and Corporate Travel-centric opportunities for all our exhibiting suppliers and buyers to achieve their goals for the region. The advocacy of knowledge-based sharing is also a key pillar at our events in advancing the intellect and innovation within our growing industry and we are happy to see so many destinations and brands take up captive social functions to personally get to know their audience."
Today kicked off one of the strongest education series in the show's history, with sessions crafted closely to address current market trends, challenges, and shifts in priorities. The main keynote presented by Martin Nydegger, CEO, Switzerland Tourism; Oscar Cerezales, COO, MCI Asia-Pacific; Nichapa Yoswee, Senior Vice President – Business, Thailand Convention & Exhibition Bureau (TCEB); and Daniel Chua, Vice President – Meetings & Incentives, Singapore Associations of Conventions and Exhibition Organisers (SACEOS), set the tone towards the transformation of audience engagement as the demand to stand out and being top-of-mind becomes more competitive.
Another two stellar sessions took place this morning. The first ICCA-TTG Passionate Breakfast themed "Graceful Powers" celebrated the journey of women and diversity in the workforce, with inspiring sharings by incredible female achievers who have made their mark in the industry. The inaugural Asian MICE Cruise Conference, helmed by TTGmice, debuted with a half-day programme attended by close to 400 major cruise players and stakeholders in the region.
Targeted outreach and sponsorship is also at a high this year, with companies like Bangkok Marriott Marquis Queen's Park, Busan, Desaru Coast, Dubai, Japan Airlines and American Airlines, Japan by JTB, Princess Cruises, and Taiwan, taking up exclusive functions to reach out to select buyers. The CTW Asia-Pacific pre-show networking event from 15 to 17 September at Bangkok Marriott Marquis Queen's Park and the returning Meet-Your-Peers session concluded today, allowing corporate travel managers to mingle and build their peer-to-peer connections beyond the show. Pre- and post-show Thailand FAM tours by TCEB, as well as post-show tours by Osaka and the Philippines have drawn high demand amongst buyers.
TCEB's Senior Vice President for Business, Nichapa Yoswee, affirmed, "TCEB is proud to showcase Thailand at IT&CMA and CTW Asia-Pacific this year through a variety of high-impact activities, new pre- and post-tour destinations, strong exhibitor display and extraordinary pavilion expansion to showcase innovation that is sure to fulfil the needs of buyers planning for exceptional MICE events in our Land of Smiles. One highlight of this year is the launch of our new brand Thailand: Redefine Your Business Events to project Thailand as a co-creator in delivering exceptional experience for MICE travellers when our industry redefines its way of thinking and action to meet shifting business demands and the Thailand 4.0 policy, which will make Thailand stay ahead of the competition."
TCEB hosted the Official Opening Ceremony & Welcome Reception themed "Thailand Limited" that rounded off Day 1 of activities at the GMM Live House at CentralWorld, featuring a colourful night of uniquely Thai entertainment, local cuisine, and hospitality.