IT&CMA continues to showcase the largest congregation of Asian MICE CVBs and NTOs
IT&CMA this years sees even bigger participation by Thailand Convention &Exhibition Bureau, Pattaya MICE City, Worldwide Cruise Associates, Tourism Promotion Board Philippines, Fukuoka Convention & Visitors Bureau, and India Tourism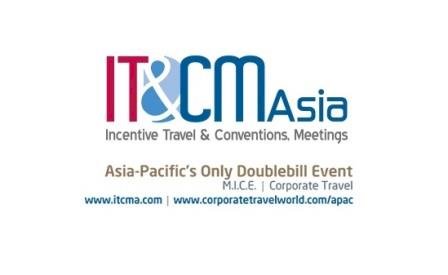 IT&CMA this years sees even bigger participation by Thailand Convention &Exhibition Bureau (60%), Pattaya MICE City (50%), Worldwide Cruise Associates (50%), Tourism Promotion Board Philippines (33%), Fukuoka Convention & Visitors Bureau (33%), and India Tourism (12%). IT&CMA and CTW Asia-Pacific 2018 expects more than 3,000 delegates in attendance, including over 800 exhibitors from some 300 exhibiting companies and 450 hosted buyers, to do business, networking, and educate over 3 action-packed days.
Said Darren Ng, Managing Director, TTG Asia Media, on IT&CMA's glowing reputation and expertise in MICE, "IT&CMA continues to be at the forefront of shapingAsia-Pacific'sbusiness events market potential for all stakeholders.The labours of our accumulated efforts over two decades have clearly imbued a sense of confidence through the success of our anniversary show last year. This is a testament to the quality of sellers and buyers IT&CMA consistently brings to our shows, with this 26thyear being even bigger and better."
ChiruitIsarangkun Na Ayuthaya, President, Thailand Convention & Exhibition Bureau (TCEB), "TCEB is proud to be a long-standing and active strategic partner and host.IT&CMA is a vital part of our business events calendar in leading meaningful growth for the Thai MICE industry and local economies. Our continued commitment to nurturing this demand will bring in even more uniquely Thai organisations with our substantial expansion."
IT&CMA's largest Japan display to date welcomes 6 Global MICE Cities Fukuoka, Hiroshima, Kobe, Nagasaki, Osaka, and Sapporo eager to charm MICE and Association buyers. Seoul Tourism Organization (STO) looks to boost their MICE competitiveness with renewed focus on Asia-Pacific since formally becoming a government-funded foundation,debuting an independent pavilion this year to further promote their PLUS SEOUL Package, an all-in-one MICE support initiative.
Other new and returning destinations and corporates on board include Chiangmai, Indonesia, Jeju, Korea, Lanna, Macao, Malaysia, NYC & Company, Taiwan, as well as Bangkok Marriott Marquis Queen's Park, Centara, Desaru Coast, EventsAir, Krung Kavee Golf Course& Country Club, Marshall Cavendish, Princess Cruises, Radisson Hotel Group, Resorts World Sentosa, Royal Caribbean, Royal Cliff Hotels Group, Sampran Riverside, Shenzhen Ucloudlink Tech, Slickbooth Cambodia, Thai Airways, and more.