Karnataka Tourisms' Roadshow in Ahmedabad, Vadodara, Surat and Indore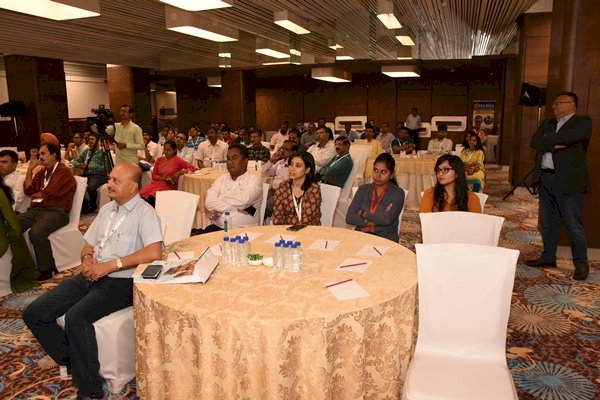 With an aim to increase domestic tourists to the state, the Department of Tourism, Government of Karnataka had organized Roadshows in Ahmedabad, Vadodara, Surat and Indore to promote the various products and destinations of Karnataka.
The exclusive B2B Roadshows were attended by more than 20 stakeholders from Karnataka and attracted 400 discerning tour operators. Karnataka Tourism is to promote the state as a Leisure, MICE and Wedding Destination in the Indian market. The Karnataka Tourism Department organized a One-Day Roadshow in the various cities to meet with travel agents and tour operators. The Roadshow brought together different aspect of the tourism product such as natural beauty, adventure, pilgrimage, cultural heritage and many more to the Gujarat and Madhya Pradesh market.
Some of the stakeholders, who exhibited included KSTDC, Jungle Lodges and Resorts, Windflower Resorts, Arjun Tours, SGR Tours, The Serai Resorts, The Trivik – Chikmagalur, Quality Holidays, Rashi Eco-venture, Country Club – Bandipur, Hamsa Tours – Hampi, Intersight Tours, The Paul, etc

Mr. T K Anil Kumar, Secretary – Tourism, Govt. of Karnataka said "Karnataka is home to a large and exciting portfolio of globally acclaimed tourism products with UNESCO World Heritage Sites, splendid wildlife and resplendent nature, virgin beaches to adorn. The Roadshow series will provide the impetus to the domestic inbound travel and would enhance the marketing efforts of Karnataka Tourism to promote our destinations to the travel-trade".
Mr. Kumar Pushkar, Managing Director, KSTDC said "Karnataka recently organized the very successful inaugural edition of 'Karnataka International Travel Expo' at Bengaluru and the Roadshow activity will be an excellent occasion for our stakeholders to renew contacts with the travel-trade across India'.
He further added "the department has introduced new package tours to fit the specific needs of tourists which were designed taking into consideration the requirements of the tourists and KSTDC would help plan the entire itinerary providing a seamless tour experience. Services offered in the package include transport, accommodation and sightseeing. We are also offering online booking facilities on our site www.kstdc.co".
The next editions of the Roadshow will travel to Raipur, Bhubaneswar, Vizag, Chennai, Chandigarh, Jaipur, Guwahati, Kolkata, Delhi and Mumbai.