Mr. Akshay Puri joins The Fern Residency, Ahmedabad as General Manager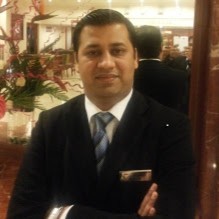 Ahmedabad's The Fern Residency Subhash Bridge welcomes new General Manager Mr. Akshay Puri. As general manager, Mr. Puri brings a plethora of experience to the position. He seeks to propel overall growth for the hotel by elevating guest happiness through strategic initiatives and an emphasis on brand development.
Leading a passionate team, his vision is to create an unmatched experience for every guest. His leadership is driven by a commitment to excellence and a genuine desire to create lasting memories for every guest. Prior to this assignment, Akshay was General Manager at The Fern Residency, Mundra.
The Fern Residency Subhash Bridge, Ahmedabad extends heartfelt congratulations to Mr. Akshay Puri on his well-deserved promotion. And eagerly anticipate his continued contributions in enhancing the guest experience and achieving remarkable milestones of success in the future
The Fern Hotels & Resorts, a renowned environmentally conscious hotel chain and one of India's fastest-growing brands is delighted to commemorate a remarkable milestone. They have either opened or have upcoming openings for 100 hotels and resorts in 85 locations across India and worldwide. The Fern encompasses various brands, including The Fern, The Fern Residency, The Fern Habitat, Zinc Journey by The Fern, and Beacon Hotels. This exceptional achievement is a testament to the brand's unwavering commitment to sustainability and providing unmatched hospitality experiences. The Fern consistently raises the bar in the industry while prioritizing environmental responsibility.