Resorts World Cruises Introduces Box Cricket at Sea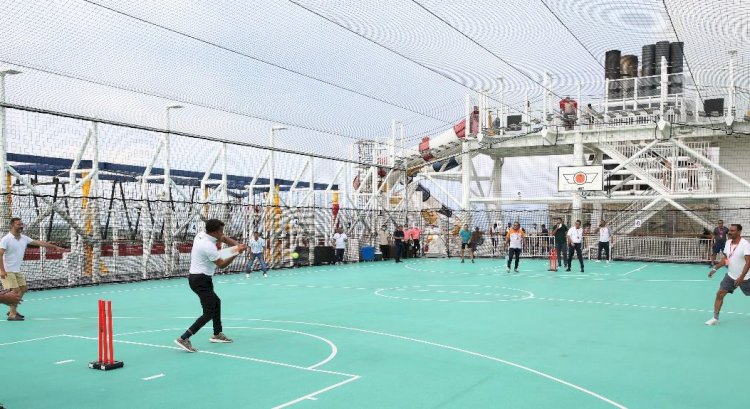 Resorts World Cruises is now offering Meetings, Incentives, Conferences & Exhibitions (MICE) groups the chance to enjoy and play a game of Box Cricket at sea on the Genting Dream, which departs three times a week from Singapore to Penang and Kuala Lumpur in Malaysia; and soon to Phuket in Thailand. As one of India's favourite sporting and pass time events, Fly-Cruise MICE guests can now participate and play a game of Box Cricket upon request on the Genting Dream with all the comfort and convenience of a cruise vacation.
"Resorts World Cruises is delighted to announce that Box Cricket is now available upon request for our Fly-Cruise MICE guests, a sporting activity that is especially popular among our guests from India. A friendly match of Box Cricket at sea will be an exciting activity that is suitable for any type of MICE events to be held on the Genting Dream. It's truly going to be a unique and memorable experience for fans, as well as for those learning about the game", said Mr. Naresh Rawal, Vice President – Sales and Marketing, Resorts World Cruises.
Box Cricket is a variant of the cricket game with similar basic concepts to the original version. However, Box Cricket has added enhancements that increases the enjoyment for casual players. Box Cricket at sea promises to be an elevated experience. Imagine playing a game of Box Cricket on the deck of a ship with the stunning panoramic view of the ocean as the backdrop, while cruising to exotic destinations. It's the perfect vacation for cricket fans. In addition to the exciting MICE activities, guests can also savour a variety of international and Asian food and beverages, including certified and authentic vegetarian and Jain cuisines.

Fly-Cruise MICE guests can look forward to a series of cruise itineraries departing from Singapore, which include the current 2 Night cruises to Kuala Lumpur on Wednesdays, the 2 Night Weekend Getaway Cruises departing Fridays, as well as the 3 Night Kuala Lumpur – Penang cruise with departures on Sundays. Besides that, Fly-Cruise MICE guests can opt for the special 5 Night Surabaya- Bali cruise departing on 18 December 2022, as well as the 5 Night Kuala Lumpur – Penang - Phuket cruises departing on 20 November 2022 and 12 March 2023. In addition, bookings will also soon be open from 15 November 2022 onwards for the 3 Night Phuket cruises from Singapore with sailing dates available between May 2023 and April 2024.

Log on to www.rwcruises.com for more information and to book a cruise with Resorts World Cruises.