TCEB joins pact with associates in promoting 'Phuket MICE City' as world-class MICE destination
Eyeing to soar as Asia's key coastal MICE city, Phuket will serve high-end meetings and incentives groups by highlighting marine beauty and cultural diversity.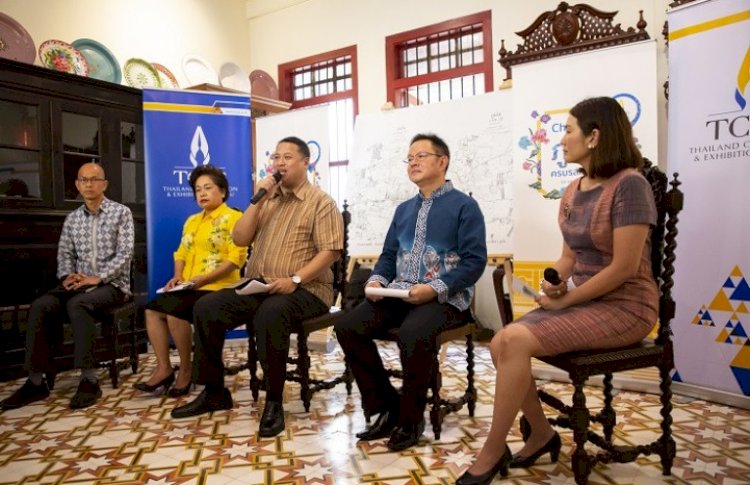 TCEB joins hands with Phuket Province and public sector to unveil the strategy formulated to expedite Phuket as a world-class MICE city of the Andaman. Eyeing to soar as Asia's key coastal MICE city, Phuket will serve high-end meetings and incentives groups by highlighting marine beauty and cultural diversity. Seven fresh routes designed to boast Thai-style MICE will be offered to impress visitors.
Mr. Chiruit Isarangkun Na Ayuthaya, President, Thailand Convention & Exhibition Bureau (Public Organization) or TCEB, disclosed about "the direction to drive Phuket MICE City towards becoming a world-class MICE destination that there is a fresh vision to develop Phuket as the 'world-class meetings destination for MICE that offers new experiences through marine beauty and cultural diversity'.To achieve this, the integration of collaboration will be fulfilled by public and private sectors and the communities to promote the holding of MICE events in Phuket, respecting to stimulate the economy and provoke income distribution among communities. MICE industry will be bolstered basing on knowledge sharing in order to expedite MICE events and entrepreneurs to achieve international standards, as well as to promote sustainable operations to assure long-term competitiveness.
Phuket has a wide variety of attributes that enable it to serve as an international MICE city and as a globally renowned world-class MICE destination. There are numerous direct flights to many destinations worldwide, spanning Eastern Asia, the Middle East and Europe. Additionally, pre and post event activities can be arranged for meetings and incentives groups, ranging from sports, cultural performances, relaxing spa to adventurous excursion. Phuket features the readiness in terms of facilities and qualified personnel. These include 220 convention venues with 615 meeting rooms or more. Also, there are more than 600 hotels with over 40,000 rooms to serve delegates. 14 piers serving passenger boats and cruise ships are ideally equipped, side by side with 4 private marinas. Moreover, the construction of light rail transit is in progress, expecting to serve travelling from the Airport to Phuket city.
Further added, "Our thorough studies of data and strategies of Phuket MICE City indicated that Phuket has enjoyed substantial development and has the potential to soar as a leading MICE city like other international destinations. Our vision to promote Phuket as the Andaman's rising MICE city and as Asia's key coastal MICE city has never been this clear."
The improvement of infrastructure and management to expedite MICE, which will be fulfilled through 4 main projects, including the management and use of facility spaces within Phuket; promotion and expedition of local hotels to earn Thailand MICE Venue Standard (TMVS) standard in the meeting room category; formation of MICE coordination centre, and development of online tools to serve local MICE event planning.
Furthermore, TCEB has initiated the project to study and develop plausible MICE routes in Phuket to serve domestic MICE. Designed with the '7 new perspectives' concept, the Thailand 7 MICE Magnificent Themes highlights 1) Fascinating History and Culture 2) Exhilarating Adventure 3) Treasured Team Building 4) CSR and Green Meeting 5) Beach Bliss 6) Lavish Luxury and 7) Culinary Journeys. As one among five MICE cities with comprehensive MICE factors, Phuket features the Phuket old town route, which was showcased in the World Harmony Puppet in 2018, as well as historical and cultural routes, team building, CSR activities and eco-friendly meetings at Pa Khlok Community and the Peranakan Museum.