A Resounding Success of MEET TAIWAN in Singapore by IT&CM Event
MEET TAIWAN, an incentive travel roadshow, powered by IT&CM Events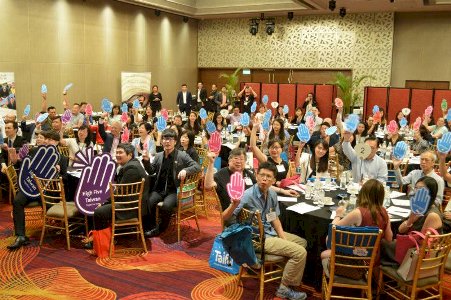 Singapore, 4 July 2018
MEET TAIWAN, an incentive travel roadshow, powered by IT&CM Events, was a resounding success, welcoming close to 100 buyers and media at the half-day event on 27 June 2018 at Mandarin Orchard Hotel, Singapore.
Eagle Tour, Lion Travel Service Co., Ltd., MSL Group, Taiwan Tour, ABLY Conference and Exhibition CO., Ltd., Taipei Nangang Exhibition Center, Taipei City Government, EVA Air, and China Airlines were the 9 companies and organisations brought in exclusively to meet with decision-makers interested in incentive travel, corporate incentives, alternative tours, and educational itineraries.
On how the networking event has helped to further promote Taiwan as a coveted destination, Jessie Tseng, Executive Director of MEET TAIWAN, elaborated, "Taiwan and Singapore maintain a very close relationship when it comes to travel and tourism. Networking roadshows are one of the ways MEET TAIWAN reaches out to targeted segments of MICE and Incentive Travel buyers and allows relevant operators to meet face-to-face to promote corporate meetings and incentive travel to Taiwan. This is our fifth year here, and every year, we bring in operators from different fields of MICE and incentives to introduce to our Singaporean guests and fulfil their business needs. "
Kicking off the event, MEET TAIWAN's Executive Director Jessie Tseng made a surprise entrance to much applause, donning an indigenous Taiwanese costume and addressing the crowd with an introduction to Taiwan's encapsulating beauty. Taipei's Nangang Exhibition Center, Taiwan's largest tradeshow venue, also gave a glowing presentation of their latest Hall 2 set to open officially in March 2019. The new hall will feature some of the latest state-of-the-art conference and exhibition capabilities, with a 3,600 capacity multi-functional conference hall, complimentary WiFi, and sky garden, all fully designed with sustainability in mind.
This year's MEET TAIWAN roadshow is making five stops in Southeast Asia – Manila, Singapore and Kuala Lumpur in June, as well as Indonesia and Vietnam in September. With incentives offered by Taiwan government's "New Southbound Policy" towards to Southeast Asian countries, MEET TAIWAN expect more meetings and business groups from the region to visit Taiwan and establish Taiwan as the premier MICE destination in Asia.