India's first premium cruise ship Karnika dock to Mumbai
Karnika sail back to new and unexplored Indian cruise destination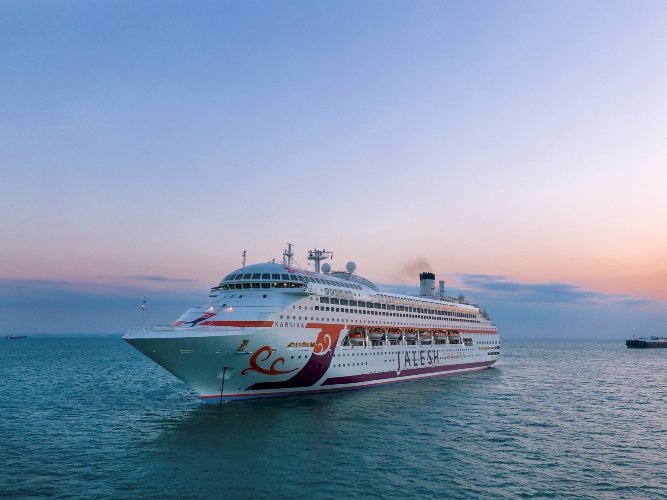 Mumbai, 17 September 2019
Karnika, India's first premium cruise ship by Jalesh Cruises is arriving back in Mumbai on 19 September 2019 and to sail back to new and unexplored Indian cruise destinations-Ganpatipule in Maharashtra and Diu. Jalesh Cruises is celebrating the homecoming of the ship with a 15 percent discount to guests for Diwali, Christmas and New Year vacations. Karnika will become the first domestic cruise ship to take guests to Ganpatipule in Maharashtra in October and Diu in November.
Jurgen Bailom, President & CEO, Jalesh Cruises said, "We are extremely excited to offer new and unexplored cruise destinations to our guests in India. Being India's first premium cruise line, we are focused on offering our guests the best of the country's vast coastline. Karnika will be the first domestic ship to sail to Ganpatipule in Maharashtra and Diu, thereby opening up new cruising frontiers in India for our guests to enjoy and for others to follow."
Karnika will be sailing from Mumbai to Muscat, Oman for a Diwali and Christmas special itineraries and it will sail from Dubai to Mumbai for the New Year trip. Karnika has received an overwhelming response from its 15 sailings earlier this year in Mumbai and during its four-month sail in the Middle East.
Karnika undertook its maiden sail from Mumbai to Goa on 17 April 2019. In keeping with the maritime tradition, Karnika, meaning a 'celestial nymph' was transferred to the water in a gala ceremony held earlier this year on 19 April 2019.
Onboard the ship, passengers have a variety of cuisines, entertainment, adventure and relaxation to choose from. Additionally, the cruise offers land-based excursions at different ports for passengers.