Indiatourism Mumbai is organising online LIVE YOGA session
Mumbai 17 June
21st June was recognised as the International Day of Yoga (IDY) by the United Nations General Assembly (UNGA) in December 2014. Initiated by the Prime Minister of India, Shri Narendra Modi, IDY is today actively observed around the world.
The main purpose of IDY is to highlight the immense potential of Yoga to enhance the physical, psychological, and emotional aspects of wellbeing. The event encourages new advances within the field of Yoga, such as development of specific protocols, addressing lifestyle diseases, and research in developing potentially productivity enhancing tool. IDY has not only boosted Yoga's popularity but also expanded its geographical presence by inspiring its adoption in several new territories.
In keeping with the objectives laid out for IDY, Indiatourism Mumbai, the Regional Office of Ministry of Tourism, Government of India in Western Region has taken several initiatives to spread the awareness of Yoga through various engaging activities. A weeklong online outreach program is in the process of implementation for the Western & Central Regions of India. The seven days of virtual events include a mix of awareness and engagement programs, that can be accessed from the convenience and safety of home and other secure spaces.
As a part of this schedule, Indiatourism Mumbai brings Yoga Yatra: The Journey for Yoga as a Way of Life - a virtual tour and experiential Pranayama session by Maharashtra's Kaivalyadhama Yoga Institute at Lonavala - one of the oldest and most pioneering Yoga institutes in the world. Mr. Venkatesan Dhattareyan, Regional Director (West & Central Region), Indiatourism Mumbai added, "today, there is an ever-increasing need for stronger immunity and a balanced healthy lifestyle. With the aim to promote holistic wellbeing, this virtual tour by Indiatourism Mumbai, presents the accessibility and appreciation of an Indian yoga institute of global repute such as Kaivalyadhama, very much within our reach in Maharashtra itself. We need to highlight and promote wellness Tourism once destinations unlock and are ready for travel."
Indiatourism Mumbai is organising the virtual tour with The Dhi Project as its knowledge partner for the event. The Dhi Project works towards making knowledge of India's rich and ancient wisdom accessible to the world - through an understanding of India's varied traditions, culture, philosophy, history, practices, texts, art forms, and architecture. The Dhi Project engages with authoritative experts globally, to offer audiences meaningful experiences and mindful deliberation.
The virtual tour and interactive OPEN AND FREE session shall be open and free for all to be aired live on Sunday, June 20th 2001 from 9.00 am to 10.30 am IST via Kaivalyadhama's YouTube @ KaivalyadhamaYogaInstitute and Facebook @kdhamyoga. It will be simultaneously available on the YouTube handle of Indiatourism Mumbai @ India Tourism Mumbai. After completion of the virtual tour, the session will continue with an experiential Pranayama session for viewers to be conducted by a Kaivalyadhama expert.
The event details are as follows -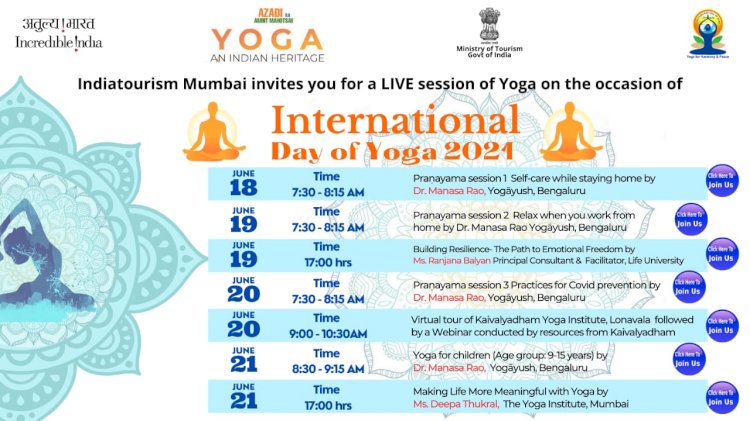 | | | | |
| --- | --- | --- | --- |
| Date | Time | Activity | Short link |
| 18.06.2021 | 0730 to 0815 hrs | Prāṇāyāma session 1- Self-care while staying home by Manasa Rao, Yogayush, Bengaluru | |
| 19.06.2021 | 0730 to 0815 hrs | Prāṇāyāma session 2 – Relax when you work from home by Manasa Rao, Yogayush, Bengaluru | |
| | 1700 hrs | Webinar on 'Building Resilience- The Path to Emotional Freedom by Ranjana Balyan, Principal Consultant & Facilitator, Life University | |
| 20.06.2021 | 0730 to 0815 hrs | Prāṇāyāma session 3: Practices for covid prevention by Manasa Rao, Yogaysh, Bengaluru | |
| 21.06.2021 | 0830 to 0915 hrs | Yoga for children (Age group: 9-15 years) by Manasa Rao, Yogaysh, Bengaluru | |
| | 1700 hrs | Indiatourism Mumbai webinar session "Making Life More Meaningful with Yoga" speaker from The Yoga Institute, Mumbai | |