TCEB Taps Into Tier2 MICE Cities In India
Thailand Convention & Exhibition Bureau taps into secondary MICE cities in India with the herald of MICE road shows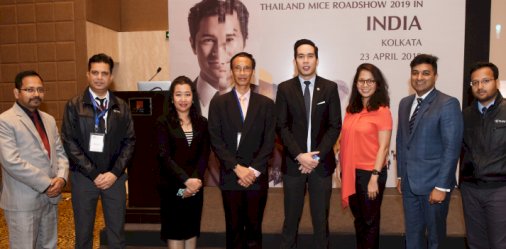 Thailand Convention & Exhibition Bureau (Public Organization) taps into secondary MICE cities in India with the herald of MICE road shows, eyeing to attract more than 13,000 visitors into Thailand to boost meetings and incentives market by which can generate over 1,000 MB of revenue.
Mr. Chiruit Isarangkun Na Ayuthaya, President of TCEB, disclosed that TCEB has been thinking highly of MICE markets in India, which is considered a MICE market with the second largest number of MICE travellers after China. As a market with high potentiality in terms of population and economic growth, TCEB recognised the cities and thus joined forces with Thai entrepreneurs to hold road shows that expect to promote meetings and incentives in secondary cities of India. During March to April, two road shows were held. The first show was in Hyderabad and Kolkata and then in Jaipur and Lucknow, which are secondary cities with a small number of MICE travellers. Interestingly, there are a good number of travel agents with high potentiality qualified to develop as MICE travel agents in the future. TCEB realises that the preparation of networking with agents at the early stage in secondary cities will help to form long-term business relationship, which is a key factor in dealing with the Indians.
It is expected that the events will bring a total of 63 meetings and incentives events from India into Thailand, attracting more than 13,000 MICE travellers which can generate over 1,000 million baht of revenue.