'It's Gin-o-clock!' welcome New Year with SOCI Gin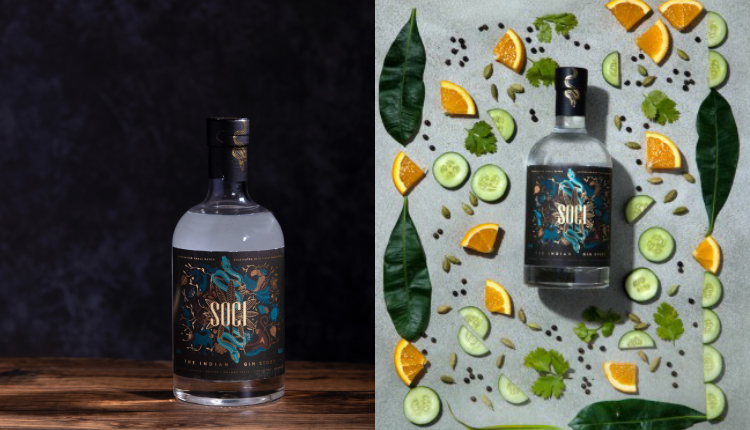 SOCI is from the House of Good Barrel Distillery Pvt Ltd., a craft liquor platform in collaboration with Living Liquidz and is founded by Mokksh Sani & Lalit Kalani.
Talking about the originality behind the name 'SOCI,' Lalit Kalani elaborated, "SOCI is all about shedding inhibitions and hence the Garden of SOCI and the serpent symbolise this. We are going for the animalistic vibe and drinks that make you feel alive. The jungle seems to come to life, creatures awakening from their mid-day slumbers, birds beginning to chirp incessantly, all making a move toward the watering hole for a much-needed drink. Shoulders rub, conversations unfold, and most importantly, curious discoveries make their way into the light - the true faces behind the masks are revealed. With that said, SOCI is inspired by the spirit of society, one that seeks and thrives on secrets and curiosity."

Suitable for the outlaws or the rebels that yearn for liberation from oppression, this gin exudes bravery in all circumstances- making it a go-to alcohol choice for free spirits that inspire others to take chances and dream. Embarking on a mission that helps sophisticated sippers concoct the perfect drinks for every occasion with their gin, SOCI Gin is determined to unleash your inner spirit animal and add a touch of warmth to your cozy winter nights.

Shedding a light on the inspiration behind creating SOCI Gin, Mokksh Sani said, "Gin, as a category, has been enjoying a steady increase in consumption over the past few years, and young Indian consumers are swaying towards gin because of its versatility. Consumers nowadays are open to experimenting and are constantly looking out for something new and are drawn towards artisanal & craft beverages. With SOCI, we want to offer younger drinkers a great quality liquid that is trendy, non-complicated, and easy to drink. A gin that helps drinkers be themselves - let go of their inhibitions and reveal their true identity to the world."

Aspiring to be the next go-to gin for young Indian consumers, the 'Delicious, Mysterious & Edgy' SOCI Gin is versatile, and also enables one to be creative & experimental- one that lets them explore their "edgy" side. SOCI Gin stands out amongst the rest as the botanicals infused in the gin are cold pressed to keep the flavours at their most optimum levels. It is refreshing and versatile, perfect for sipping neat or on the rocks, as well as great in cocktails.

With an apt ambition to provide consumers with a great quality Indian gin that enhances the cocktail culture, this Indian gin crafted in Goa is also gearing up to provide consumers with a wide range of mixers & cocktail options that they can enjoy. And simultaneously equip them with enough knowledge about gin, how it's made, and ways to consume it, so that they don't get intimidated while placing an order or asking for their favourite gin.
Gin is one of the most ancient alcohols in the world. Yet, in recent times, there's been a massive gin revival. Once seen as a bit of a niche drink that was only enjoyed by people that liked gin and tonic, things are now different, and gin is huge! From classics to modern twists, there is something for all tastes and many of them are really simple. Here are some savoury concoctions that you can indulge in with SOCI GIN that brings out the inner bartender in you making you go all out and say, 'It's Gin-o-clock!' Some gin-vigorating cocktails that will sweep you off your feet include the Cardamom Rose Cocktail, the secret ingredient of which is just a flavoursome rose syrup and has the taste of an expensive drink, but don't you worry! You can freshen these up as many times as you want without burning a hole in your pocket. Another awe-spiring cocktail is the Cucumber Mint Gin Cocktail which serves as the perfect brunch cocktail that will leave you thoroughly pleased. Next in line is the simplest gin cocktail which includes only two ingredients- Gin Gimlet. Two parts gin and one part lime cordial mixed together and you're good to go! Other killer SOCI-gin-infused cocktails that you can make from the comfort of your home include Blood Orange mint gin Fizz, Pink Negronis, Blueberry gin mojito, Gin Daiquiri, Gin-a-colada, and more!

So don't hold back – get moving on those Gin Cocktails with SOCI Gin from the Garden of Soci and unleash your inner rebel in full swing!