Investing in People - World Tourism Day celebration at SNDT College students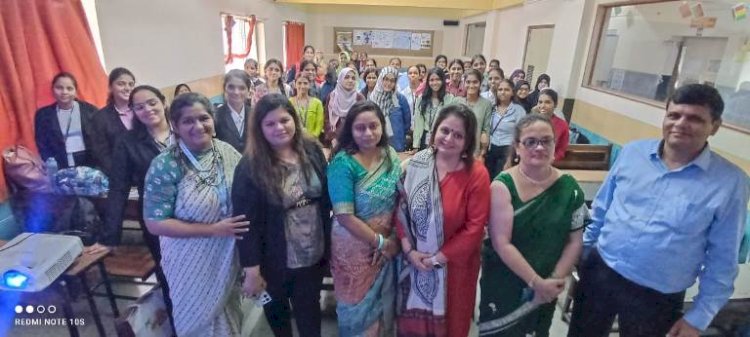 World Tourism Day is a global celebration that highlights the immense impact of tourism on economies, cultures, and the environment. Dr BMN College of Home Science (Autonomous) SNDT College, Matunga's students pursuing careers in tourism came together to commemorate this special day under the theme "SafarNama 2023". The event not only encouraged students to explore opportunities in the tourism industry but also emphasized the importance of sustainable and eco-friendly tourism practices.
SNDT College, known for its commitment to excellence in education, brought students and experts from the travel and tourism sector Ms. Parul Kesari (Editor-in-Chief Safari Plus), Ms. Urvashi Panchal (Owner Traveloclue) and Mr. Santosh Kushe (Skilko Training, Coaching & Consultancy) came together to mark World Tourism Day in a memorable manner. The event's chief guest, Ms. Parul Kesari, from a prominent travel magazine, shared her invaluable insights on tourism as a "Green Investments in Tourism."
In her captivating address, Ms. Kesari underscored the vital role that the tourism industry plays in today's world. "Tourism is more than just a means of exploring new destinations; it's a dynamic force that can bring about positive change when it is approached sustainably," she emphasized.
As the world faces pressing environmental issues, the travel and tourism industry must evolve to become a part of the solution rather than contributing to the problem. Ms. Kesari elaborated on the concept of "Green Investment," which involves making conscious choices to promote eco-friendly tourism practices. This includes reducing the carbon footprint of travel, preserving natural and cultural heritage, and supporting local communities.
In a remarkable initiative to promote responsible tourism, the Ministry of Tourism recently launched the "Travel for Life" campaign, aimed at encouraging travelers to explore the world in a sustainable and ethical manner. As part of this campaign, Students along with professors enthusiastically took a pledge to become responsible tourists, recognizing their role in preserving the environment and respecting local cultures.
SNDT College's dedication to nurturing young minds and promoting sustainable practices in the tourism industry was truly commendable. The event served as a reminder that the future of tourism depends on responsible choices and investments in our youth, who will become the torchbearers of a more sustainable and mindful tourism sector.
Ms. Urvashi, who has explored some of the world's most eco-friendly destinations, spoke passionately about her encounters with communities and initiatives that prioritize environmental conservation and cultural preservation. Her presentation was an eye-opener for the students, as they learned about real-world examples of responsible tourism in action.
Mr. Santosh's presentation began by defining responsible tourism as a conscientious approach to travel that not only enriches the traveler's experience but also benefits the destination's environment, culture, and community. He stressed that responsible tourism was not a luxury but a necessity in a world grappling with environmental and socio-cultural challenges.
Thanking the guest, Dr. Vrushali Datar, Head Dept of Resource Management (Hospitality), Dr. BMN College of Home Science, said, "World Tourism Day at SNDT College is a celebration of hope and promise, where students were encouraged to explore and innovate, all while considering the impact of their actions on the environment and local communities. This event and the insight knowledge shared by the speaker today will leave a lasting impression on everyone present, reinforcing the idea that investing in green tourism is not just a choice but a necessity for our planet's future."
Ms. Zeena said, "Tourism has the power to change lives, but it is up to us to ensure that this change is positive and sustainable. With the commitment and enthusiasm of the next generation of tourism professionals, there is every reason to believe that the future of tourism will indeed be green and responsible."