Israel Tourism and Govardhan Eco Village Collaborate on Experimental Learning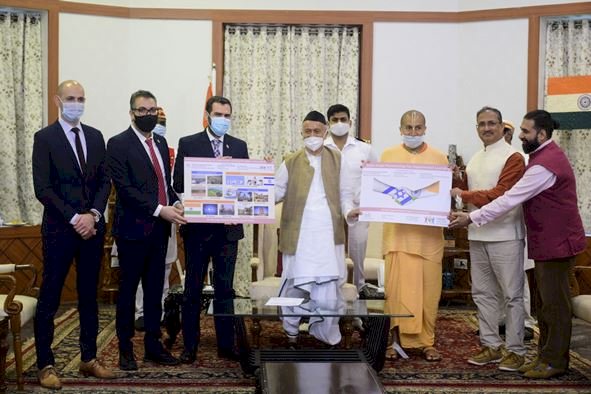 The team from the Israel Ministry of Tourism's India Office led by Director Sammy Yahia, along with Consul General of Israel - Mr. Yaakov Finkelstein and Govardhan Eco Village's Director - Shri Gauranga Das Prabhu met with the Honourable Shri Bhagat Singh Koshyari, Governor of Maharashtra on July 13, 2021, in Mumbai. The meeting was arranged to inaugurate the Indo-Israel Partnership for Experimental Learning between the Israel Ministry of Tourism and Govardhan Eco Village.
The Ministry of Tourism and Govardhan Eco Village are working closely together to curate a comprehensive 10-day course for the students that will expose them to Sustainable Ecosystems in India (3 days) – at the Govardhan Eco Village, and in Israel (3 days), as well as an immersive cultural experience in Israel (4 days). The Experimental Learning Partnership courses are being curated to attract approximately 5,000 young Indian adults, over the next 3 years, in higher levels of education, to offer them the opportunity to experience Israel.
While the education program is still be designed, scholars will study the different aspects of sustainability in Israel, while increasing awareness of Israel's excellent education system. The cultural aspects of the course will include immersive experiences in different parts of Israel. This could include visiting the Dead Sea Region – for its unique ecosystem; Jerusalem for its interesting history, architecture and cultural diversity; and Tel Aviv for its leading start-up ecosystem.
Sammy Yahia, Israel's Director of Tourism for India and Philippines said, "I am elated by the interest of the Govardhan Eco Village to exploit Israel's immense potential and making it available to young Indian adults, who can come to Israel and learn about environmental sustainability and ecotourism, while experiencing the unique culture of Israel."
The Honourable Governor, Gauranga Das Prabhu, Mr. Yachneet Pushkarna and Sammy Yahia spoke about the budding social relationship between India and Israel, discussing the cultural and spiritual 'soul-to-soul' connection of the people from both nations. The delegation also discussed the overall benefits that could result from this partnership, which could lead to an even strong bond between the two countries.
Speaking about the meeting, Sammy Yahia said, "It was an honour to meet with the Honourable Governor and receive his support to launch the Experimental Learning initiative. The success of this collaboration could lead to future development in educational tourism from India to Israel. This could lead to many prospects, including expanding the scope of the courses that that will be offered.
The collaboration between Israel Ministry of Tourism and Govardhan Eco Village will not only boost awareness of Israel as a leading education destination, but it will also give the Indian youth the opportunity to experience the diverse Israeli landscape and culture."
CEO - Social Initiatives Govardhan Eco Village Mr. Yachneet Pushkarna said "Our Collaboration with the Israel Ministry of Tourism for jointly creating this unique opportunity for young adults, across high schools and universities from India, will not only boost tourism amongst millennials, but build a "soul to soul connection" between the people of Israel and India, as put by Sammy Yahia to Governor Koshyari during the launch event. After winning the prestigious UNEP and UNWTO awards for tourism and sustainable development, Govardhan Eco Village has reached almost across 5,000 high schools and most private universities in India. Within a day of release of proposed collaboration (announced on July 13, 2021) we have already received invitations from 3 universities for seminars. With the improving conditions of the Covid-19 pandemic and plans to restart educational institutions in India within the next 2 months, we look forward to curating an amazing course and building a wonderful friendship".