Safari Plus INTALK with The Man Behind the Sea Eagle
One can feel the passion behind the creations and keeping Nature in Mind, you too will feel a part of it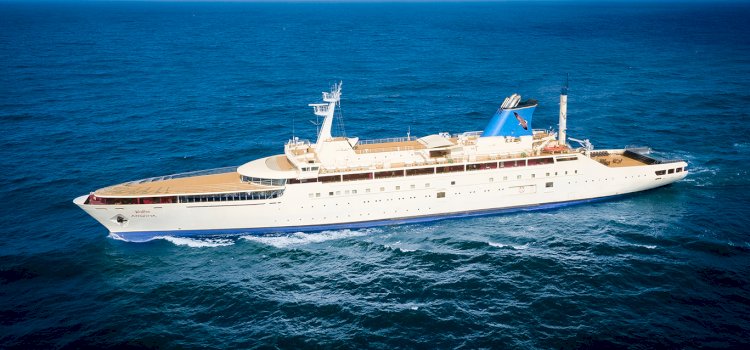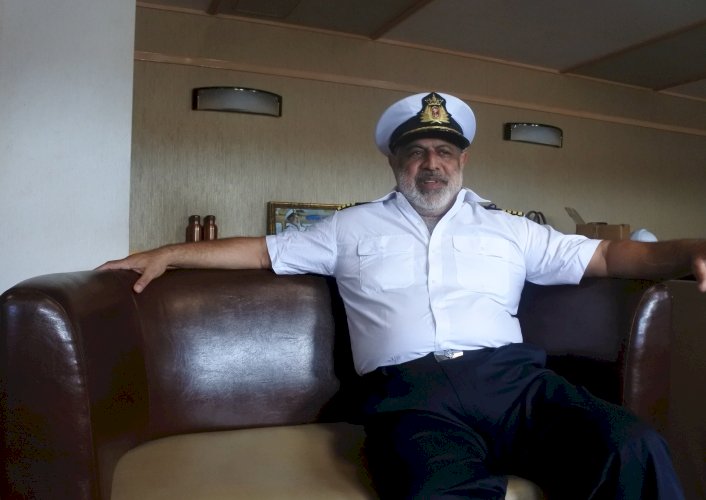 The Man Behind the Sea Eagle - Captain Nitin Dhond is a Merchant Navy Captain. He has a vast experience of 41 years at Sea with 25 years of Command experience that included Oil tankers, Very Large Gas carries and passenger's vessels. On the other hand, Tourism and Sustainability takes a special place in his heart. Captain Nitin has conceptualized and created the products keeping that in mind be it "Angriya Cruise" (Angriya Sea Eagle Limited); Resorts showcasing the countryside of Maharashtra called "Wildernest Nature Resort" and "Swapnagandha". One can feel the passion behind the creations and keeping Nature in Mind, you too will feel a part of it. Safari Plus INTALK with CAPTAIN NITIN DONDH, Managing Director, Angriya Sea Eagle Ltd.
Q1) What was the driving force, which drove you to the Cruise business? And how are you implementing your 4 decades of experience on Sea?
I belong to Goa and in 1971, four ships were plying between Mumbai and Goa Route they were - Konkan Shakti, Konkan Sevak, Rohini, Sarita. These vessels on arrival use to blow the horn and the whole city use to come alive. The locals use to gather either to receive their relatives and friends or bid Adeus. And to my first voyage on that ship (during my training period) I had a wonderful experience, as the passengers rejoicing all night onboard. Later these ships were deployed on the government services and PCB Forces. And on the other hand, many Indians had no idea about what seafarers face and at the same time how they enjoy and overcome the difficulties.
We wanted to re-establish this route and also give the first-hand experience of the sea voyage and marine life. So, unlike the other cruise ships, we did it differently like the open decks overlooking the sky, Titanic point, Infinity pool. The infinity pool which is the first time of this size at the stern, you can experience the sight and sound of the water left behind in the wake of the ship. Our bars and restaurant are also based on Marine theme Ancora, Coral Reef, Sea Breeze, Sorro Di, Sea Horse, and Goaf.
Q2) Share the experience of transforming old vessels to the commercial and affordable cruise ship?
It is a capital intensive industry from the whole capex to build up a commercial cruise ship, and our bank interests are also high. Keeping all this mind we tried to do everything in-house like major modification we did in Goa and interiors were executed in Mumbai. One should understand that the pricing depends on the capitalization and operational cost where the fuel charges play a major role in price binding. We are putting efforts to improvise the activities onboard at the price we offer, by giving them maximum experience in minimum time.
Q3) How well does the ship abide by International maritime law and the security?
We are controlled by ISPS code (The International Ship and Port Facility Security Code) and our staff is fully trained. The security process is the same as we follow at the airport. Concerning international maritime law, every country has its regulatory bodies and we have to act accordingly. And at regular intervals, we survey, inspected and certify our staff.
Q4) How do you see the future for cruise liners in India?
India has a gigantic coastline and the way the cruise industry is progressing we see a huge potential. To boost domestic tourism we can implement the domestic carriers and connect them with short trips like Mumbai to Goa; Mumbai- Diu; Mumbai – Gujarat; Goa – Mangalore – Cochin and to forgot the east coasts of India to have that potential. This will be altogether a different experience that will connect many beautiful places around the Indian coastline.
Last year we completed 175 voyages taking 50,000 passengers many on-board were first-time travelers. Many International Cruise liners have marked India on their route map and they very well understand the potential market. Mumbai is soon coming with the International Cruise Terminal wherein it can be the hub of many cruises connects west to east. The cruise industry is also a catalyst for employment generation. And the 80% crews on Angriya are Indian and locals (Konkani). Some of our Hospitality crew is directly taken from catering colleges. They are taken after an STCW (Standard of Training, Certification & Watchkeeping) course which is mandatory.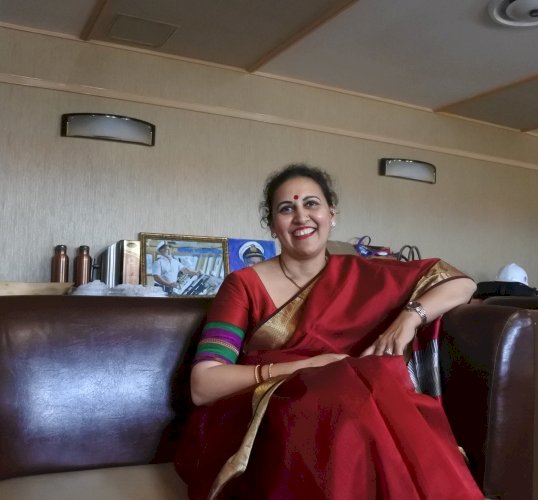 In conversation with the lady associated with the Angriya since inception Mrs. Leena Prabhu Kamat, Executive Chairman, Angriya Sea Eagle Ltd. Elaborating further about trade relations and eco-sustainability.
Q1) How are you working towards the travel trades?
We have an online platform of booking www.Angriyacruise.com and for trade, we have separate login IDs wherein they can directly access and the TAC are already determined which is directly payable to them. So they need to just approach for the identification and log in.
Q2) How does Angriya Cruise intend to reduce its carbon footprint in the sea?
Eco-consciousness is a big deal globally. We took the initiative at a very primary stage. We have used non-toxic paint on the bottom of the ship which is called Intersleek, that doesn't hold barnacles and easy to clean and leaves no toxic carbons in the sea. STP plant (Sewage Treatment Plant) is installed on the ship to manage the waste on-going. We use special paper bottles for water exclusively packaged for Angriya. The heat that is generated by the engines is also used to provide hot water in rooms.