Indiatourism Mumbai pays a Tribute to Swami Vivekananda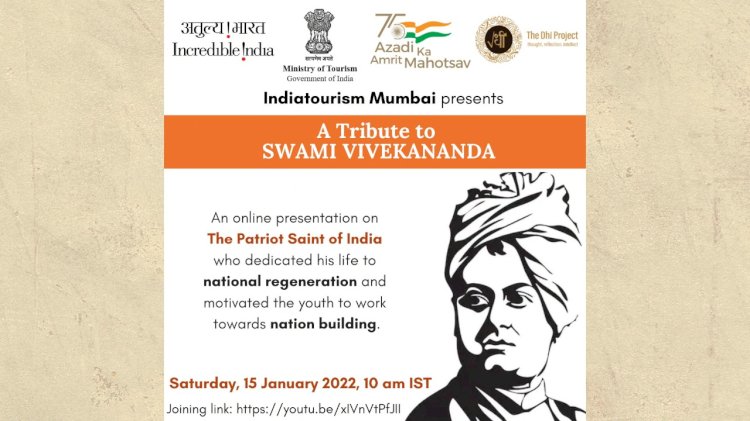 Mumbai, January 15, 2022:
In continuation with the nation's celebrations of the 159th Birth Anniversary of Swami Vivekananda and the National Youth Day on 12th January, Indiatourism Mumbai today paid a special tribute to Swami Vivekananda. This tribute is also a part of the Azadi Ka Amrut Mahotsav that celebrates 75 years of progressive India to commemorate the country's glorious history of India's people, culture, and achievements. The objective of this even was to highlight the life of this great national leader who dedicated his life to national regeneration and motivated India's youth to work towards nation building.
During this screening, Mr. Venkatesan Regional Director, Indiatourism Mumbai said, "Swamiji's ideals are a source of great inspiration for the Indian youth today. We have put together this program to know more about the great personality and pass on his message to the young minds of the country today. Indiatourism Mumbai has always endeavoured to make multiple efforts in the direction of promoting interesting and unique destinations in the western region. With this event we wish to highlight the importance of travel to the youth as a greatest teacher. We would like to encourage the youth to gain a window to new knowledge through travel experiences. Swamiji himself was an avid traveller, and is still extolled for his wisdom brilliance and intellect…let us be inspired by him and arise and awake till our goal is reached."
Indiatourism Mumbai organised this event as an online YouTube Live screening of anecdotes from the life of Swami Vivekananda along with its curation partner, The Dhi Project that brings together experts from across the world to experience India's varied culture and philosophy. A series of short films was made available for this screening by Ramakrishna Mission and Ramakrishna Math that received very well. The event was followed by a quiz open to all viewers and received over hundred responses within half an hour.