Skyview by Empyrean - One Destination, Endless Experiences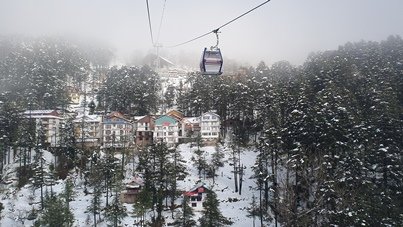 Skyview by Empyrean at Sanget-Patnitop in Jammu, UT J&K, is the first of its kind of leisure, lifestyle and adventure destination, located amidst bountiful nature, in the lap of the Himalayas. If a rush of adrenaline, open skies, picturesque views no matter where you stand and loads of wonderful memories at the end of a holiday or excursion are what you are looking for, this is the place you should be heading to in the coming days.

Spread over 22acres in the panoramic Sanget valley and Patnitop in Udhampur, Jammu, just a 90 minute drive from the Mata Vaishno Devi Shrine in Katra; Skyview by Empyrean began operations here with the start of the ropeway, just two years ago. The launch of India's highest [in terms of ground clearance] international class ropeway, the Skyview Gondola at Patnitop, brought the much-ignored hill-resort back into the reckoning.
The Skyview Gondola, popularly referred to as "Patnitop Gondola" was the first step towards setting a benchmark for responsible tourism and green mobility as it eliminated a 45-60 minute road journey to Patnitop from the Shyama Prasad Mukherjee Tunnel (formerly the Chenani-Nashri Tunnel) by way of a breathtaking and picturesque gondola ride of over 2.8kms of inclined destination to just 10-12 minutes. At Skyview by Empyrean, visitors to the ropeway also got to experience an array of food & beverage offerings, global cuisine and local delicacies, as well as a host of soft adventure activities, many introduced for the first time in India, such as magic carpet, an all season dry tubing sledge, and Asia's longest zigzag zipline at 580 metres; and curated biking excursions, hiking and supervised treks.
During the first lockdown due to the pandemic, the site was comprehensively audited for Covid preparedness by SGS - the world's leading inspection, verification, testing and Certification Company. The management has since followed all Covid-ready compliance protocols making it a safe destination for all visitors and employees with stringent SOP's like online bookings, thermal screening, social distancing, sanitization routines and digital menus, etc., in place.
One Destination, Endless Experiences Skyview by Empyrean encompasses:
Skyview World: This gateway to Patnitop at Sanget valley is a great place to be under an open sky surrounded by picturesque mountains and valleys. Here you get to experience an adrenaline rush whether it's an exhilarating ride on the state-of-art India's highest ropeway, zigzag zipline, magic carpet or tubing sledge. Other attractions include culinary delights at several restaurants – the multi cuisine Banana Leaf, , Street Food Carts, Bar-be-que in the outdoors as well as the alfresco Skyview Café for a range of snacks and beverages. Visitors can have an immersive experience of local art and culture at the Amphitheatre and also shop for the finest honey, handicraft items, condiments, spices and dry fruits from J&K at the expanded offering at the Hands of Gold retail outlet. On the anvil is a luxury accommodation experience comprising 10 cottages and suites.
Skyview Gondola: A thrilling experience on this spectacular ropeway, the highest in India in terms of ground clearance, takes visitors on a scenic gondola ride over lush pine forests. What's more, it is also a commitment to green mobility. The infrastructure, including the 8 towers, ropes, and spacious 18 cabins, all has been imported from France through technology partner POMA – the world's leading brand in ropeway transportation. The entire ropeway adheres to CEN (European) standard certification making it the safest ropeway in the world.
Skyview Terrace: This recreational area is located adjacent to the Skyview Gondola's upper terminal at 2,024 metres in Patnitop, a hill-station known for its natural beauty featuring meadows and surrounded by the Pir Panjal range of the Himalayas. It provides a perfect setting for bespoke culinary experiences, private celebrations and customized/personalised get-togethers backed by best-in-class service by Skyview's experienced F&B team.
Skyview Partner Experiences: Visitors can also look forward to choosing to stay at specially selected partner hotels in Patnitop. These hotels can be booked via the Skyview by Empyrean website or sales office. They have been specifically selected for their service, standard of hygiene, hospitality, location and price.
Skyview Adventure Valley: In addition to activities on site, Skyview brings a range of thrilling adventure activities off-site too- featuring mountain biking, hiking, and birding. These adventure activities have been specifically curated to cater to adventure and nature lovers. Trained and experienced guides supervise all the activities.
Syed Junaid Altaf, Managing Director, Empyrean Skyview Projects Private Limited said: "In the two years that we started our ropeway operations, our brand has undergone an evolution. We at ESPPL have created a unique and holistic adventure and lifestyle destination with world-class infrastructure adhering to global standards of safety and service, offering a plethora of thrilling and exciting experiences, all available in one destination. Today, more than ever, new age travelers, in groups or solo, are looking for outdoor excursions, activities, and accommodation that appeal to their aesthetics, hygiene and comfort levels. Skyview by Empyrean is our endeavour to cater to this "woke" segment. In addition, by creating such destinations, we, along with our partners, hope to raise the bar, generate employment and ensure that the region, where the project is located, also benefits from the overall economic development."
Skyview by Empyrean [formerly Skyview Patnitop by Empyrean] is an initiative by Empyrean Skyview Projects Pvt. Ltd. [ESPPL] (a wholly-owned subsidiary of FIL Industries Private Limited) to develop sustainable, environment friendly, leisure, lifestyle, and adventure destinations across India. Imbibing the best practices of responsible tourism, these destinations will offer a multitude of rejuvenating and thrilling experiences to those who are passionate about being in the outdoors and seek the finest blend of hospitality and adventure unlike anywhere else in India.
Skyview by Empyrean Sanget-Patnitop, ESPPL's flagship project is the largest Indo-French collaboration in mountain infrastructure development, and also the biggest tourism project in UT J&K as well as a hallmark project under PPP model with Patnitop Development Authority. The project was completed in a record time of 2 years and 4 months with an initial investment of Rs 175 crores.
The planning, development and construction of this world-class, integrated mountain tourism infrastructure offering leisure and lifestyle experiences through action-filled adventure activities, hospitality and green mobility was accomplished in partnership with the best in class global corporations including POMA Group, MND Group, ERIC, Sage Geotech and Dianeige.
Whilst the best in engineering and avant-garde design have been deployed, responsible tourism practices have also been part of the development and continue to be followed. From responsible sourcing of materials to incorporating local traditions and styles in construction to utilizing local craftsmen, to landscaping with native flora and fauna to architectural design promoting rainwater harvesting for recycle and reuse thereby reducing the load on natural resources and groundwater to the use of bio-degradable cutlery and digitized menus; sustainability has been at the heart of the project. In fact, not a single tree was felled whilst constructing the project, along the 2.8kms inclined distance on the ropeway line.