MAMALLAPURAM : Tamil Nadu Explore The World Heritage Site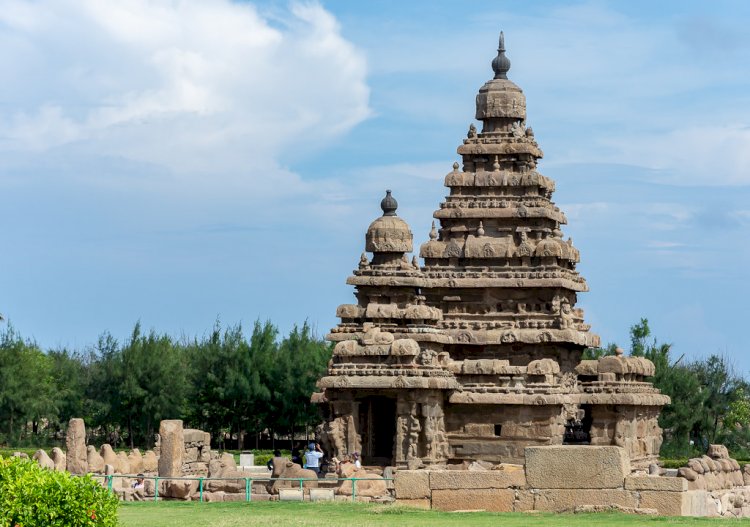 The seaside town of Tamil Nadu, Mamallapuram, is a beautiful beach spanning to 20 kms has some of the greatest specimens of the Pallava architecture and sculpture. Monolithic rock cut temples and modest sized mandapams, gigantic open air relief carved into the mammoth cropping of granite that cover this charming town.
A World Heritage site this is a quiet unspoilt place which can be covered during a day's outing. But it needs full two days to really enjoy the charming sculptures contained within the ten madapams (temples) and the gigantic sculptural panel on the rock and the shore temple against the backdrop of the lashing waves of the Bay of Bengal.
These ground wealth of the pallavas are attributed to Narasimha Varman I (630-680 AD) and Narasimha Varman II (700-726 AD) - the former also known as 'Mamalla' or the great wrestler that lent the name of this port city as Mamallapuram.
Among the master piece bas - relief the "Arjuna Penance" (9m high and 27m wide canvas) is the site to commence the city sightseeing. It shows Arjuna, the hero of the epic Mahabharta standing in penance to seek Lord Shiva's blessing and a weapon to make him invincible. The majestic pair of elephants with their young ones and many small shrines around unique sculpture on the rock face are very enchanting Mandapams depicts the stories of Lord Krishna, Vishnu, Mahisasuramardini (Durga), Trinity (of Shiva, Vishnu, and Brahma), Pandavas etc. These mandapams are located around this masterpiece of Pallava art.
On the other end south side there are five chariots in stone called 'Rathas'. These are carved out of a single rocks, and are great artistic creations. These are devoted to Draupadi, Arjuna, Bhima, Dharmraja, Nakula and Shadeva. These are of great delight for lovers of art and pilgrimage for the sculptors. The impressive shore temple is one of the best example of the rock cut temples of Pallava architecture. The wealth of sculptures is educative and reminds the great patronage the Pallavas had offered for the flourishment of art and artist at the time; how artist who made the stone pulsate with life passion. The fascinating carved friezes gracefully portraying different woods, grace, beauty and monuments.
No, doubt, there is a great sanctity about its being declared as world heritage Monument. Mamallapuram is 45kms east of Chennai and easily approachable by car/coach, varied accommodation are available from the Gulf and major countries of the world.