Prayagraj's Dusshera Celebrations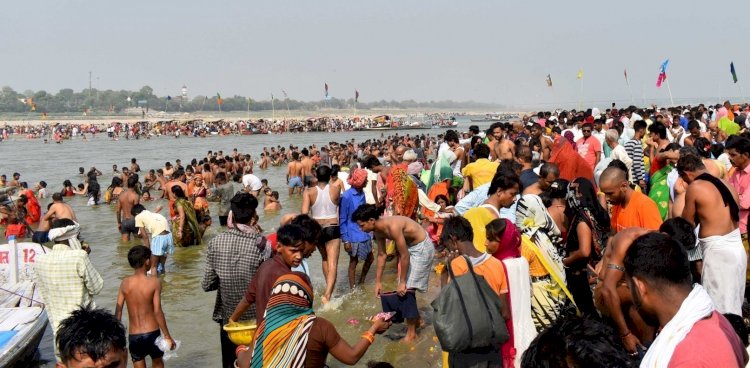 India is the land, where Life is celebrated with the festivals. It is also called the Land of Fetivals. There are many festivals which are not that famous but have that stature to attract the tourists to the destination. One of such festival is Dusshera (Vijayadashami), celebration of the victory of the goodness over evil. Lord Rama killing demon Ravana on Dussehra. And the festival is widely celebrated across India in different traditions. On 8 October, 2019 this year the festival Dusshera will be celebrated.
In Prayagraj, the holy town of Triveni also known as Allahabad, Dusshera is celebrated for 10 days in all its hues. All the main streets and chowks (squares) are lit-up with the decorative lighting. The lanes are illuminated and the chowks (square) are decorated as the grand entrance Dwar (gate) with decorative light depicting a story related to Ramayana. The streets are packed with the people and vendors all around. And it is whole night celebrations which ends-up next day morning. The main procession is on the 9th and 10th day of the Dusshera in Mutthiganj. The 'CHOWKIS' (the moving chariots) dramatizing an act from the epic of Ramanaya are displayed. These chowkis are moved through the jam packed lanes and the crowd chanting 'Jai Shree Ram'. Artists enacts the scenes from the Ramayana and the epic is a visual treat like 'Sita Swamavar', 'Tadka Vadh', 'kidnapping of Sita' are showcased through these moving Chowkis.
One can also relish the street food like Aloo tiki Chat, Paani Puri, Dahi Bhallas, the Chaat Papdi, Dosa to name few. The stall are are open whole night long.
You can also take a holy dip in Triveni Sangam, the meeting point of three rivers - Ganga, Yamuna, and Saraswati. Prayagraj is one of the destinations which holds the Kumbh Mela, world's largest congregation of devotees.
Some other attraction of the city are - Bade Hanuman Ji Temple, ISKCON Temple, Anand Bhawan, Akbar Fort, Allahabad Museum, All Saint's Cathedral, Khusro Bagh, Shree Akhileshwar Mahadev, Ulta Qila, and Mankameshwar Temple.