TCL Season 3 ends with the blasting ceremony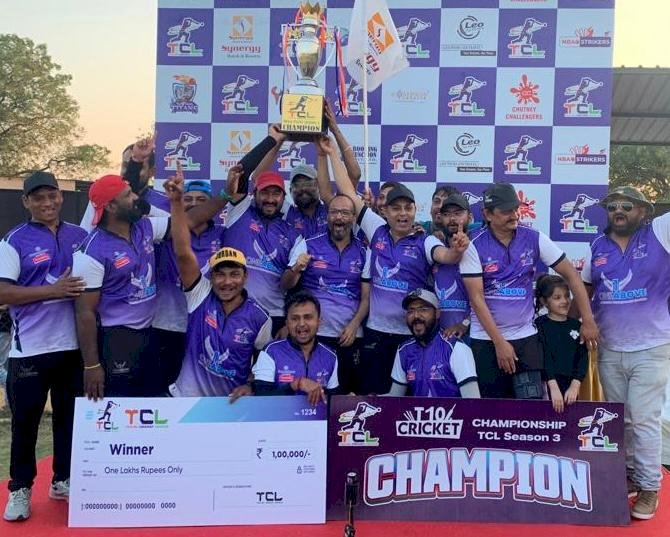 South Gujarat's biggest travel cricket tournament TCL Season-3 was organized at J & S Ground at Ichapore, Surat during three days starting from 7 to 9 January 2023. This cricket event is organized every year with the great intention of bringing the entire travel fraternity together on one platform and taking time out of their hectic schedule for personal enjoyment and networking.
This year around 108 travel agents from all over Gujarat including Surat and cities like Delhi, Mumbai, Pune participated enthusiastically. On 7th January, first citizen of Surat, Mayor Mrs. Hemaliben Boghavala, gave a grand opening and boosted the enthusiasm of the players.
In the first two days, a league match was played between a total of 8 teams and on the last day, the final match was played between two teams from the winner of two semi-finals in which Thomas Koshy's Yuvang Synergy team was declared the winner while Devendra Solanki's team Euro Tours Titan was the runner-up. Besides, Jignesh Patel of Fine Nine Holidays - Surat win the Best Bowler and Man of the Tournament awards while the Best Batsman award went to Chintan Swamy of CR Holidays Ahmedabad.
At the end of the tournament, trophies and prize money were distributed to the winning team and players in the presence of India's leading travel agents. Opening & Closing ceremony was conducted by RJ Harsh and his team and during the closing ceremony TCL organizers Jignesh Patel, Devang Pandya and Saurabh Patel thanked the players and the spectators on behalf of the entire committee.