Uncovering Hidden Gems of Ladakh
with Ravine Trek & Media Partner Safari Plus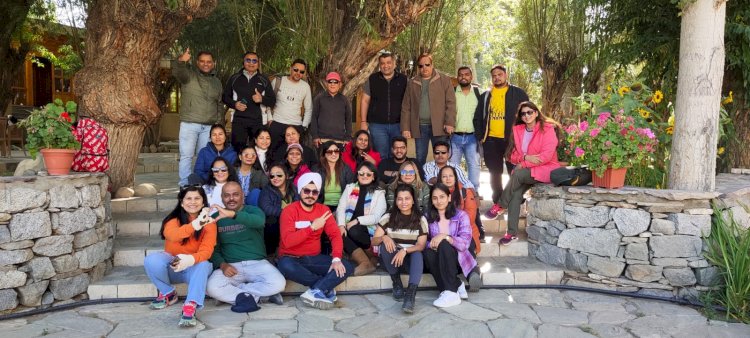 Ladakh, the land of high passes and mesmerizing landscapes, has always held a special place in the hearts of adventure seekers and nature enthusiasts. However, beyond its popular tourist spots lies a treasure trove of hidden gems waiting to be discovered. In an effort to unveil these lesser-known destinations, Ravine Trek, in collaboration with Media Partner Safari Plus, organized an educational trip to Ladakh. This journey promised to be more than just a typical vacation; it aimed to provide participants with a deep understanding of the region's culture, environment, and the importance of sustainable tourism.
The Associate Hotels sponsors for the trip Were - The Zen, Leh; Ladakh Sarai, Ayu, Saboo Village; The Grand Dragon Hotel, Leh; Ule Ethnic Resport, Ule Topko; The Kargil Hotel, Kargil; Nubra Sarai, Hundur, Nubra Valley; Pangong Sarai, Mann Village, Pangong Lake.
Talking about the trip Mr. Kamlesh Lalan, Owner, Ravine Trek said, "We extend our heartfelt gratitude to our esteemed hotel sponsors for their invaluable support in making our recent educational expedition through Ladakh a resounding success. Your unwavering commitment to excellence and hospitality played an integral role in ensuring the comfort and memorable experiences of our participants. The cozy rooms, delicious cuisine, and impeccable service elevated our expedition, allowing us to fully immerse ourselves in the beauty and culture of Ladakh."
Exploring the Offbeat
Ladakh's beauty extends far beyond the popular tourist hotspots. This educational expedition ventured into the heart of Ladakh's hidden treasures, revealing the region's cultural richness, unique ecosystems, and promoting responsible tourism.
1. Sham Valley: The Apricot Capital
Sham Valley, often called the "Apricot Capital of Ladakh," was a delightful starting point. Participants explored ancient monasteries, quaint villages, and lush apricot orchards.
2. Lamayuru Monastery: Moonland Marvel
The journey continued to Lamayuru, home to the otherworldly "Moonland." Here, participants witnessed the Lamayuru Monastery, one of the oldest and largest in Ladakh. Monks shared insights into Buddhist philosophy, and the stunning landscapes served as a backdrop for contemplation and spiritual growth.
3. Kargil: A Living History Book
Kargil, known for its historical significance, was a fascinating stop on the itinerary. Participants delved into the region's complex history, with experts shedding light on the Kargil War and the enduring peace efforts in the area.
4. Drass: The Coldest Inhabited Place
Drass, famed as the "Gateway to Ladakh" and one of the coldest inhabited places on Earth, allowed participants to gain a deeper understanding of the challenges faced by the local population in this harsh environment. They also paid their respects at the Kargil War Memorial, honoring the soldiers who defended the nation.
5. Hundurman and Batalik: A Glimpse into Rural Life
Hundurman and Batalik provided a glimpse into rural Ladakhi life. Participants visited local homes, interacted with villagers, and learned about their agricultural practices, which sustain these remote communities.
6. Dha Village: Hidden Cultural Gem
Dha Village, hidden in the folds of Ladakh's mountains, was an opportunity to connect with Ladakh's indigenous culture. Participants witnessed traditional dance performances and artistry, gaining valuable insights into the rich heritage of the region.
7. Shyok River: A Serene Oasis
The journey concluded along the serene banks of the Shyok River. Participants reveled in the tranquility of this pristine waterway, surrounded by the majestic mountains, reflecting on their transformative Ladakh experience.
Educational workshops and interactive sessions were woven into the expedition. Experts in fields such as cultural anthropology, wildlife conservation, and sustainable tourism shared their knowledge. These sessions helped participants appreciate the fragile ecosystems of Ladakh and the importance of preserving them.
Ravine Trek and Safari Plus were committed to sustainable practices throughout the journey. The group minimized its environmental impact, followed Leave No Trace principles, and promoted responsible trekking. Participants were encouraged to support local conservation efforts and the livelihoods of the communities they encountered.
Agents participating in the educational trip were - Vankita Gandhi (Fly Holidays); Khushbu Mammania (Joyous Holidays); Hema Meghnani (Hm Travels); Nareshkumar Gondolia (Travel World - Surat); Brinda Malaviya (Enjoy Tt - Surat); Divyesh Maru (M J Rudra - Ahmedabad); Neeta Barot (Navkar Holidays); Tanseer Anjum (Haw Ravels - Bangalore); Mikeeta Nisar (Rudraksh Travels); Gurmukh Singh (13 Trips - Delhi); Savithri Balasubramanian (Savvy – Big Sun Tech); Maitri Shah (Mahavir Holidays); Rahul Chavan (Top Notch - Pune); Deman Sahu (Weekendays - Chhatisgarh); Himanshu Shah (Tranquil Holidays - Mumbai); Deepti Deorukhkar (Global Holidays - Mumbai); Shubhi Naza Mishra (Rhapsody Holidays - Delhi); Ridhima (World Travel Package); Romil Jain (Travel Munk - Karnataka
Prit Karan Narang); Hm Travels - Delhi; Honey Setia ( Inorbit Tours); Kusum Gada; Parth Mehta (Parshwanath Holidays); Minal Malekar (The Asianic TT)
The educational expedition through Ladakh, organized by Ravine Trek and Media Partner Safari Plus, was a journey of discovery and enlightenment. By exploring offbeat destinations, engaging with local communities, and learning from experts, participants gained a profound understanding of Ladakh's culture, environment, and the significance of responsible tourism. This expedition showcased the transformative power of travel when approached sustainably and with respect for local traditions and ecosystems. Ladakh's hidden treasures are now unveiled, thanks to a trip that fostered lasting connections and left a positive imprint on both travelers and the region they explored.