Breaking the Barriers
The Mumbai Port opened the door for female entries after 6 pm, the face behind breaking this barrier – Ms. Leena Kamat Prabhu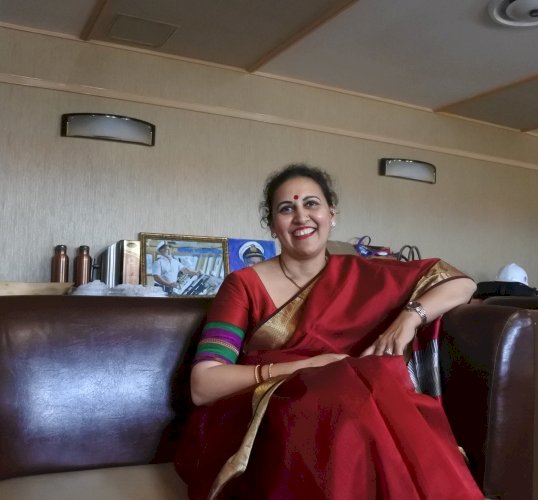 The journey of Ms. Leena Kamat Prabhu started after completing her Master's degree in Music and Post Graduation Diploma in Business Management. Before being the crucial part of Sea Eagle Ms. Leena performed on different platforms and bagged herself with a Certificate for Best Acting in the Zonal's of the Maharashtra Rajya Natya Spardha in 1992. Later on, she entered into Marketing field in the Corporate sector. As Manager Export for S. E. Asia, U.A.E, East Africa she handled the business development for export and manage the dealership. She took one more step toward success by being an executive assistant to the Group MD which helped her in exploring legal and various other departments. Then she entered as Board of Directors at Lokmanya Multipurpose Co-operative Credit Society (Multi-state). She plays a major role in Wildernest & Swapnagandha Resort Goa since 1998. And now she is associated with Angriya Sea Eagle Limited since its inception. She is working on it for almost 7 years from the transformation of the ship to its first sailing and the ship's second season on Indian shores.
She shared the story behind the scene –
It was the time when we moved the ship to Mumbai for the interiors at Mumbai port. I started working on the ship looking after interiors, the administration work and day to day activities with our hospitality team to set up. So that is when I was the only lady staying on board where we had almost 200 workers and staff. And the port had a restriction for women entry after 6 pm. The pressure to complete the project on time, we requested the authority to revise their system. We were in constant discussion with the port trust and the CISF (Central Industrial Security Force). And then the day came when they acted judiciously. To safeguard and regulate they deployed Female CISF (Central Industrial Security Force) guards and to allow the entries for women in the night. This made easy access for females working inside the port. Yes, it is one of our achievements.
Today, Angriya Cruise became India's first domestic cruise liner that runs between Mumbai-Goa-Mumbai and which we launched last year on the 20th of October 2018. We had a fantastic first season commencing in October and ending in May just before the Monsoon. On 30th September 2019, we commenced our first sail of the second season and we are thrilled to have so many more people enjoying the sail with us. Last year we completed almost over 175 voyages with 50,000 passengers which in term of calculation turned out to be the 2 circumnavigations around the globe.