The 38th IATO Convention - Inbound Tourism and Emerging Sustainable Trends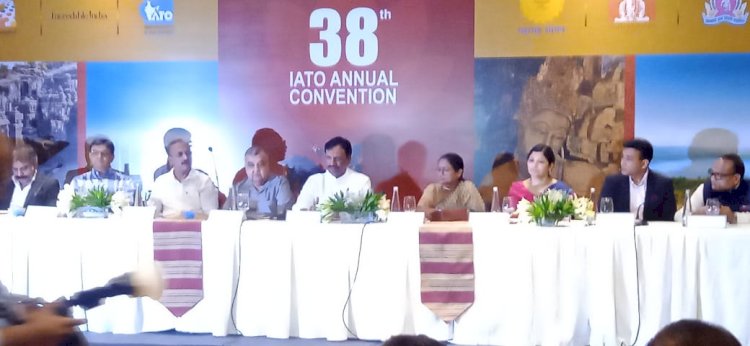 The 38th IATO Annual Convention, going to be held from 29th September to 02nd October 2023 in Chhatrapati Sambhajinagar (Aurangabad), Maharashtra. Venue of the convention is WelcomHotel by ITC Hotels Rama International. Inauguration of the convention will be held on 29th September 2023 at 1630 hours. The Theme of the convention is "Inbound Tourism and Emerging sustainable trends" informed Mr. Rajiv Mehra, President, Indian Association of Tour Operators (IATO). WelcomHotel by ITC Hotels Rama International will be the venue hotel and all the activities on all the three days i.e. registration for the convention, inaugural function, business sessions and evening programmes will be held at Rama International. Mr. Mehra also apprised that Hon'ble Chief Minister of Maharashtra Shri Eknath Shinde have confirmed to inaugurate the inaugural function and we shall also have Shri Devendra Fadnavis, Deputy Chief Minister of Maharashtra, Shri Girish Dattatray Mahajan, Hon'ble Minister of Tourism, Govt of Maharashtra, Mr. Ambadas Eknathrao Danve, Leader of Opposition and senior officials from the Ministry of Tourism Govt of India and Govt. of Maharashtra. Many state tourism departments will participate and we expect about 15 states to participate in the convention. Shri Ajit Pawar, Deputy Chief Minister will join for the Valedictory session on 1st October 2023
The Indian Association of Tour Operators (IATO) is India's National Apex Body of Tour Operators with membership across the country. Our membership consists of the nation's inbound tour operators, travel agents, hotel chains, airlines, tourist transport operators, travel press and media, tourism educational institutes and State Government Tourism Departments/State Tourism Development Corporations. The Membership of IATO controls over 90% of all inbound tourism into India. IATO's Annual convention is regarded as one of the most important events on the Indian tourism calendar and attracts over 900 delegates each year.
Mr. Mehra informed that various post-convention tours and spouse tours have been arranged for the delegates to showcase Maharashtra which will include visit to Ajanta and Ellora Caves, Shirdi, Grishneshwar Jyotirlinga Temple, Lonar Crater, Shani Shingnapur Temple, Trimbakeshwar Temple, Sula Vineyards etc. This will help our members who have not seen these places to include in their itinerary and promote in Domestic and international markets.
Mr. Rajnish Kaistha, Senior Vice President and Chairman of the convention said that we have overwhelming response from the members and we expect about 900-1000 delegates from all over the country to participate which will include senior officials from the Ministry of Tourism, Government of India and States, industry leaders, tourism and hospitality professionals, travel trade media. There are 5 post convention tours being organised on various sectors as has already been informed. This year also we expect larger participation from the state Government as every state is keen to re-instate inbound tourism to their respective states. Last year we had participation from 18 states. During the 3 days convention there will be deliberations on burning issues during the business sessions being finalised and we will have experts in all fields. During the convention IATO is also organising a Marketing Innovation Competition at ITC Rama International. The main aim of Marketing Innovation Competition is to encourage creativity and quality of Video CDs, posters and brochures to the State Governments, tour operators, hotels and travel media. The awards are to honour outstanding work giving due importance to creativity, thus giving recognition to designers and producers.
Mr. Sanjay Razdan, Hony. Secretary and Co-Chairman of the Convention said that besides the serious discussions during the business sessions, we will have IATO Run for Responsible Tourism on 1st October and awards would be given in various categories to the winners and runners up. Also we will have evening entertainment programme on all three days and delegates will enjoy taking time off from their busy schedule throughout the year. During the convention, IATO is also organizing Indian Tourism Fair (Travel Mart) on 30th September and 1st October 2023 at Welcomhotel by ITC Hotels, Rama International, Chattrapati Sambhajinagar (Aurangabad), venue of the convention, which will give an opportunity for our members to interact with the state tourism department and other stakeholders who are exhibiting to interact with each other and promote tourism.
Link for Online Registration and other details is:- https://iato.in/pages/view/69