Mizoram - A breath of fresh air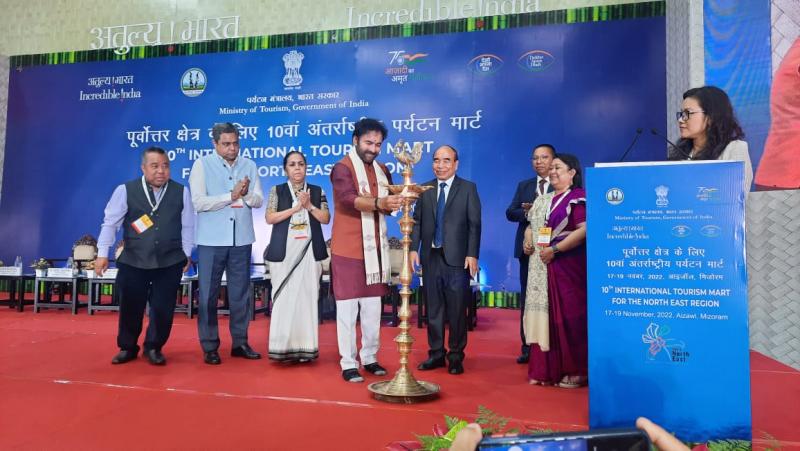 Mizoram hosted the 10th International Tourism Mart
Mizoram well-defines the idiom "a breath of fresh air" which means something that is new and different and makes everything seem more exciting. The saying also matches with the wording of the state's Chief Minister Shri Zoramthanga at the inaugural of ITM2022 in Aizawl, where he invited the tourists to visit Mizo State to breathe fresh and unpolluted air which the state is blessed in abundance.
To promote tourism in 8 states of the Northeast, the 10th International Tourism Mart (ITM) concluded on a high note. Union Tourism Minister Shri G Kishan Reddy, Chief Minister of Mizoram Shri Zoramthanga, Secretary Tourism Shri Arvind Singh, MoS Tourism Govt of Mizoram Shri Robert Romawia Royte, Smt. Manisha Saxena, Principal Secretary, Tourism Department, Government of Mizoram, Chief Secretary Dr Renu Sharma and Economic Adviser, MoT, Shri Gyan Bhusan inaugurated the grand event which was followed by the Cultural program at R. Dengthuama Indoor Stadium.
Key Highlights of the announcements made by the officials during ITM 2022 to develop the region for Tourism were -
Shri G Kishan Reddy and CM jointly laid the foundation stone of Aizawl Convention Center at Chite, PRASHAD Project in Mizoram and two Bamboo Link Roads
INR 58.63 crores have been sanctioned under the Swadesh Darshan scheme for the development of Thenzawl and South Zone and the Development of eco-adventure circuit in the state of Mizoram
Under PRASHAD scheme MoT has approved a project for development of amenities for pilgrims, congregation area, facilitation centre at Aizawl, Hangi Lunlen, Tlang- Prayer mountain, Khuangchera puk, Reiek peak and Khawruhlian at the cost around Rs. 45 crores.
Officials also launched the Mizoram Tourism Coffee Table Book
9 viewpoints have been taken up for development at the cost of 12.78 crores in Mizoram
Shri G Kishan Reddy said this during his address said, "India will be soon presiding over the G20 from December 2022 to November 2023. We will host over 200 meetings across 55 cities during this period. These meetings are also proposed to be held in several states of north east including Aizawl. We must plan to showcase our North Eastern Cultural Richness while welcoming the world to our country."
"Ministry of Tourism, Ministry of DoNER and Ministry of Road Transport & Highways is developing 100 view-points in North East region. 22 view-points have been taken up for development at a cost of 49 crores . In Mizoram 9 viewpoints have been taken up for development at the cost of 12.78 crores. In addition to that Ministry of Road Transport & Highways is also in the process of developing viewpoints on their own", Union Minister added.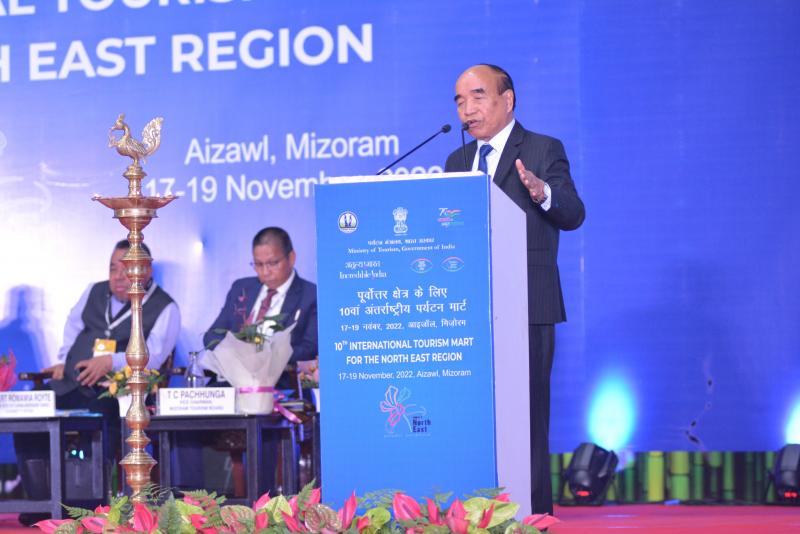 CM Mizoram Shri Zoramthanga said that from evergreen hills, dense bamboo jungles, lush green paddy fields and the Blue mountains Mizoram has unpolluted environment and unpolluted atmosphere, which make the Mizo state one of the most beautiful places to visit in the north eastern region. Mizoram has a great tourism potential , he said. CM also thanked the Central Government for approving several projects for development of Mizoram including bamboo link roads and Aizawl bypass.
Speaking on occasion, Secretary of Tourism Shri Arvind Singh said that the tourism sector accounts for a higher share of women's employment and entrepreneurship than the whole economy. "Indian tourism industry contributes to around 4.7 percent of the country's GDP and provides employment to around 31.8 million of inhabitants. If tourism's contribution is increased to 10 per cent of GDP in India, it can create 26 million new jobs. According to World Travel and Tourism Council (WTTC), an investment of Rs.10 lakh can generate 47.5 jobs as against 12.6 in manufacturing", he added.
Mizoram is blessed with natural resources in abundance. A region which is rich in bio-diversity offers vast opportunities for research and development. However, it is our responsibility to strike the right balance between development and sustainability. The environment in this state as well as the other north-eastern states needs to be preserved with care.