Unlock the Mystical Path Followed by Lord Rama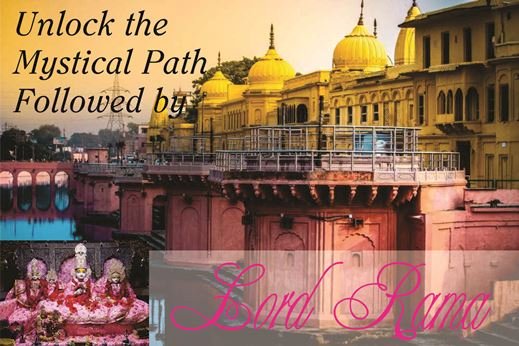 The epic journey of Lord Rama started from Ayodhya (his birthplace). Let's explore to all the sacred places associated with his journey, covering all the important destinations, from India and Lanka.
Ayodhya - The place where Lord Rama was born. It is located in the Faizabad district of Uttar Pradesh on the southern banks of the river Saryu. Here one can visit Hanuman Garhi Mandir, Ramkhot and Kanak Bhawan.
During his 14 years of exile period, after leaving Ayodhya, Rama, Sita and Lakshman reached to the banks of Ganga.
Shringverpur - (40 km from Prayagraj earlier known as Allahabad) towards Lucknow road. It is believed that Nishad kingdom was here where Nishadraj Guha ruled and they stayed a night on the request of Nishadraj.
Prayag or Prayagraj - In Ramayana there are clear mention of Sangam the holy confluence of Ganga, Yamuna and Saraswati. It is in Prayag and they also visited Bharadwaj Ashram (hermitage of sage Bharadwaj) which is also in prayag.
Chitrakoot - The place where they made their stay for some time and here only Bharat along with mothers and countrymen came to take Rama back to Ayodhya. And Rama gave him his padukana to place on the throne and take care of the kingdom for 14 years. There are many temples dedicated to Lord Ram like Ram Shaiya, Hanuman Dhara, Sitapur, Sphatik Shila, Ramdarshan and Ram Ghat.
DandKaranya- It is here the lord meet Muni Atri and his wife Mata Anusuiya, who gave a gift of jewellery to Sita. And Muni Atri told them to stay in Panchvati.
From Chitrakoot to Dandak Van they left behind their foot prints to Sitamarhi, Buxar & Darbhanga in Bihar; Chitrakoot in Madhya Pradesh; Mahendragiri in Odisha; Jagdalpur in Chattisgarh.
Panchavati, Nashik (Maharashtra) - Is the place where the period of 10 years rolled by peacefully. At this place Shurpanakha (Ravana's sister) came to entice Rama and Laxshman. And from here Ravana took Sita ji on Pushpak Viman to Lanka.
Kishkindha (mountain range) in the Tungabhadra river valley - Where Lord Rama meet Lord Hanuman & Sugreev and killed Bali. This place is said to be around the Tungabhadra river which is near to Hampi in Karnataka. Anegundi and Risyamukh Mountain is the actual monkey kingdom.
Anjaneya Hills where Lord Hanuman was born is currently located in Karnataka.
it is believed that Jatayu fell on the rocks in Chadayamangalam in Kerala after Ravana sworded his wings. Recently a big statue of Jatayu and a museum is made as tourist attraction.
Rameswaram in Tamil Nadu and Dhanushkodi - The southeastern tip of the land from where they build a bridge (Ramsetu) uprooted by Nal and Neil. And it is linked to the northern tip of Lanka (known as SriLanka now).
The Sri Lankan leg of the journey will stops at different places like Colombo, Kandy, Nuwara Eliya, Negombo. This covers all the pilgrim spots like Ravan cave, Ashok Vatika and Seetha Amman temple where Sitamata was kept captive by Ravan.
Divurumpola where Sita, consort of Rama, underwent the Agni Pariksha; The Manavari temple in Chilaw; Ussangoda is a strange coastal area which is one of the most famous destinations on the Srilankan part of the Ramayana Circuit. It is believed that, it is here where King Ravana travelled across and parked his Pushpak Vimana.
The Red Sand and black stones is believed to be the consequence of hanuman burning it with his tail; Thiru Koneswaram temple or The Temple of the Thousand Pillars is a classical-medieval Hindu temple complex in Trincomalee, and Kathirkamam are some parts of the Ramayana circuit in Sri Lanka.