Munsiyari paradise for nature lovers and adventurous souls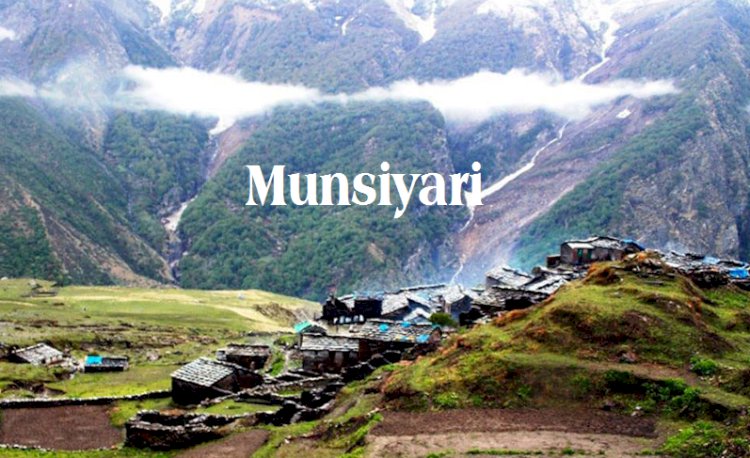 The backdrop of snow-capped Himalayan peaks with meandering rivers flowing through gorges makes Uttarakhand a dream-like canvas painted by the almighty's touch. Its natural habitat with a variety of flora and fauna adds more color to it. The rich culture and simplicity of its people draw the attention of all seekers to attain salvation and peace in its pristine environment.
Over the years a variety of travelers idealize Uttarakhand as an epitome of paradise for varied purposes. To take a break from the busy schedule and enjoy the peace of the Himalayas, Uttarakhand has been successful in attracting all kinds of tourists. It has evolved as a destination to offer an experience of a lifetime. The growing buzz of it in social media makes it popular among trekkers and travelers.
This has started to attract more people not only to its popular known places but even to its remote destinations far from the hustle-bustle. Munsiyari is one such destination situated at an altitude of 2,298 m in the Pithoragarh district of Uttarakhand. It is the melting pot of Kumaoni and Bhotia culture. The region is important to study the ancient salt route between India and Tibet which flourished here since time immemorial. Many folklores of that long-gone era are still echoed in this quaint and picturesque town.
Apart from that Munsiyari is a paradise for nature lovers and adventurous souls. The breathtaking view of Panchchuli Peaks from here can mesmerize every living soul. It offers trekking to Milam and Ralam Glaciers and Nanda Devi peaks. Then in winter skiing and other winter sports here are of world-class standards. Its fairly big & developed township offers luxurious stays and mouth-watering delicacies.
Summers in Munsiyari: The weather of Munsiyari remains pleasant during summers and only light woolens are required. Definitely, for summer lovers this is the best time to visit here and look at the beautiful sunset and sunrise in the backdrop of unobstructed Himalayan snow-capped peaks.
Nearby places to visit
Maheshwari Kund - Just walking distance away from Munsiyari, Maheshwari Kund should be the must-visit place for tourists. This natural lake is considered to behold the greatest variety of Rhododendrons in its vicinity. Throughout the year one can find magnificent landscapes here.
Kalimuni top - On the way to Munsiaryi from Birthi, one can visit the Kalimuni top situated at 9500 feet. A famous 'Kali Temple' has been situated here. The 15 Km route from the Munsiaryi township to here offers stunning views of 'Panchcahuli peaks' and sunsets and sunrise from here look miraculous.
Thamrin Kund - Gradually gaining popularity among nature enthusiasts and photographers, Thamri Kund is one of the hidden gems of this region. The trekking trail passes through lush green forests and offers notably the serenest view of the Panchachuli peaks.
Beyond Munsiyari
Birthi Falls- Situated around 35 Km away from Munsiyari, Bithi falls are 125m long waterfalls that offer stunning views of the surrounding natural landscape and the Himalayan Mountain range. This natural vista is the best tourist spot for a day picnic or to enjoy a cup of tea in the outdoors. It is highly recommended to visit this place, especially during the summer season.
Dharchula - Dharchula is another beautiful town located near Munsiyari. Similarly, Munsiyari Dharchula was also an important location in the ancient trade route between Tibet and India. The town is ringed by snow-capped Himalayan peaks and offers astonishing views. Some of the main attractions here are Narayan Ashram, Mansarovar Lake, Chikrila Dam, Kali River, and Om Parvat.