Uttarakhand Emerging as the Wedding Destination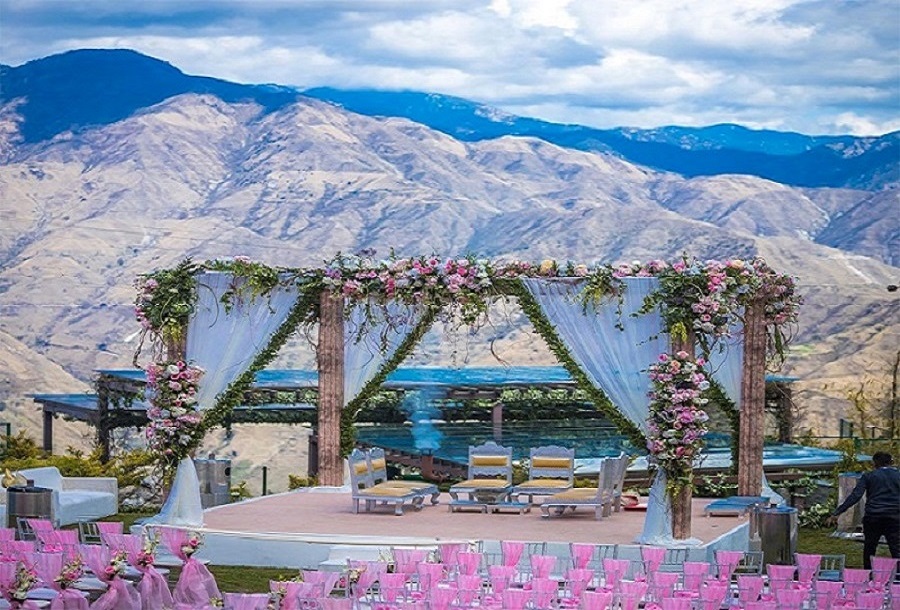 The mesmerizing backdrop of mountains, lush green valleys, bugyals & river banks & other such beauteous places that plays the perfect venues for visually striking pre-wedding shoots, marriage ceremony & reception. Uttarakhand is emerging as one of the leading wedding tourist destinations. Uttarakhand already boasts more than 400 weddings in the year 2021-2022. Uttarakhand government now plans to lead this Rs 5,00,000 crore industry to Rs 15,00,000 crore in the next few years.
Uttarakhand Tourism Minister & Chairman of Uttarakhand Tourism Development Board (UTDB) Shri Satpal Maharaj is ensuring the development of further infrastructure for the construction of smoother & wider roads as well as more resorts & open marriage gardens in such places as the famous Triyuginarayan Temple. The local population is being offered subsidies for building these resorts, banquet halls & marriage gardens as a means of self employment. There's also a plan to develop George Everest in Mussoorie & other unexplored sites for destination weddings.
The Minister recently Tweeted about the construction of Uttarakhand's very own Film City that is in the pipeline. He wrote that the film city will further popularize the breathtaking splendour of the state all over the world & will also give a huge boost to its tourism department.
Destination that are popular for WEDDING BELLS
The state is full of such beautiful locations as Ramnagar, Dehradun, Mussoorie, Rishikesh, Triyuginarayan Temple.
Auli as a popular winter wedding & holiday destination. Surrounded by coniferous and oak forests, with a panoramic view of the peaks of the Himalayas. Also a renowned hiking & skiing place in the high reaches of Uttarakhand.
Brahmatal with colossal mountain peaks shimmering against a star-studded sky, the campsite near Brahmatal Lake offers excellent stargazing opportunities.
Triyuginarayan temple, is a popular wedding spot for couples aiming for an eternal union. The gushing Songanga & Mandakini rivers are like the perfect wedding dholakis lending an enthralling vibe under the star-studded sky. It is believed that Lord Shiva and Goddess Parvati got married at this place. It is also believed that the sacred fire that witnessed the eternal union of Shiva and Parvati has been burning inside the temple for the past three yugas, hence the temple name is Triyugi- Narayan. Inside the temple premises lie three bath kunds , it is believed that deities, saints and sages who attended the marriage ceremony took bath in these kunds . These kunds still exist and are known as Rudrakund, Vishnukund and Brahmakund . The water in all these three kunds comes from Saraswati Kund. As per the local belief one who bathes in any of these three kunds, his every wish is fulfilled.
Other than that, there are also various marriage gardens surrounded by majestic hills & over 1000 resorts all over for intimate weddings such as Bhimtal, Almora, Mukteshwar, Ramgarh & Ranigarh, other than the aforementioned popular spots.
Jim Corbett & Naukuchiatal are other preferred locations for pre-wedding shoots & Mandap ceremonies amidst the backdrop of lush green flora, mesmerizing lakes & echoing hills.
Lying on the outskirts of Nainital, Saat Taal is another perfect wedding destination. In one of the Tweets, Uttarakhand Tourism describes it as a group of 7 pristine mountain lakes nestled within a dense oak forest. Unexplored spots & trails that can be discovered through delightful nature walks.
The delectable cuisines of Uttarakhand have an old-world charm proving as Live magnets for weddings & the various traditions provide the perfect setting.