VITS Kamat Group soon to introduce the Purple Bed for millennial
In an exclusive interview with Safari Plus, Mr. Vikram Kamat, Founder Chairman of the VITS Kamat Group shared his expansion plans and talked about the current scenarios of hospitality industry.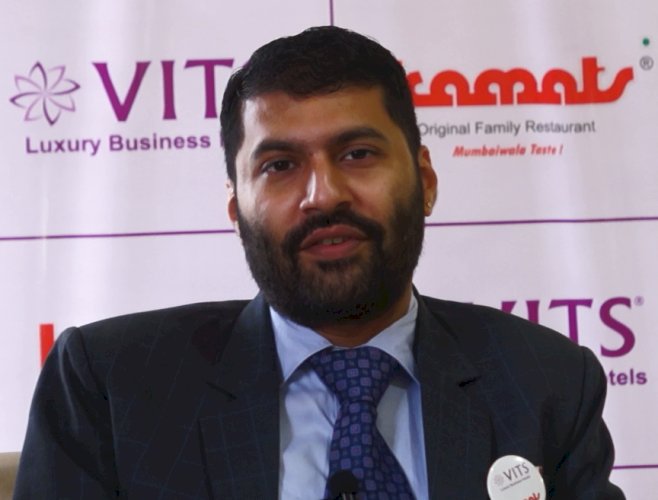 In an exclusive interview with Safari Plus, Mr. Vikram Kamat, Founder Chairman of the VITS Kamat Group shared his expansion plans and talked about the current scenarios of hospitality industry.
Q. How does VITS differentiate itself from the other players in the Hospitality Industry along with the International brands present in the Indian market?
A. We need to understand that there is a huge demand for the domestic brand where they can understand the consumers, much better than the foreign brands. Many a brand has taken up the requirements of the Indian Traveller but many foreign brands still haven't been able to understand. Today, we are number one in banquets, food, and beverages in India. And that's something that the Indian consumers are very conscious of and are focused while selecting a hotel for stay.
Hotel Industry is facing lots of challenges. Just to take the example of the recent incidence of Banana where it was highly charged. I feel it's totally out of proportion because generally, people don't understand that paying a high rate for the product also adds value to it. In that period, the issues were of only 2 bananas on the GST rate of 28%. In that calculation, there were 3 bananas considering the 30% tax average on which one banana is still with the government. Though the normal vendors (thela wala) are not washing the banana with potassium permanganate, but in the best of the hotels they are and they are selecting grade 1 products (and I'm sure those bananas won't even have one black spot on them).
Talking on to the Government policies to put-up a new property, they should ease on the multiple window clearance. The government should realize that this industry can be a major source of employment generator (Both in the organized and unorganized sector).
Q. With the recent efforts by the government - GST rate cut in the Hotel segment? What is your take on it?
A. I think it's fantastic; it will boost Tourism in the domestic market. The lower tax rates will affect the overall pricing and make it more competitive. If you see every country are wooing Indian travelers and the Domestic segment was on the high competition with the neighbouring countries (price-wise). Now we can monetize our destination, our culture, our history and market them in a planned way to retained and flourish again. And it will be a win-win situation for all.
Q. What are your efforts on Environment and sustainability issues?
A. The environment issue is pretty close to everyone's heart. We are making those extra efforts, not only guiding people and making them aware of it but also practicing daily. Even with our vendors and suppliers, we are not compromising on any stage. To be more eco-friendly we are avoiding one-time plastic use. This has to be everyone's business and one should realize the ill effects. So, whether its hotel, restaurant or lifestyle if we don't make it sustainable, we will face a lot of challenges in the future.
Q. Coming on to expansion plans, what are your road-map?
A. VITS Kamats Group, are the known brands for Food & Beverages. On the hotel front, we have our presence in both national and international markets. We are in plans to add on 4 to 5 hotels under the lease and the managed properties. Also focusing on stand-alone restaurants will scale-up at a similar growth pace. We are happy to announce our new brand 'Purple Beds'. It is on the bed and breakfast module, for budget travelers. And Purple Beds aims to provide a comfortable room, a comfortable breakfast and an overall comfortable stay in a comfortable budget.
Q. With this brand you are targeting tier two and three cities?
A. Yes, tier two & three-tier city as well as tier-one. Taking the example of tier-one cities where we have the potential market, but because the city is already built out today building a full-service hotel or giving a full-service hotel is not possible in the like the areas Chandini Chowk and Pragati Maidan in Delhi or you say Fort (South Mumbai) and Colaba in Mumbai. In such a scenario we are collaborating with the real estate developers and existing properties to get the advantage of location and take our brand to the next level.
Q. Will it be targeting the millennial?
A. Yes, we are targeting millennials and budget travelers. Travel, today is more like watching a movie or going out to for dinners. People are doing it much more frequently and it has become a part of our lifestyle. So considering that segment we are trying to match their needs.
Q. Can you put some light, how are you working with travel trade partners?
A. We have a dedicated team working strongly with OTAs and Travel Agencies. We have an offline selling program called "VITS SALES AGENT PROGRAM" wherein we tie-up with the agents providing them value-added incentives programs.