AATO in association with TAAC conducted a Roadshow in Coimbatore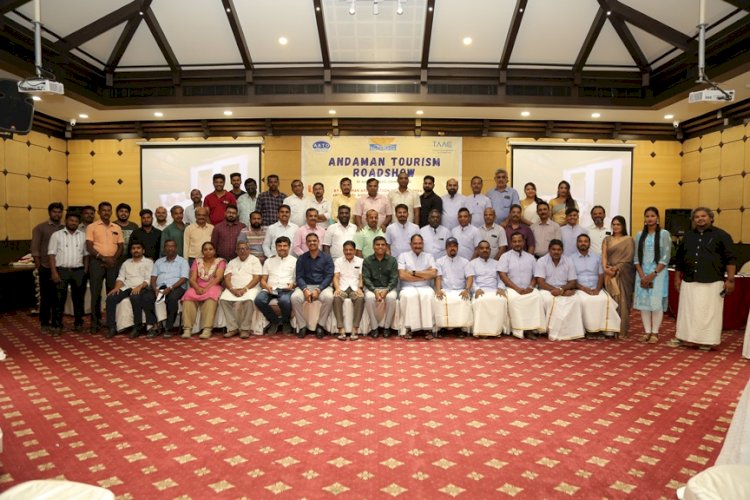 The Andaman Association of Tour Operators (AATO) in partnership with the Travel Agents Association of Coimbatore (TAAC), took center stage on 01 August 2023, as they organized a highly successful roadshow at the prestigious Hotel Grand Regent in Coimbatore. The event aimed to foster mutual growth and cooperation between the two vibrant travel communities, while promoting the mesmerizing tourism opportunities in the Andaman Islands.
With a remarkable turnout of 50 esteemed travel agents from Coimbatore, the event was graced by the presence of AATO's President, Mr. M. Vinod, whose vision and leadership have been instrumental in elevating the Andaman Islands as a prime tourist destination. The roadshow proved to be an invaluable platform for networking and knowledge sharing among the participants.
Highlighting the event's significance, Mr. M. Vinod, President of AATO, said, "We are excited to collaborate with the Travel Agents Association of Coimbatore for this incredible roadshow. This platform has allowed us to showcase the diverse and breathtaking tourism opportunities that await travelers in the Andaman Islands. We are confident that this event will lead to fruitful partnerships and an increase in tourist footfall to our beautiful islands."
The event commenced with a panel discussion on "Tourism Opportunities in Andaman" that was moderated by the Joint Secretary of AATO, Mr. Saikat Biswas. The discussion delved into the untapped potential of the Andaman Islands as a year-round travel destination, featuring its pristine beaches, rich cultural heritage, and thriving marine life. The insightful session garnered active participation from travel agents and industry experts, enabling the exchange of ideas on promoting sustainable and responsible tourism practices.
Following the enriching panel discussion, the attendees were treated to a delightful dinner, fostering a congenial atmosphere for further discussions and camaraderie between the representatives of AATO and the Travel Agents Association of Coimbatore.
The roadshow concluded with an air of enthusiasm and optimism, with both parties expressing their eagerness to collaborate on joint marketing initiatives and tailored tour packages to the Andaman Islands. The event marked the beginning of a new era of cooperation, aimed at enhancing the tourism landscape in the region and creating unforgettable experiences for travelers.