Crystal Symphony Sets Sail on Inaugural Cruise Following Extensive Renovation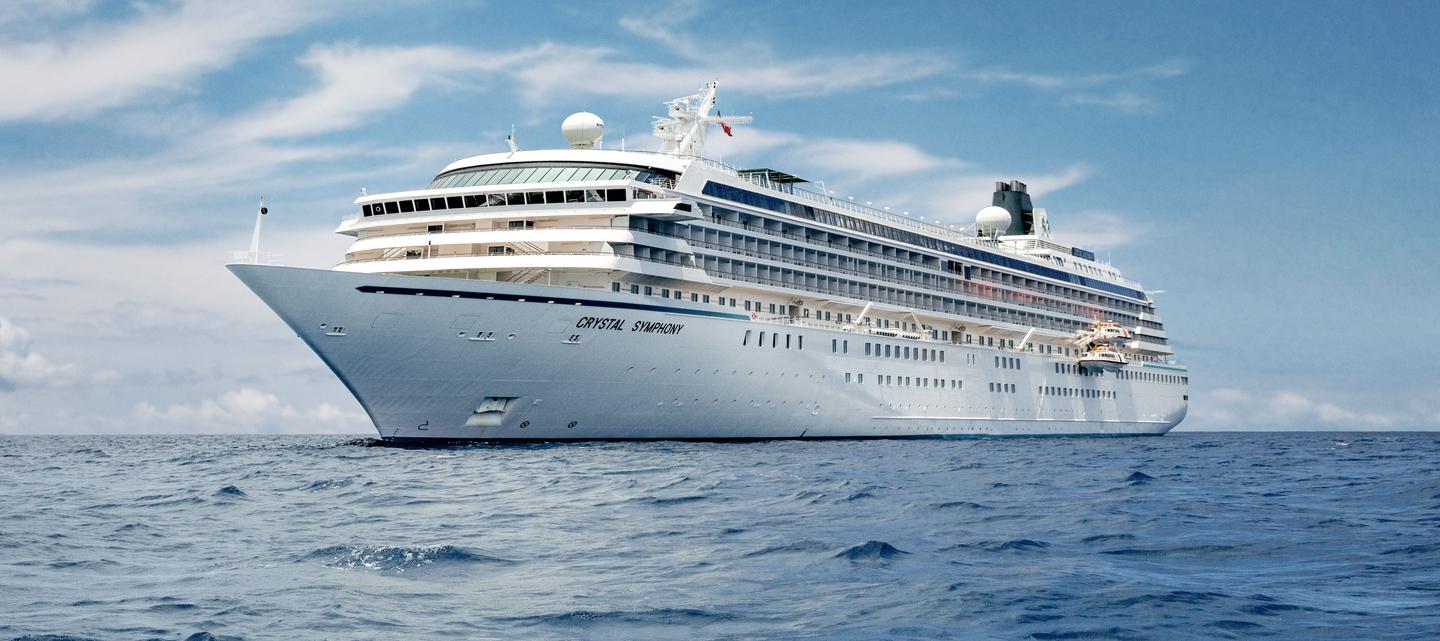 The epitome of elegance and refined travel, the Crystal Symphony, a jewel in the crown of Crystal, a luxury line owned by A&K Travel Group, commenced its maiden voyage on September 1, 2023. The vessel, originally built in 1995, has undergone a transformative renovation, emerging as a testament to opulence and innovation.

Palomino Hospitality organised an exclusive two-day rendezvous with Crystal Symphony in Mumbai, inviting esteemed members of India's travel trade and media to explore the epitome of luxury cruising. This strategic collaboration aimed to introduce the opulence of Crystal Cruises to the vibrant Indian market.
Commenting on the Mumbai Voyage Mr Ajay Vinayak, CEO, Palomino Hospitality (PSA for Crystal Cruise in India) said, "We are thrilled to unveil a maritime extravaganza in India! Our exclusive rendezvous with Crystal Symphony sets the stage for opulence at sea, positioning it as the premier choice for Indian luxury cruise experience. We essentially want to convey that Indian travelers, not just individuals but also groups and MICE, have an extraordinary experience awaiting them—class apart in terms of luxury, comfort, and an array of amazing destination options. Unique venues await for any kind of event, promising a truly unmatched experience."

"The event laid the foundation for Crystal Symphony to emerge as the luxury cruise. The Crystal Symphony promises an unparalleled luxury voyage with its sophisticated suites, world-class dining, unmatched entertainment, and unparalleled service," said Ms. Vandana Vinayak, Director, Palomino Hospitality.
The Symphony, accommodating 606 passengers, embarked on its inaugural journey from Athens, joining the ranks of the recently revitalized Crystal Serenity. This dynamic duo represents a lavish revival, showcasing fewer cabins but larger, revamped suites that redefine the onboard experience. Notably, over 80% of Crystal's former crew has returned, ensuring a seamless transition into a new era of luxury cruising.

Crystal Symphony Highlights:
Elegant Design and Ocean Views: With its elegant lines and sweeping ocean views, the Crystal Symphony offers an intimate atmosphere complemented by expansive suites and guest rooms. The refurbished ship stands as a pinnacle of refined taste and sophistication.
Guest Capacity: 606 passengers
Refurbished In: 2023
Guest to Space Ratio: 1 to 84.2 cu ft
Luxurious Suites & Guest Rooms:
Crystal Penthouse Suite: The largest suite with expansive living areas, a private veranda, sumptuous finishings, and attentive butler service, available in both 2023 and 2020 designs.
Junior Crystal Penthouse Suite: Redesigned in 2023, this spacious suite features separate dining and living areas, a private veranda, and attentive butler service.

Sapphire Veranda Suite: A spacious suite with a living area, lavish finishings, and a private veranda, accompanied by attentive butler service.

Sapphire Ocean View Suite: Featuring a living area, lavish finishings, and expansive ocean views, accompanied by attentive butler service.

Aquamarine Veranda Suite: Offering a comfortable living area, private veranda, and perfect for grand yet intimate moments, available in both new and classic designs.
A Symphony of Exquisite Dining Experiences
A gastronomic journey with Crystal Cruises elevates the art of dining to unparalleled heights, ensuring that every meal is a memorable celebration of flavors, innovation, and elegance. Here's a glimpse into the diverse and extraordinary dining experiences awaiting guests aboard the Crystal Symphony:
UMI UMA - Nobu's Culinary Canvas Few restaurants can rival the creative brilliance of Nobu, and Umi Uma is a testament to this culinary mastery. Guests are invited to immerse themselves in the exquisite décor while savoring the distinctive Japanese-Peruvian dishes that have made Nobu a global sensation. Due to its popularity, reservations are a must, and availability is limited per sailing, ensuring an intimate and exclusive experience.
OSTERIA D'OVIDIO - A Symphony of Italian Delights Named in honor of Crystal's owner, Manfredi Lefebvre d'Ovidio, Osteria d'Ovidio takes the spotlight with its fine Italian dining. Here, traditional, show-stopping meals are crafted with precision, offering a delightful journey through the rich tapestry of Italian cuisine. With reservations essential and limited availability per sailing, Osteria d'Ovidio promises an intimate and immersive dining experience.
WATERSIDE RESTAURANT - A Panorama of International Cuisine Embark on a culinary tour at Waterside Restaurant, where modern, international cuisine takes center stage. Against the backdrop of elegant surroundings and breathtaking ocean views, guests can indulge in creative, seasonal dishes, creating a dining experience that is both sophisticated and delightful.
THE VINTAGE ROOM - A Symphony of Gourmet Food and Wine The Vintage Room stands as a unique culinary sanctuary, offering an educational dining experience paired with some of the finest vintages at sea. This gourmet food and wine pairing restaurant redefine the art of tasting, providing an immersive journey for wine enthusiasts and food connoisseurs alike.
THE BISTRO - Parisian Elegance, Crystal Style A tribute to the iconic bars and bistros of Paris, The Bistro captures the essence of timeless classics. This spacious and airy café invites guests to celebrate the culinary heritage with a menu offering light bites from dawn to dusk.
TRIDENT GRILL - Burger Bliss with a View For a more casual yet sophisticated dining experience, guests can indulge in a burger with a view at Trident Grill. The poolside restaurant and grill boast a comfortable terrace adorned with elegant design, making it the perfect spot for al fresco dining.
TASTES KITCHEN & BAR - A Taste of Sophistication and Regional Flavors Tastes Kitchen & Bar redefines the concept of traveling with taste, offering sumptuous, regionally inspired tapas-style cuisine. This venue seamlessly combines sophisticated style with the casual comfort of a bistro.
SCOOPS ICE CREAM BAR - Gelato Bliss by the Sea Satisfy your sweet cravings with authenticity at Scoops Ice Cream Bar, where authentic Italian gelato meets the sea view. Choose from a selection of innovative flavors or opt for time-tested delights for the perfect onboard treat.
MARKETPLACE - An Elegant Buffet Extravaganza For those who prefer a bit of everything, Marketplace offers a sophisticated buffet-style dining experience. Featuring a dizzying array of hot and cold choices, this restaurant ensures a feast for the senses in an elegant setting.
24-HOUR IN-SUITE DINING - A Personalized Culinary Retreat Guests seeking the ultimate in culinary privacy can delight in 24-hour in-suite dining. Select from an inspired menu, allowing you to savor gourmet delights from the comfort of your suite while enjoying the luxuries of Crystal cruising.
Cristina Levis, CEO of A&K Travel Group, expressed her pride in the achievement, stating, "We are so proud that Crystal Symphony has officially joined Crystal Serenity back in the water, signaling an exciting new chapter for Crystal - two ships refurbished and back in service in under a year is completely unprecedented."

Crystal Symphony represents a remarkable blend of timeless luxury and contemporary innovation, inviting travelers to experience a new standard of opulence on the high seas.