FICCI launches Travel Startup Accelerator Series with a vision of "Atma Nirbhar Bharat"
Date: Smt. Rupinder Brar, Additional Director General, Ministry Of Tourism, Govt of India, will inaugurate "FICCI Travel Startup Accelerator Series" on 30th September 2020.
Highlight of the Series
Virtual Knowledge Sessions with Thought Leaders from Travel, Tourism & Hospitality

Virtual Travel Startup Pitching Session

Virtual consultancy and mentorship. A panel of Mentors with specialisation in various fields of Travel & Tourism will provide free mentorship & consultancy to the Startups.
The impact of the COVID-19 pandemic on the Travel industry has changed the way Travel businesses have to function and manage their operation. The future of Travel will be completely different with new set of rules laying more emphasis on Social Distancing, Safety, Health & Hygiene. Following the vision & mission of the Hon'ble Prime Minister of India on discovering opportunity within the crisis and moving towards becoming self-reliant, FICCI has been working on several measures to bring the Travel & Tourism Industry back in its own feet. To continue the momentum once again FICCI is organising Travel Start Up Accelerator Series.
The FICCI Travel Startup Accelerator Series aims to create a ecosystem in travel & tourism in India by breeding its own brand of local entrepreneur, who have local contents, language, knowledge & operational skills to set up multiple regional enterprises, which can be integrated into one single distribution base, to foster demand from regional and inter regional source markets. Also in the present situation, it also paves a way for the workforce to utilise local talent & skill and work from home town.
The Series will be organised in Association with Startup Mentor Board, an association of business leaders in Travel, Tourism, Hospitality & Technology to mentor and guide the startups from such fields.
The event has already received entries of more than 30 Travel Startups from all over India. The selected final Startups will pitch their ideas virtually to a selected panel of Jury comprising of experts from Travel & Hospitality. The top three startups will receive a certificate from FICCI and free mentoring from the experts.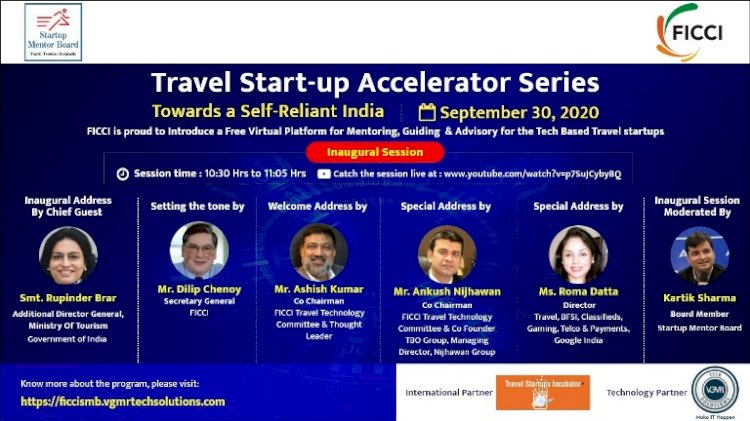 The event will also feature industry leaders and policy makers like Ms Rupinder Brar, Additional Director General, Ministry of Tourism, GoI, Mr Ashish Kumar, Co Chairman, FICCI Travel Technology Committee & Thought Leader, Mr. Ankush Nijhawan, Co Chairman, FICCI Travel Technology Committee & Co Founder TBO Group and Managing Director, Nijhawan Group, Mr. Dilip Chenoy, Secretary General, FICCI, Ms. Roma Datta, Director-Travel, BFSI, Classifieds, Gaming, Telco & Payments, Google India, Mr. Aloke Bajpai, Co Founder & CEO, Ixigo, Mr. Rohit Kapoor, CEO- India & South Asia, OYO Hotels & Homes, Mr. Prashant Pitti, Co Founder & Director EaseMyTrip to name a few . A special session on "Success Stories of Starups" will be discussed with some successful Travel Startup like Thirillophilia, Zostel, Tripito, Traveltriangle to name a few.
Commenting on the development, Mr Dilip Chenoy , Secretary General FICCI said, "The Travel startups are vital contributors to Travel & Tourism Industry of India. The COVID-19 has forced changes in operating procedures for all kind of businesses across the globe and Travel industry is also no exception to it, hence any support to this large set of Travel Entrepreneurs will not only help them navigate the uncertainties better but also help them in creating demand and boost confidence among tourists. "
Mr. Ashish Kumar , Co Chairman, FICCI Travel Technology Committee & Thought leader commented "Today's business challenge to do " more with less " is daunting and can only be achieved deploying technology and and one way would be to incubate and mentor the new age technology driven Start-ups and integrating them into the existing travel eco-system . This to me would make a great mutual fit"
For more details and registration, kindly visit http://ficcismb.vgmrtechsolutions.com
Tentative Programme
T
September 30 (Wednesday), 2020

Inaugural Session

1030 – 1035 hrs

Setting the tone by

Mr. Dilip Chenoy

, Secretary General, FICCI

1035 – 1040 hrs

Welcome Address by

Mr. Ashish Kumar, Co Chairman, FICCI Travel Technology Committee & Thought Leader

1040 – 1045 hrs

Special Address by

Mr. Ankush Nijhawan, Co Chairman, FICCI Travel Technology Committee & Co Founder TBO Group, Managing Director, Nijhawan Group

1045 – 1050 hrs

Special Address by

Ms. Roma Datta, Director – Travel, BFSI, Classifieds, Gaming, Telco & Payments, Google India

1050 – 1100 hrs

Inaugural Address By Chief Guest

Smt. Rupinder Brar, Additional Director General, Ministry Of Tourism, Government of India *

1100 - 1105 hrs

Vote of Thanks by

Inaugural Session Moderated By

Mr. Kartik Sharma, Board Member, Startup Mentor Board

End of Inaugural Session