The Venetian Macao celebrates its 15th Anniversary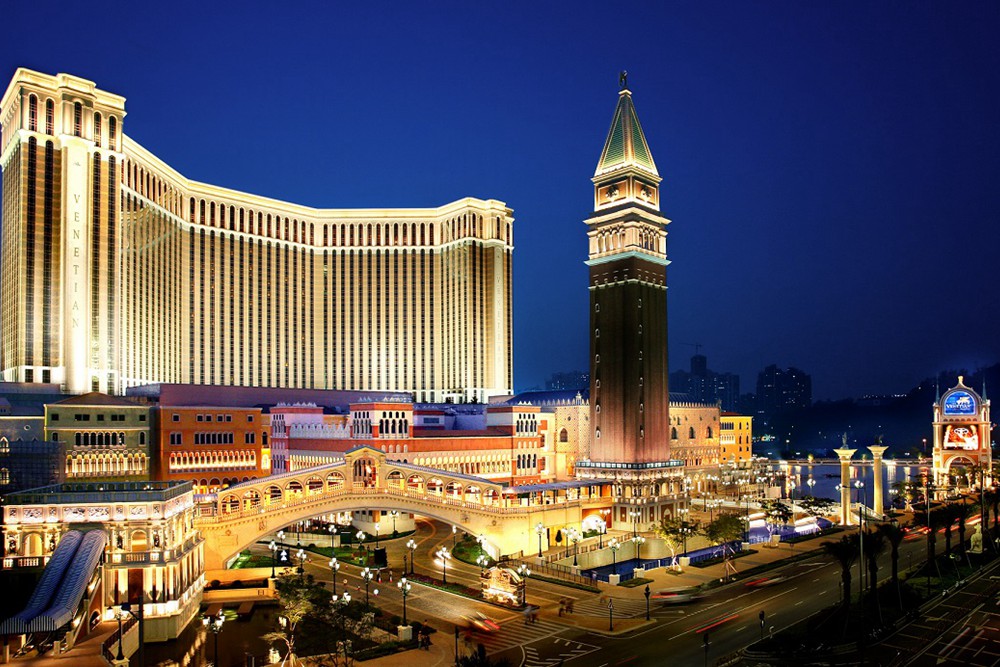 The Venetian® Macao, Sands China Ltd.'s flagship integrated resort and must-visit destination in Macao, is celebrating 15 years of unrivalled hospitality with a wide range of accommodation, gourmet, shopping, leisure and entertainment benefits for guests to enjoy from now until Oct. 31.
The stunning property, inspired by the beauty and charm of Renaissance Venice, was the first integrated resort to grace Cotai Strip, and has witnessed Macao's spectacular economic transformation. Since opening on Aug. 28, 2007, The Venetian Macao has launched a wide range of tourism products to support Macao's transformation into a world centre of tourism and leisure. In recent years, the integrated resort also works in tandem with Macao Government to deepen 'tourism+' cross-sector integration. It has played a notable role in the development of the city's hotel, MICE, food and beverage, retail, and entertainment industries, winning numerous accolades and recognition for its world-class quality and excellence.
Over the past 15 years, Sands China Ltd. and The Venetian Macao have made remarkable achievements in numerous areas:
The Venetian Macao welcomed its first 10 million visitors in February 2008, just 169 days after opening, and has received more than 386 million guests in the past 15 years, firmly establishing itself as Macao's most popular integrated resort.

Sands China

has over 150,000 square metres of MICE space, which is a nearly 12-fold increase from the beginnings of the local MICE industry in 2005 and accounts for 85% of the combined MICE space of all six integrated resort operators in Macao.

Major multinational corporations such as Herbalife, Jeunesse, and Tupperware and world-leading companies have chosen to host their conferences of over 10,000 participants at The Venetian Macao. The number of MICE attendees in Macao has gone up significantly from 38,000 in 2002 to 2 million in 2019, a 53-fold increase.

Sands China Ltd.'s six theatres and various arenas have a total seating capacity of over 26,000 and have held over 610 events and attracted a total audience of more than 4.6 million since 2007. Events have included international singer tours, boxing matches and tennis and basketball tournaments. Performers including the Rolling Stones, Lady Gaga, Bruno Mars, BTS, Jacky Cheung, Jay Chou have played to packed audiences.

Sands China Ltd. boasts more than 210,000 sqm of retail space, the largest in Macao. The opening of The Venetian Macao in 2007 immediately quadrupled Macao's retail space from 27,800 sqm in 2006.

According to a 2019 market survey, The Venetian Macao and The Parisian Macao are second only to the Ruins of St. Paul's, a UNESCO World Heritage Site, as the most popular destinations for visitors to Macao.

Sands China Ltd. has been committed to presenting guests with a world of diverse cuisines. Highlighting diversity, quality, ingredients, chefs, creativity and ambience, it has won numerous awards commending its culinary excellence, including Michelin stars, Black Pearl Restaurant Guide diamond ratings, T. Dining Best Restaurants by Hong Kong Tatler, 100 Top Tables by South China Morning Post and Wine Spectator Restaurant Awards, etc.
Take a Vibrant Venetian Holiday
From now until Oct. 31, 2022, The Venetian Macao is rolling out attractive hotel packages, inviting guests to an enchanting world of flowing canals, vibrant piazzas, supreme accommodation and unforgettable cuisine.
Celebratory Moments at Venetian Hotel Package includes round-trip Rolls-Royce pick-up and indulgent accommodation in a luxurious Rialto Deluxe Suite with daily in-suite breakfast for two. Guests can also embark on a refreshing outdoor Gondola Ride and experience the immersive interactive artworks of teamLab SuperNature Macao. A two-night package is priced from MOP 5,768
For more information on hotel packages, please visit: https://www.venetianmacao.com/promotions/VM15-anniversary-campaign-2022.html
Anniversary Celebratory Menus
From now until Oct. 31, four signature restaurants at The Venetian Macao – Jiang Nan by Jereme Leung, Pin Yue Xuan, Hiro by Hiroshi Kagata, and North – will offer celebratory menus to commemorate the anniversary milestone. Not-to-miss dishes include smoked Hokkaido scallops with balsamic vinegar sauce; flame-roasted, slow-cooked US beef ribs, and homemade fruit pudding in fermented rice wine.
Shopping Offers and Surprises
To welcome the return of guests and revitalise the retail industry, Sands Shoppes Macao is rolling out the Celebrate Autumn in Glamour shop-and-stay rewards campaign from Sept. 5 to Oct. 9. As the largest duty-free luxury shopping experience in Macao, Sands Shoppes Macao has approximately 850 retailers featuring the world's best brands, all under one roof.
Guests can also enjoy exclusive offers by presenting an Air Macau boarding pass, including buy-one-get-one-free offer on The Venetian Macao's outdoor Gondola Ride, discounted tickets for teamLab SuperNature Macao and Qube Kingdom at The Parisian Macao, complimentary Love Lock Gift Set for creating memories at Level 7 of the Eiffel Tower and Londoner-themed canvas bag.
Venetian Moments
Guests can embrace an authentic Venetian holiday, incorporating an amazing outdoor Gondola Ride experience. Hop on a sleek, graceful Gondola and cruise The Venetian Macao's lagoon to enjoy spectacular views of Cotai Strip and Venetian Gothic architecture while relishing fresh strawberries, Champagne, chocolate and ice-cream. Guests can also visit teamLab SuperNature Macao, where they will be amazed by the innovative integration of art and technology in a world of light, music and colour.
For more information on The Venetian Macao's 15th anniversary offers, please visit: https://www.venetianmacao.com/promotions/VM15-anniversary-campaign-2022.html