IndiaTourism Mumbai organised 'Mini Bharat Parv'
IndiaTourism Mumbai office has organized 'Mini Bharat Parv' on 12th & 13th October 2019 from 11am to 10pm at Kalangan, P. L. Deshpande Kala Academy, Prabhadevi, Mumbai 25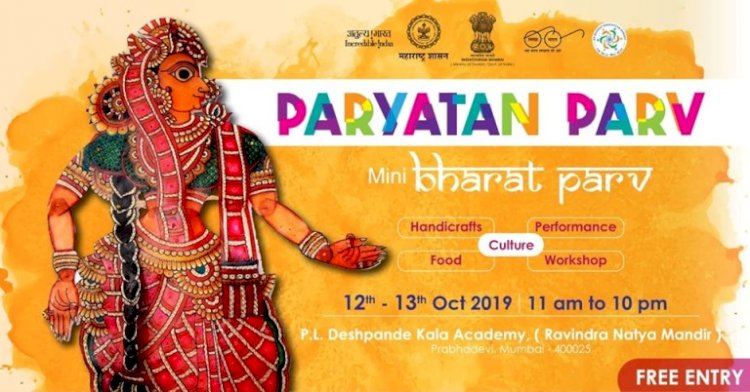 Ministry of Tourism, Government of India is organizing Paryatan Parv from 2nd to 13th October 2019 to create awareness about the importance of tourism and its benefits. It has been mandated to hold cultural programs of Paryatan Parv in the western region. IndiaTourism Mumbai office has organized 'Mini Bharat Parv' on 12th & 13th October 2019 from 11 am to 10 pm at Kalangan, P. L. Deshpande Kala Academy, Prabhadevi, Mumbai 25.
This event is organized under the 'PARYATAN PARV 2019', in support of 'Dekho Apna Desh'. Under this event, IndiaTourism Mumbai will be showcasing India's culture, Art, Craft, Cuisine, Handicraft, Entertainment, etc. The event will have State Tourism Department Information Stalls, Indian Cuisine, Art & Craft Display, and Cultural Performance.
On 12th October 2019 the Mini Bharat Parv will be inaugurated at 12:30 Noon at Art Gallery (Exhibition Area), followed by various activities and cultural performances on both the days such as Photography Competition (By students of Kala Vidhya Sankul, Mumbai), Live Canvas painting cum exhibitions by student of Kala Vidya Sankul, Mumbai, Batik Painting Workshop, opening of food stalls, Indian Salad Dressing workshop (by student of IHM, Mumbai), flash mob by IHM, Mumbai student. These activities will be followed by on-stage Cultural Performance by 6 pm onwards which will include Jogva/ Gondhal & Lavani (Maharashtra Folk), Holi (Uttar Pradesh Folk Dance), Skit by Catering College and Bhangra (Punjabi Folk Dance), Kathak (Classical Dance Form) and Bollywood Melody performance.
The entry and participation in all activities are free for all the visitors.