IT&CM China and CTW China Virtual 2020 Event Highlight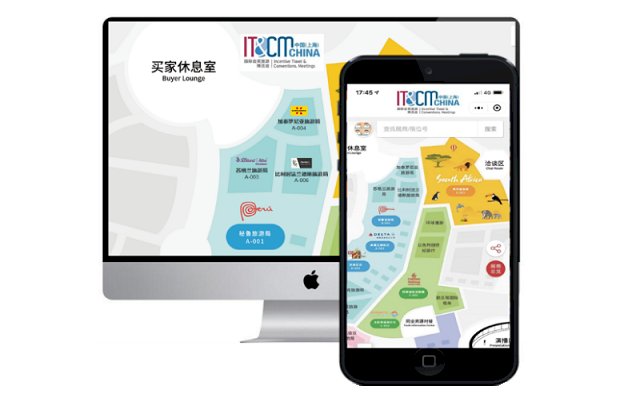 Virtual Programme Highlights
Exhibition
Meet MICE and Corporate suppliers from across China and the world. Learn about their profiles, download sellers/buyers resources, view product presentations, swap e-business cards, leave messages, schedule an appointment or even hop onto a walk-in meeting.
Pre-Scheduled Business Appointments (PSA)
Each exhibitor or buyer receives up to 24 x 20-min pre-scheduled appointment slots over 2 days. Here's how you can fill them.
By Perfect Match (2nd Week of July): Get system-matched to exhibitors / buyers based on your business profile and preferences. Browse and filter your respective counterparts to find matches and submit your choices. Your schedule will be populated with system-generated matches.
By Buyer / Seller Request (From 4rd Week of July Onwards): Fill any available appointments with mutual requests with your preferred buyer / seller, right up to the end of the show.
"Walk-In" Meetings
Supplement your PSAs with free-and-easy meets during designated timeslots. The buyer / seller can directly request for a "walk-in" meet anytime without a prior appointment.
Brand Showcase Presentation
Tune in first-hand to the latest highlights and developments by participating destination and corporate brands, during 20-min presentations.
Buyer Procurement Showcase
A new event segment featuring MICE, Association and Corporate buyers as they share their procurement requirements with relevant and interested destination and supplier leads. Each showcase is 20-min in duration.
Education
Daily opportunities to engage in the year's hot topics with our prolific panel of industry thought leaders and experts. Click here for more details.
Networking
After a full day of business, stretch your social muscles even further over virtual conversations, ice-breakers and interactive games.
Gamification
Join us, participate wholeheartedly and be rewarded! Buyers stand to earn points and incentives by completing event missions. The more you participate, the bigger the reward.
3 August 2020, Monday | 2020
Time (GMT+8)

Event

1500 – 1600hrs

Opening Keynote
Digital-First Future In MICE and Corporate Travel

Moderator:
George Cao, Co- founder & CEO, Dragon Trail Interactive

1600 – 1630hrs

IT&CM China and CTW China 2020 Virtual Event Orientation Tour

1630 – 1700hrs

Event Opening and Networking
4 August 2020, Tuesday | 2020
Time (GMT+8)

Event

0900 – 1900hrs

Virtual Exhibition

0900 – 1000hrs

MICE Seminar

Adaptation and Innovation of MICE industry under the new normal
Hosted by China Business Event Federation (CBEF)

Moderator:
Alicia Yao, Vice President, China Business Event Federation(CBEF)

Panellists:
Jack Yao, Secretary General, China Council for the Promotion of International Trade(CCPIT) Commercial Sub-council

Catty Yun, Founder & Chairman, Sourcing China

Tony Wan, CEO & Co-founder, 31 Events

Becky Cao, Vice President, Global Sales, Greater China, Marriott International Inc
Becky Cao,

CTW Conference

Corporate Travel, Meeting & Events Industry Outlook For 2021


Moderator:
Patrick Chen,Director of Marketing & Promotion


Panellists:
Luc Lu, JAPA Sr. Strategic Sourcing Dir, Beckman Pharmacy
Linda Xia, Head of Global Sales, Hyatt China
Fan Lifeng, Marketing Event Director, JD.com

1000 – 1120hrs

Brand Showcase Presentation 1 to 3
"Walk-In" Meetings

1120 – 1255hrs

Pre-Scheduled Appointments 1 to 4

1255 – 1355hrs

Break

1355 – 1535hrs

Pre-Scheduled Appointments 5 to 8

1535 – 1650hrs

Brand Showcase Presentations 4 to 6
Buyer Procurement Showcase 1 to 3
"Walk-In" Meetings

1650 – 1830hrs

Pre-Scheduled Appointments 9 to 12

1830 – 1900hrs

Networking
5 August 2020, Wednesday | 2020
Time (GMT+8)

Event

0900 – 1900hrs

Virtual Exhibition

0900 – 1000hrs

MICE Seminar
Reopening Business Events: What can we do better?
Hosted by International Congress and Convention Association (ICCA)

Moderator: Noor Ahmad Hamid, Regional Director Asia Pacific, International Congress and Convention Association (ICCA)
Noor Ahmad Hamid,

Panellists: Michael Kruppe, General Manager, Shanghai New International Expo Centre Co. Ltd.
David Sun, Managing Director, MadTech Event Service Co., Ltd.

Jessica Chang, Managing Director, JCIM Limited

CTW Conference

The New Age of Corporate Travel:AI, Personalisation and Vendor Innovations


Moderator:
Jonathan Kao, Managing Director, Greater China BCD Travel

1000 – 1120hrs

Brand Showcase Presentation 7 to 9
"Walk-In" Meetings

1120 – 1255hrs

Pre-Scheduled Appointments 13 to 16

1255 – 1355hrs

Break

1355 – 1535hrs

Pre-Scheduled Appointments 17 to20

1535 – 1650hrs

Brand Showcase Presentations 10 to 12
Buyer Procurement Showcase 4 to 6
"Walk-In" Meetings

1650 – 1830hrs

Pre-Scheduled Appointments 21 to 24

1830 – 1900hrs

Networking