Turkey a Beachy Affair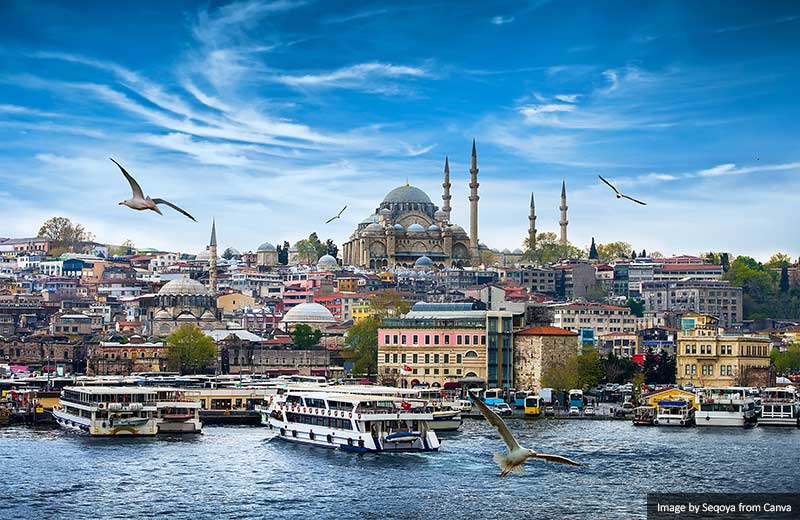 "If one had a single glance to give the World, One should gaze on Turkey"
Turkey is beach lover dreams. White Sandy beaches get in touch with its rich heritage and explore the historical grounds, ruins and museum. Turkish Baths, Bazaar and blue flag beaches are just a handful of the things that make a Turkey a great destination for your next beach destination. Bordered by 8 countries and straddling two continents the diverse country is a mix of a sight, sound and cultural customs. Its an ideal gateway for those looking for more than just sun, sea and sand for Beach Destination.
Whichever part of this vast country you are heading for, you'll be assured of a warm welcome. Holidaying as a family together is always a pleasure in Turkey. Byzantine battlegrounds, a why not look in for a traditional hammam experience. You can use the country as base to explore the surrounding areas include Olu Deniz where you can take dip in a famous Blue Lagoon, depending on where you stay, you can boat trip to several of the Geek Island – ideal for armature explore.
Take a jump, inhale the outside air and express your gratitude to Turkey.
Dalaman Area
Offering Blue Flag Beaches, lively tourist resorts and historical sites, holidaying to the Dalaman area of turkey.
1. The Turquoise Coast – The region appeal begins with its beaches. This shoreline is a chain of coves, bays and long stretches of sand. Icmeler and Olu Deniz are bumper beach resorts. Their beaches are accessorized with bars, restaurants, shops and water sports. The famous Blue Lagoon in Olu Deniz.
2. Ephesus – The Dalaman area's coast is just the tip of the iceberg. The region's mountainous backbone is encrusted with traditional hamlets.
3. Kaputas – It is a wild beach in the Mediterranean coast of Turkey. This beautiful beach is surrounded by mountains, and can be reached from the road by a long stairway.
Izmir
The beaches alone make the range from vacant stretches of sand hugged by parkland to wind surfing hubs packed with cafes and volleyball courts.
1. Kusadasi – Kusadasi is the name on most people's lips. The beaches here are popular with families, thanks to their white sand and shallow waters. The town is crammed with restaurants that'll treat taste buds to every cuisine under the sun.
2. Izmir – Is a third largest city known as the "The beautiful waterfront". They have a sweeping harbor, stylish waterfront eateries and palm lined pier.
Ortaca
Iztuzu, Dalyan- Turtles and tourism exist together on the secured 4.5km of hard-stuffed sands of Iztuzu shoreline. Tracks rising up out of the ocean are noticeable on the sand in June and July, where turtles have dragged themselves shoreward to lay their eggs, and the swamps behind the shoreline are regularly bursting at the seams with other untamed life as well. While absence of shade is frequently an issue on this shoreline, the delicately racking seabed quiets the uneven waters, making Iztuzu fantastic for youngsters.
Antalya
Antalya's western shoreline, Konyaatı, now spruced up, is at long last start to satisfy its sensational circumstance between Antalya's bluffs and the Beydağları Mountains. Shingle, instead of sand, it's perfect and very much kept up. Be that as it may, for fine sand make a beeline for Lara shoreline, 10km southeast of Antalya by transport, whose long, delicate waves make for some awesome swimming spots.
1. Çiralı, the Turquoise Coast- This laidback resort, covered in citrus forests, is arranged on a thin plain between the mountains and a long, bending 3km-long shingle shoreline. It is conceivable to stroll along the shoreline to the remains of antiquated Olympos, and also longer climbs on the Lycian Way, which bursts its way through the settlement. The way that Çiralı is defended by different Turkish bodies for its exceptional environment has empowered debilitated loggerhead and green ocean turtles to keep laying their eggs here – so don't uncover, litter or nocturnally light up the shoreline amid the mid-year settling season.
2. Phaselis, the Turquoise Coast- Traveling north from Olympos, there's inadequate affection to stop before Antalya – however antiquated Phaselis, with its eminent swimming open doors, will unquestionably entice you off the fundamental street. The vestiges of Phaselis flank three little inlets, giving sufficient chance to ponder classical landmarks while lying on the shoreline. The normal magnificence of the unmistakable ocean makes for a compensating half-day excursion – bring a cookout in the event that you don't favor the auto stop nibble bands.
3. Alaçatı, the Çeşme Peninsula - For one of a kind windsurfing and kite boarding conditions, make a beeline for a 300m-long sandy shoreline, only 4km south of Alaçatı, a standout amongst the most up market areas on the Aegean drift. The solid, dependable "Meltemi" twist, joined with shallow water and absence of waves, makes this narrows perfect for students.
4. Kleopatra shoreline, Alanya- From water sports including parasailing and banana-drifting, to exercises, for example, go-carting and ocean lion appears, Kleopatra shoreline has it all. This is the most famous shoreline in the neighborhood, with a huge number of bars, eateries and keepsake shops and tattoo parlors.
Experience the Culture and heritage Turkey has to offer, staring with the ancient folk dance tradition, this colorful, rhythmic dance will amaze your eyes. Dance, Cinema, Music, and Opera all play a massive part in Turkish Culture. Nightlife is growing every year and it's becoming one the liveliest area for nightlife. Middle East mélange supplies the nightlife to keep them thrilled with Gumbet, Marmara all competing to give you the best night out possible. Turkey offer great variety of food that will get your mouth watering, the vision is infused with flavors and dishes from Central Asian, Middle Eastern to Balkan Cuisine. Experience the Spice Market filled with foods, coffee, spices and souvenirs. Grand Bazaar (Buyuk Carsi) has around 4000 shops which attract 240,000 to 400,000 visitors daily.
"Holy Turkey! Your name is the most enchanting one of all names which enchants me".