Skyview By Empyrean Launches Luxury Stays at Skyview World Sanget- Patnitop, Jammu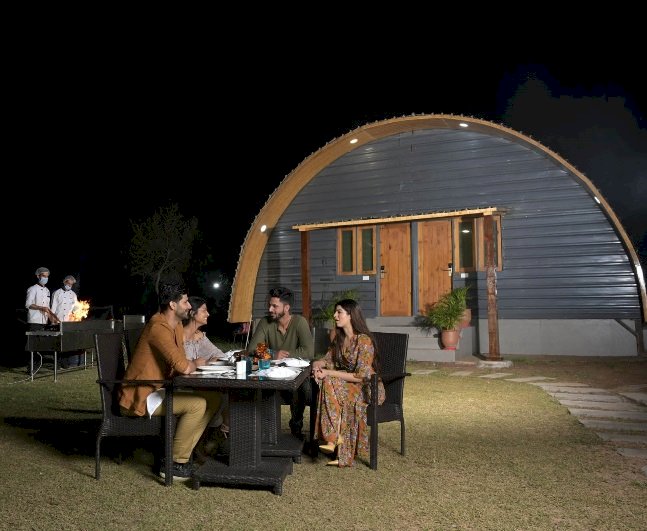 Skyview by Empyrean at Sanget-Patnitop in Jammu announced the launch of a new premium boutique hospitality offering for travellers looking to escape the routine and enjoy a getaway amidst the natural beauty of the Himalayas.
These 25 keys [Deluxe, Premium and Suites] will be located within the 22 acres of Skyview World, offering privacy, solitude and come with personalized Empyrean Service, a butler service providing 24-hour assistance to meet a guest's requirement be it booking activities onsite or offsite, private dining experiences or shopping for local specialities.
Mr. Syed Junaid Altaf, Managing Director, Empyrean Skyview Projects Private Limited said, "With the launch of our high-end rooms and suites at Skyview World, not only have we created a benchmark for international standard hospitality hitherto unavailable in Patnitop, we have also reiterated our commitment to upping the tourism quotient in the region. Our guests will now be able to indulge in a luxurious stay and enjoy a host of holistic experiences offered at the destination."
The rooms and suites are inspired by the sylvan locale and architecture. All rooms are elegantly appointed with plush furnishings, embellished with crewel embroidery and fine linen with hypoallergenic pillows. They are also equipped with Smart TVs, spacious closets with electronic safes, tea/ coffee services and Hi Speed WiFi.
The Gondola View Deluxe Rooms (270sft) with unique dome-shaped roofs are inspired by the natural environment of the region. The warm and cosy interiors with wood-panelled walls and flooring lend the rooms a charm of a log cabin in the hills. Each of them has spacious ensuite bathrooms with modern fixtures and premium amenities. The rooms offer private landscaped outdoors to enjoy that perfect cuppa at dawn or a barbeque at dusk.
The Mountain View Premium Rooms (277sft) and Suites (500sft) are set in a gabled exterior. The Mountain View Premium rooms are plush spaces with queen size beds, large ensuite cubic shower baths and walk-in closets. The Mountain View Suites feature a spacious living area, separate bedroom with king sized beds, kitchenettes, and grand ensuite bathrooms. These rooms and suites are equipped with JVD coffee machines and L'OCCITANE amenities. Large picture windows and balconies allow for guests to enjoy uninterrupted views of the breathtaking Shivalik mountain range through the year and changing seasons as well as the Skyview Gondola gently gliding over the pine forests.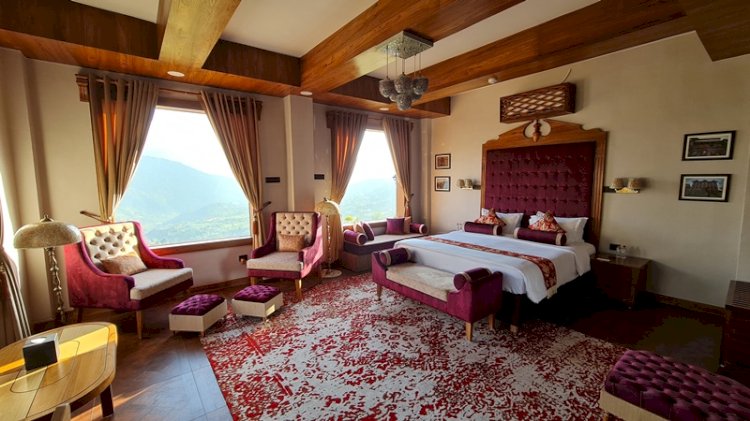 A 24X7 in-room dining facility has been introduced for the very first time in Sanget Valley-Patnitop .
Guests to Skyview by Empyrean can also enjoy culinary delights from across the world including regional specialities, such as Dogri cuisine and all time favourite Dosa at the multi-cuisine Banana Leaf restaurant. In addition, there are Street Food Carts, Bar-be-que in the outdoors as well as the alfresco Skyview Café for a range of snacks and beverages.
Doubles start at Rs 8,500/- per night inclusive of breakfast and gondola ticket, taxes extra. For details log on to skyviewbyempyrean.com
Skyview by Empyrean at Sanget Valley is a 90 minute drive from the Mata Vaishno Devi Shrine in Katra. This lifestyle destination commenced operations two years ago with the successful launch of the Skyview Gondola, India's highest [in terms of ground clearance] international class ropeway, which brought the quaint hill-resort of Patnitop back into the reckoning. The Skyview Gondola was the first step towards setting a benchmark for responsible tourism and green mobility as it eliminated a 45-60 minute road journey to Patnitop from Sanget Valley by way of a breathtaking and picturesque gondola ride of over 2.8kms to just 10-12 minutes.


One Destination, Endless Experiences Skyview by Empyrean encompasses:
Skyview World: This gateway to Patnitop at Sanget valley is a great place to be under an open sky surrounded by picturesque mountains and valleys. Here you get to experience an adrenaline rush whether it's an exhilarating ride on the state-of-art India's highest ropeway, zigzag zipline, magic carpet or tubing sledge. Other attractions include culinary delights at several restaurants – the multi cuisine Banana Leaf, , Street Food Carts, Bar-be-que in the outdoors as well as the alfresco Skyview Café for a range of snacks and beverages. Visitors can have an immersive experience of local art and culture at the Amphitheatre and also shop for the finest honey, handicraft items, condiments, spices and dry fruits from J&K at the expanded offering at the Hands of Gold retail outlet. Luxury accommodation comprising 10 keys is now available on site.
Skyview Gondola: A thrilling experience on this spectacular ropeway, the highest in India in terms of ground clearance, takes visitors on a scenic gondola ride over lush pine forests. What's more, it is also a commitment to green mobility. The infrastructure, including the 8 towers, ropes, and spacious 18 cabins, all has been imported from France through technology partner POMA – the world's leading brand in ropeway transportation. The entire ropeway adheres to CEN (European) standard certification making it the safest ropeway in the world.
Skyview Terrace: This recreational area is located adjacent to the Skyview Gondola's upper terminal at 2,024 metres in Patnitop, a hill-station known for its natural beauty featuring meadows and surrounded by the Pir Panjal range of the Himalayas. It provides a perfect setting for bespoke culinary experiences, private celebrations and customized/personalised get-togethers backed by best-in-class service by Skyview's experienced F&B team.
Skyview Partner Experiences: Visitors can also look forward to choosing to stay at specially selected partner hotels in Patnitop. These hotels can be booked via the Skyview by Empyrean website or sales office. They have been specifically selected for their service, standard of hygiene, hospitality, location and price.
Skyview Adventure Valley: In addition to activities on site, Skyview brings a range of thrilling adventure activities off-site too- featuring mountain biking, hiking, and birding. These adventure activities have been specifically curated to cater to adventure and nature lovers. Trained and experienced guides supervise all the activities.