Mandu Festival from December 30, 2021 to January 03, 2022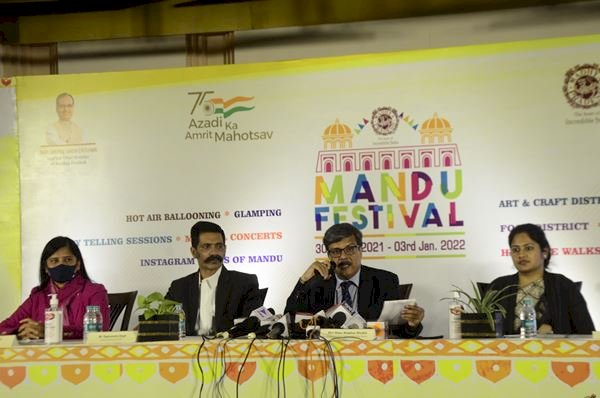 Shri Sheo Shekhar Shukla, Principal Secretary, Tourism & Managing Director, Madhya Pradesh Tourism Board, announced the dates of the forthcoming Mandu Festival.
The quaint historical city – Mandu is all set to welcome travellers and tourists to the Mandu Festival from December 30, 2021 to January 03, 2022. The five-day festival organised by Madhya Pradesh government and curated by E-Factor Entertainment is set to showcase the historical legacy of Mandu. Mandu has also been included in the tentative list of UNESCO world heritage sites.
A vibrant city resonating old world charm, Mandu is known for its heritage, culture, architecture and paleontological history. The Festival will showcase Mandu like never before, with curated historical walks, experiential cycling tours, traditional folk arts, photo contests, yoga at Ek Khamba Mahal, culinary delights, art and craft, musical soirees and much more. The aerial view from hot air balloons will provide an exhilarating experience to discover the forts and ruins of the town while evening Maa Narmada Aarti at the Rewa Kund will add soul to the festivities.
Those visiting Mandu can gear up with morning yoga followed by Cycling Tour, Heritage Walks and Instagram tour. Rural Tourism Excursions will endear tourists to various historical sites of the city. Added to this is the experience of star gazing at the Dinosaur Park over coffee.
Speaking about the festival's 3rd edition, Shri Sheo Shekhar Shukla, said, "Mandu is a historic town, which is fast becoming prominent in the heritage tourist map of India. Localised Festivals in Madhya Pradesh are not just about showcasing the state but also generating employment and earning opportunities for locals. While during the Festival, one can have a curated trip to the town, Mandu Festival is one of the aspects of familiarising people about the history and culture of rural Madhya Pradesh. This endeavour will also help in realizing the dream of Atmanirbhar Madhya Pradesh by creating new employment opportunities." He added, "To continue boosting tourism for Mandu, we have taken several continuity steps so that people can avail of various facilities for almost through the year."
To keep the tourist fervour alive, Madhya Pradesh Tourism and E-Factor Entertainment will continue to have Heritage Walks, Cycling Tours, Rural Experiences and Story Telling Sessions till June 2022. Adding to the experience will be 25 luxury tents for accommodation that will be operational till the end of February, 2022.
Speaking at the press conference, Jai Thakore, COO, and Co-Founder of E-Factor Entertainment, said, "Mandu has the potential to be a huge tourist centre. The Mandu Festival is a way of attracting the attention of glocal travellers to visit the pristine town of Mandu. Mandu has a rich history, a love saga that inspires all even to this day, some of the best-preserved architectural monuments and a gastronomy delight. Keeping in mind the state government's endeavour for income generation, the elements of Mandu Festival are largely inspired locally."
In its continuing endeavour to promote tourism in Madhya Pradesh, the state government and MP Tourism Board have undertaken various activities to showcase the beauty of the state. Located close to Indore, Mandu has unique culture and heritage. The region boasts of lakes, forts and indigenous tribes