Islamic Travel Mart 2019 concluded successfully
A unique platform for the Hajj, Umrah, Ziyarat and Halal travel industry suppliers and buyers to meet and network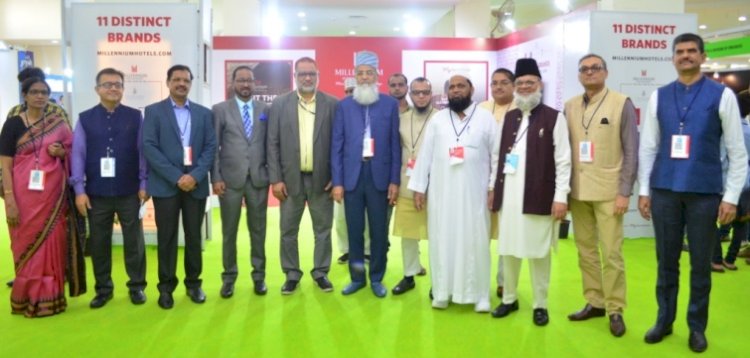 5th October 2019
Islamic Travel Mart, organized its second edition on 5th October 2019 at the Expo Centre, World Trade Centre, Mumbai. It was a two –day Islamic Travel Mart reserved for travel agents by giving them B2B platform for networking.
India is home to the second-largest Muslim population in South Asia, around 189 million. Around 170,000 pilgrims travel every year for Hajj from India and more than 600,000 for Umrah and this number is growing every year. Besides being the hub for the Indian Hajj and Umrah travel industry, Mumbai is also in close proximity to Saudi Arabia and the Middle East, with the shortest flying time from any major Indian city.
With an objective to create a platform for enhanced interaction and networking between the buyers and sellers of Hajj, Umrah, Ziyarat and Halal Travel, Islamic Travel Mart managed to create more transparency, better information dissemination and more competitive pricing and value addition for the pilgrims. The show features national and international exhibitors and is visited by over one thousand Islamic tour operators, travel agents, members of central & state Hajj committees and others.
Islamic Travel Mart showcases the leading suppliers from Saudi Arabia like Elaf Group, Alhussam, Mawasim, Rawabi Emirates, Al Mukhtara, Saudi Telecom Company (STC), etc. Al Khalid Tours & Travels is the Premium Partner of the show and Atlas Umrah is the B2B Partner.
Elaf Group, Mawasim, Millennium Hotels And Resorts, Manazil Al-Mukhatara Company, Al Hussam Umrah, Rahhal International Makka Booking, Al Aafiya, Abu Al Joud, Rawabi Emirates, Rawad Holidays, Maqbool Umrah &Ziyarat Services by Creative Group, Classic Tour & Travels Pvt Ltd, The Global Chef Kitchen, OIC Halal were also Featured Exhibitors in Islamic Travel Mart.
The event is supported by TAAI, Haj Umrah Private Tour Operators Association, All India Haj Umrah Tour Organisers Association, Federation Hajj PTOs of India, TAFI, IAAI, UTEN and Gujarat State Haj Ziyarat Tour Organisers Association (GSHZTOA).